The Christmas Beer Cigar Primer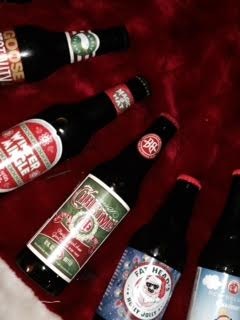 It has become a growing tradition that the as yet expanding craft beer industry will produce a selection of labels for the Christmas Holiday marketplace. The good news is there are options out there beyond the flood of IPAs choking the shelves these days. While some of these options represent little more than novelty packaging, there are many quality selections for beer lovers and those who enjoy various styles. Best of all, the types to be found serve as nice complements to a smoke.
Personally, I infrequently pair a decent beer with a cigar, because I find many craft brews lose their character and flavor against the tobacco. But winter in general – and Christmas in particular – manages to offer up numerous choices that actually hold up well. You begin to find heartier styles, spicier flavors and stronger content – all which means you can enjoy two worlds at once.
A fine way to start is with one of the Holiday stalwarts, Anchor Christmas Ale. Anchor is one of the original breweries to produce a Christmas-themed product, and it conjures up a new recipe each time. This year's is a rich option with secret ingredients, but you certainly get a roasted malt flavor that brings an ideal match to just about any cigar choice.
Another straightforward choice would be Bell's Christmas Ale. Lighter in body but holding decent character, this would serve you best during a game with a crowd. Hand out the sticks during a bowl game, and this richly flavored ale will do better than an anonymous lager. You will still note you are drinking something of quality.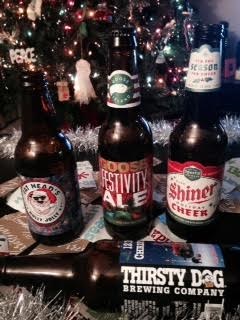 For more of an outdoor setting in cooler temps, step it up with Breckenridge Christmas Ale. Arriving in your glass with a mixture of grains and nuts, it would work nicely with balanced Dominican or Salvadorian selections. It has a warming 7.1%ABV, so if you get to do any grilling around this time of the year or if you camp around a fire pit, this is the ale you'll want to crack open by the flames.
If you trend towards lighter smokes, a sweet complement comes with a unique partnership. Colorado's New Belgium teamed up with Vermont's ice cream legends Ben & Jerry's to create the Salted Caramel Brownie Brown Ale. The caramel is evident, and it carries the other tastes throughout, while the ale sports a generous 6.3%ABV content. This one has a taste on par with a milk stout, but lighter in character. You may think it an odd choice and hesitate at such a novelty, but then you'll start cutting into the 6-pack with abandon.
If you are heading out to a last-minute party and need to stop for a quick supply run, show up with Blue Moon Gingerbread Spiced Ale. Yes, it's from a major brewer. And no, it doesn't actually taste like gingerbread. But it is holiday-themed, and there is enough sweetness and some spice to hold up well with a cigar. You may not marvel at it, but you will still remember you have a beer in your hand. http://www.bluemoonbrewingcompany.com/OurBeers/Product/gingerbread-spiced-ale
Keeping on the dessert front, the brewers of Shiner Bock have a curiosity if you're into oddities from the shandy category. Their Shiner Holiday Cheer is brewed with peaches and pecans, and the flavor is very prominent. I'm including it here in the name of objectivity, given I'm not a huge fan of fruit beers. And I'm also not a fan of the Acid-type flavored cigars, but I can see them paired properly.
If you favor a morning smoke and want an early start, or maybe need a bracer to chase off some lingering holiday cheer from the night before, nab a 12 Dogs of Christmas. Brewed with a heavy dose of honey and some light spice, it makes for an enjoyable breakfast ale. It also carries a potent 8.3%ABV, which should chase off the fog while you are enveloped in smoke.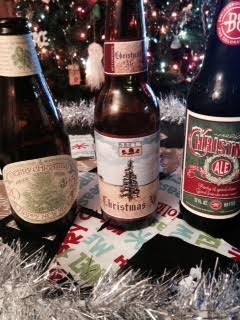 Like many other brewers, Goose Island produces numerous seasonal selections throughout the year. Bypass their standard Winter Ale, an unremarkable and bland choice. Instead, seek out the brewery's other holiday option, Goose Island Festivity Ale. Far more complex, with spices and some savory fruits, this would team up well with a Colorado wrap smoke. Far more hearty as well, with 7.7%ABV of power. So be ready to feel merry.
Trending towards something to savor with the deeper maduro shades, the richer stouts and porters prove decent matches at this time of year. If you have a bomb of a stick in hand, try to match it up with an import, from Ridgeway England, called Lump of Coal. This big-boned hammer of a beer brings it on with complex flavors like roasted malts, dark chocolate and coffee. If this Lump of Coal is in your stocking, it could be seen as a reward for being good. But with its 8%ABV, downing a couple of these might just lead to some 'bad' behavior.
Finally, if you are up for a little solitude, look to the Fat Head brewery in Ohio. They serve up a pair of holiday brews that is truly a present to yourself. The Holly Jolly Christmas Ale will meet a full bodied smoke with a molasses and spice combination that is bottled gingerbread. For more of a languid time with a torpedo (or a collection of other sizes), make it Fat Head's Pimp My Sleigh. This Belgian-style ale will take some time. Numerous sharp flavors and a 10.5%ABV strength mean you are not in a hurry anyway.
And to all a good time!