REVIEW: Hoyo de Monterrey Epicure Deluxe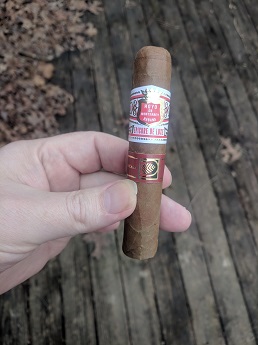 Hoyo Epicure Deluxe (LCDH)
5x52, 68% humidity
Beverage: water
As I inspect the construction of this cigar, I am drawn to how tiny the vein structure is within the wrapper leaf. I've had cigars with big veins in the wrapper and I've had cigars with hardly any veins in the wrapper leaf. This one is different from any other I've seen. There is a slight coffee and leather aroma from the foot.
This is a healthy robusto cigar and I expect it to deliver a volume of smoke with a slight draw. The pre-light draw confirmed that this was going to be the case.
Upon lighting the cigar, I drew smoke that even if if had not been banded I would have immediately identified as a Hoyo de Monterrey. From the first draw, the leathery flavor profile of Hoyos was up close, personal, and lots of it. There is no harshness as is common on the first few draws of a cigar. The leather flavor practically slaps you in the edmeds24.com.
The aroma is of very strong tobacco, which is exactly what I expected. Even though it wasn't harsh to begin with, the flavor smooths out even more in the first inch. Hints of coffee begin to present themselves. The cigar continues to produce volumes of smoke at the slightest draw.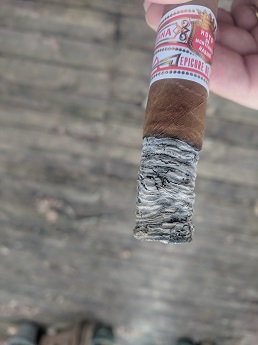 In the second inch, the cigar develops a slight sweetness to the smoke. Not the vanilla, caramel or creamy sweetness that is often found in a cigar of this strength and size. Just a slight sweetness. Neither cloyingly strong nor too faint, the sweetness is a fine compliment to the flavors that are building the further I smoke it. This sweetness will develop a slight vanilla flavor in the third inch.
This is an exceptionally well-crafted cigar. The ash is very firm and doesn't drop until I am halfway through the cigar. The ash would drop only one more time, that being when I went to slide the band off.
The flavors continued to intensify until I couldn't smoke it any more without singing my mustache and burning my fingers on the nub. None of the flavors grew harsh but continued to intensify the further I smoked it.
These cigars are somewhat pricey and only come in boxes of ten. I don't dip into the box very often, but sometimes a Hoyo de Monterrey is just what is needed for a change of pace.