REVIEW: Groovyguygifts Cigar and Whiskey Groomsman Gift Box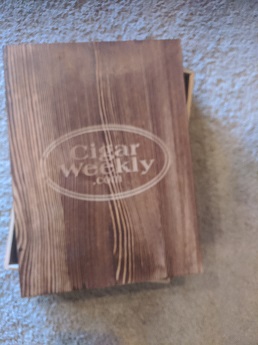 Recently, Joe from groovyguygifts.com contacted me to ask if I was interested in reviewing some of his company's products. Groovyguygifts specializes in high quality, personally engraved gifts, especially (but not limited to) groomsman's gifts. Upon reply, he sent me what must be the top-of -the-line presentation box. I've tested it out and am ready to report what I think of it.
The materials are of a very high quality. The box has a distressed, rustic pine finish with a deeply engraved logo/monogram. They were able to use the Cigarweekly logo on several of the items. Those that were too small for the logo were engraved with a capital 'C'.
Upon opening the box, you can see an extreme attention to detail. The lid is lined with foam and felt, as are the individual pieces of the set. It comes with a flask (roughly a half pint), a sommelier's corkscrew, a heavy duty stainless steel cigar cutter, 4 stainless shot glasses a single finger cigar case and a heavy duty bottle opener.
My first reaction to the set was the quality of the materials and the care with which they were packaged. My second thought was "this would be great for the golf course!" Unfortunately, I don't play golf, so I didn't get the chance to try it out in that environment. I did check out the items in a more piecemeal fashion.