REVIEW: Asylum 13 Oblongata by CLE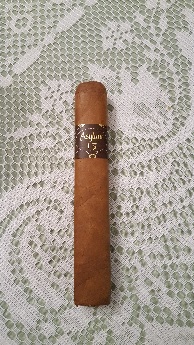 I never thought that I would be a cigar a day smoker. I was a once-or-twice-a-week guy, not wanting to be absent from my family whilst sitting outside for two hours or so per night. Family situations change, elders need caregivers, caregivers need to get out of the house from the elders and voilá, smoking more than one cigar per day sometimes is suddenly a reality.
My good friend of nearly twenty years at Cigar Weekly sent me a bag of cigars some months back with a request that I let him know about one of them. So, Stan, this is for you, me brother. This is the Asylum 13 Oblongata made by the CLE Cigar Company, founded by Christian L. Eiroa. According to their website, this cigar, called the 60 x 6 due to its dimensions, is made of all corojo tobacco. This should be an experience no matter how it turns out. The Eiroa/CLE corojo farm is in Honduras, according to Cigar Aficionado's Gregory Mottola, the plantation in the Jamastran Valley once known as Argelia is now called El Corojo after its namesake tobacco. (Gregory Mottola. Crop Report: El Corojo Farm, Honduras. https://www.clecigars.com/crop-report-el-corojo-farm-honduras/ February 5, 2020, accessed May 27, 2020.)
The wrapper leaf is beautiful, simply no other way to describe it, whilst the entire cigar is box-pressed. I almost ruined it clipping it with a tough guillotine cutter. However, I was able to ameliorate the damage. It lights quite nicely with one match and I was met with a strong woody character that coated the back of my tongue. A little ways in and that almost "over-flavor" due to the heat of the lighting has abated a great deal. This is now a pleasant woody cigar, with a nice tight, straight burn.
After the first ash falls, the first draw brings an almost syrup-sweet note, followed by a sweet coffee flavor which gives way again to the consistent woody character. There is a wonderfully impudent ligero core to this cigar, challenging all comers!
What a complex cigar! It kept changing. Here and there POW! A little burst of sweetness would appear, and just as quickly disappear again. There are little surprises such as the aforementioned sweet coffee. The overall woody flavor slowly gave way to a dry sensation and then to leather. This thing did not go out once, the ash held for long periods of time. This guy was well constructed, kudos to the torcedor and the rest of the factory crew.
It is quite distinctive in its character that it will almost demand an "occasion" to smoke it. By that I mean I know that the flavor is a bit unique and the smoker will be wanting to smoke something like this will wish to seek it out. On the old Cigar Weekly five-star scale, this is definitely a solid 4 stars. I highly recommend the Asylum 13 Oblongata.
Wrapper, binder, filler: Honduran Jamastran corojo.
6 x 60
Full-bodied, medium strong.