JNV Maduro Torpedo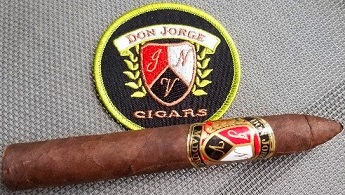 June 4th, 2018
Vitola: Torpedo
MSRP: Around $5
Wrapper: San Andrés
Binder: Dominican and Nicaraguan
Filler: Dominican and Nicaraguan
I am truly grateful to be able to review this cigar, which I had heard about from a close friend of mine. I was even able to meet the owner, blender and roller of JNV cigars, Jorge Nicolls (Don Jorge). Not only is he a great cigar brand owner, but also a great man in general. We instantly became friends. Now, onto the review!
When I first looked at the cigar, the construction was fabulous. The Torpedo was a dark brown color, like a piece of rolled leather. It had some veins, but was a really good looking stick nonetheless. As I took a whiff from the foot, I smelled some pepper and earth tones right away.
Before I proceed, let me preface by saying these cigars are rolled with Dominican and Nicaraguan tobaccos blended together. This mix allows the smoothness of Dominican tobacco and the spice of Nicaraguan tobacco to coalesce. I used my V cutter and took a cold draw, which revealed the same notes I had noticed from the foot.
First Third
I lit the cigar and, as expected, tasted some earth and a good amount of pepper and spice – that is, from the Nicaraguan tobacco. I am not a huge pepper fan. But after a few puffs, the pepper and spice subsided and mixed in with earth and a little more of a cocoa taste. The draw was really good, and the smoke was plentiful. The mix of the tobaccos came together nicely, and I was definitely enjoying the cigar so far.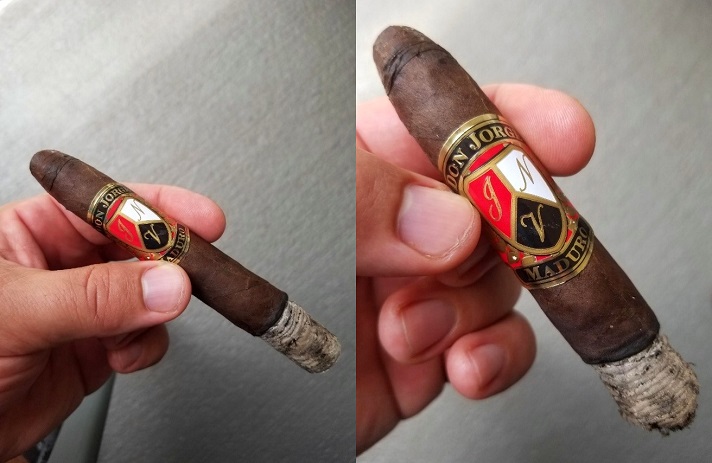 Second Third
As I got into the second third, the spice was still there, but very minute. Notes of leather, cocoa and earth were still there, and some cream flavor was starting to take form. I expected the cream characteristic and smoothness of the Dominican tobacco to take shape, and was not disappointed. The ash was a mix of light and dark grey with a tinge of beige. The burn was perfectly sharp, and no touch ups were needed thus far.
Final Third
With the second third moving into the final third, the flavor changed once again, and the complexity of this cigar really grabbed my attention. The black pepper and earth started making their way to the forefront while the cocoa and cream took a step back. The burn was still perfect, and the draw was phenomenal.
Continuing on, I was pleasantly surprised that the cigar was not getting hot. And to my amazement, all the flavors were starting to take form and intertwine with one another. I was tasting cocoa again, as well as leather, earth, spice and a new nut note. After a few more puffs, I had no choice but to put the cigar down – not because it became hot, mind you, but simply because there wasn't much left to smoke!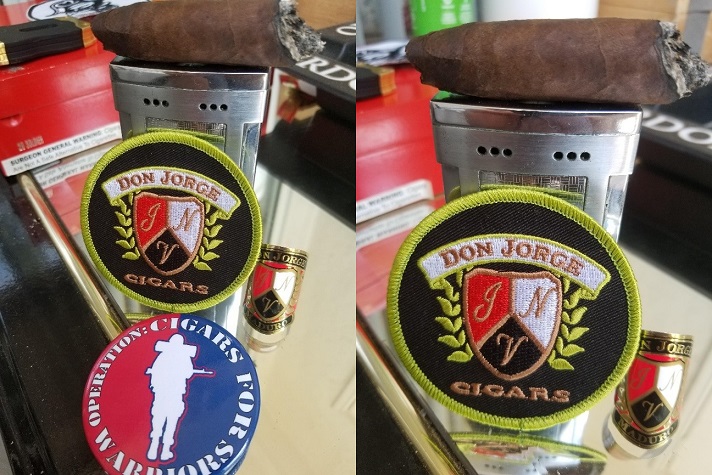 Conclusion
I really enjoyed this cigar and the surprisingly complex profile that it had. Getting to know the owner and roller made the experience that much better. I still cannot believe that these cigars sell for around $5 across the board.
Don Jorge's vitolas come in Connecticut, Maduro, Habano and Barber Pole versions. For over a month now, I have not gone a day or two without having a JNV cigar. Now that is a sign of a GREAT cigar!
Rating
Pre-light: 9/10 (earth and spice combo)
Light: 9/10 (easy to light)
Draw: 9/10 (great draw all the way through)
Construction: 9.5/10 (beautiful looking cigar)
Flavor: 8.5/10 (complex profile throughout)
Strength and body: 8/10 (more of a straight medium than medium-full)
Average: 8.8/10 (I still cannot believe the price for this fabulous cigar)
__________________________________________________
Michael D'Agostino (Stogiemike) resides in the Jacksonville, FL area.