Montecristo Linea 1935 Leyenda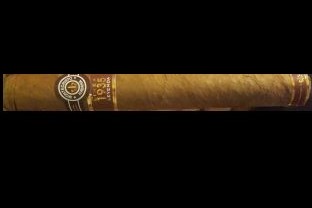 Cigar:
Montecristo Linea 1935 Leyenda
Specifications:
Purchase date: 2019
Country of Origin: Cuba
Wrapper Color: Natural Carmelite
Wrapper type: Cuba
Filler: Cuba
Binder: Cuba
Vitola: Double Robusto (6.5x55)
Manufacturer: Montecristo
Distributor: Habanos S.A.
Factory: H. Upmann Havana, Cuba
Humidimeter: 65%
Current Production: Yes
Price: $77.50 (current)
Environment:
Temperature: 40 degrees
Humidity: 35%
Wind: N/A
Setting:
My regular spot in the little, outdoor smoke shack.
Paired with:
Iced coffee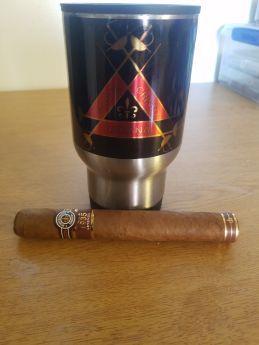 Appearance and Construction:
A medium textured, slightly veiny, slightly visible seams wrapper with a medium textured, short, even cap. Overall a somewhat unattractive appearance.
A firm, lumpy bunch,and slightly tight cold draw with no discernible taste.
Burn:
An even burn, short, conical coal, and a strong, dark grey ash.
Draw/Smoke comments:
A slightly tight draw, ample smoke volume, smooth, cool smoke, and a faint, brief aroma with scents of wood and a light floral hint.
Flavor/Taste Comments:
Of ample richness, body and flavor, consisting of perfectly balanced tastes of predominantly earth and woods, with very, light hints of grassiness and flowers, and of a mild strength.
Finish/Aftertaste Comments:
A modest, brief finish consisting of earthy, grassy, and woody flavors.
Summary Comments:
An overall excellent character smoke. The tastes were very nice and perfectly balanced with each other.
As you see from the section scores, it did well in every category except Construction/Appearance where it lost the most points but getting a perfect score or close to it in every other section.
Personally, an attractive looking cigar is great, but appearance really matters little to me personally. As long as it burns and tastes good, I'm happy. That said, an appearance category is necessary, so in spite of me saying it had excellent character, the overall score of 90 out of 100 puts it in the middle of the "very good" spot on the scale I use.
Personally, if I were asked to score it off the top of my head, without using this outline, I would say about a 95.
Not uncommon for my personal feelings to disagree with the outline of characteristics, section, and overall scores, but I try and keep personal feelings out of my reviews as much as possible and stick to the facts of the characteristics outline and the scores they produce.
Category Scores:
Appearance/Construction___11____ 15   
Burn___15____15     
Draw____9__10
Smoke volume ____9__10
Smoke character ___5__5
Aroma___5___5
Flavor/Strength___13____15
Finish/Aftertaste____9____10
Summary___14____15
TOTAL____90___ 100