Montecristo Espada Oscuro Guard
Cigar: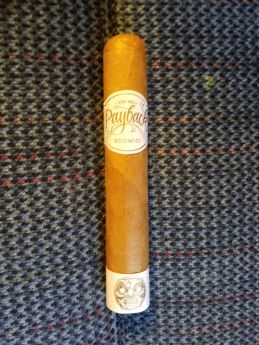 Montecristo Espada Oscuro Guard
Specifications:
Purchase date: 2023
Country of Origin: Nicaragua
Wrapper Color: Oscuro
Wrapper type: Habano Rosado Oscuro
Filler: Nicaragua
Binder: Nicaragua
Vitola: Toro (6x50)
Manufacturer: Plasencia SA
Distributor: Altadis USA
Factory: Plasencia SA, Esteli, Nicaragua
Humidimeter: 66 %
Current Production: Yes
Price: $14.30
Environment:
Temperature: 30 degrees
Humidity: 76%
Wind: N/A
Setting: My regular spot in the little, outdoor smoke shack.
Paired with: Iced coffee
Pre-smoke Comments:
Smooth, slightly veiny wrapper with slightly visible seams, a smooth, medium length cap, hard bunch, and tight, flavorless cold draw. Overall appearance is attractive.
Smoke/Burn Comments:
Even burn, flat coal, and a typical structure, mottled black ash.
Draw/Smoke comments:
A tight draw, good volume of smooth, cool smoke, and a faint aroma of wood and tobacco.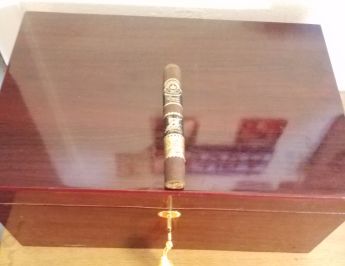 Flavor/Taste Comments:
Medium richness and body, mild strength, and a perfect balance, medium flavors, of wood and tobacco.
Finish/Aftertaste Comments:
Weak strength, very brief length, and a woody aftertaste/finish.
Summary Comments:
Overall, a good cigar, but I cant say it's any better than that, even excluding the tight draw after a few runs with the PerfecDraw, and a barely "good" smoke volume. The flavor was just too weak/mild, and wasn't anything special at wood and plain tobacco, and I prefer a little stronger and longer lasting aftertaste/finish and a stronger more fragrant aroma.
Plus, definitely nowhere near being worthy of $14 each, box price.
Overall score is an 82 out of 100, putting it solidly in the middle of the "good" range.
Category Scores:
Appearance/Construction___14____ 15
Burn____14___15
Draw____8__10
Smoke volume ___7___10
Smoke character ___5__5
Aroma___3___5
Flavor/Strength___12____15
Finish/Aftertaste_____7___10
Summary__12_____15
TOTAL____82___ 100