Cigar Weekly 2015 Blind Review #2
Kings Cigars King of Kings Broadleaf Robusto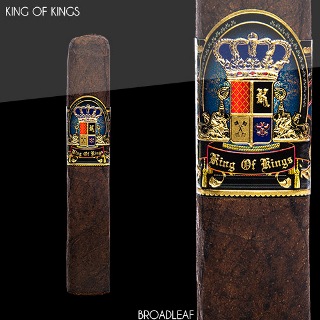 Compiled by Doug McGuire (Mad Dawg)
This is the second Kings Cigars cigar to be evaluated by our tasting panel.
Kings Cigars is a new arrival on the international cigar scene. From early discussions in a bar in Santiago, Dominican Republic, a business model was formed and a new company begun with the intent "…to create flawless cigars using the finest aged binder and filler tobacco, complimented with the ultimate wrapper to attain KINGS perfection."
Kings' CEO, Anwar Mithavayani, contacted Cigar Weekly and supplied the cigars for this tasting.
The Kings Cigars King of Kings Broadleaf Maduro line is described on the Kings Cigars web site as follows:
This Broadleaf wrapper has the look of a deep, dark chocolate – almost good enough to eat – which is the perfect combination with the Nicaraguan binder and our proprietary fillers. This mixture has a smooth taste with a gentle bold beginning. This box pressed gem has a great aroma for a wonderful experience. This cigar lives up to its name, it truly is Fit for the King of all Kings…
This started as a wonderfully crafted handmade premium 6 x 64 Soft box pressed cigar with a medium to full-bodied strength in a flawless broadleaf wrapper. The response has been overwhelming for the additional Vitolas and the command has been fulfilled.
WRAPPER: Pennsylvania Broadleaf
FILLER: Proprietary blend with Nicaraguan tobacco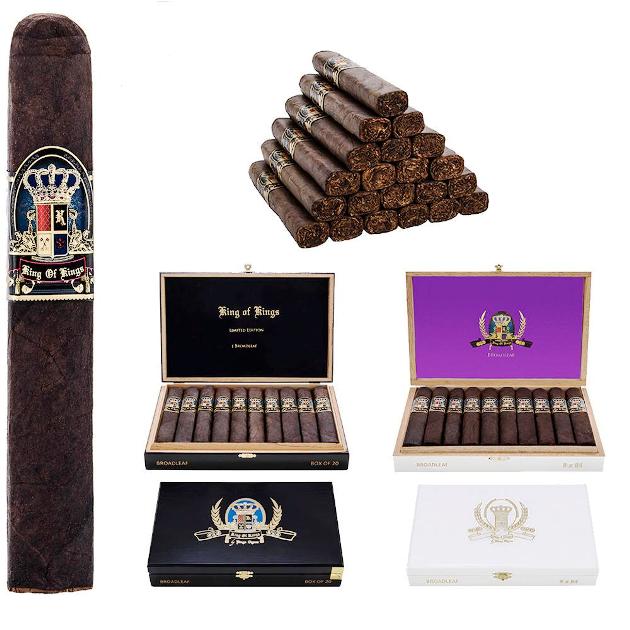 Pre-Smoke Comments
AKDiscer: Construction was sound, no breaks or soft spots. Oily and dark wrapper as well as being spongy with a very earthy smell.
spiridon: This is a robusto sized cigar with a dark, VERY oily wrapper. It has some pronounced veins in the wrapper leaf, along with a lumpy fill, giving it a somewhat rough appearance. When taking a pre-light whiff of the foot I detect a distinct barnyard/manure scent along with a certain sweetness, a good thing in my opinion. The cap is smooth and the overall feel of the cigar is firm.
Shadow: Pre-light draw was excellent. Nice looking robusto cigar. A brief aroma of chocolate to it.
jgbutler: Both samples of this cigar seemed well constructed with a firm bunch and a hefty feel to the cigar. The wrapper was smooth except for small bumps due to the filler bunch, had an oily sheen with a few very small veins and appeared to be thick and dense. It was also extremely dark and what I would class as Oscuro. It had a slightly sweet and woody aroma to the pre-lit cigar. The cap was a bit rough but cut cleanly revealing a perfect draw. The first cigar instantly started off with an uneven burn that required touchups throughout the cigar. The second cigar did the same but finally corrected itself. Both cigars also demanded pretty steady draws to try and keep the cigar lit and going. Even doing that, both cigars still went out completely twice and had to be re-lit. The cigar did produce good volumes of smoke when it was burning well. Both examples also tended to tunnel as the filler burned faster than the wrapper. The burn issues greatly distracted from any enjoyment of the cigar.
TommyBB: Both specimens are really attractive, slightly veiny wrapper leaves on them, but oily and pretty. They are solid and tight, perhaps a bit too much, to be honest.
gumby: Very black and veiny wrapper. Interesting smell that went back and forth between wet hay and manure.
Capitone: Very dark and extremely oily looking cigar. This was baby oil glossy which made me a little apprehensive. Aroma unlit is smoky.
Smoke Comments
AKDiscer: Had to touch up the smoke several times due to uneven burning. Had to be fairly attentive at taking a draw, otherwise I had to relight….too moist? There wasn't much smoke coming from the cigar after a drag, almost didn't seem like it was lit. Draw was just how I like it and the aroma was pleasing as well as flavor. Appeared to be a medium+ with an earthy and woody taste. Overall, above average cigar and right within my current palate for an everyday cigar.
spiridon: Upon lighting the foot I get an immediate dose of classic maduro sweetness, with a rich chocolate undertone. I am not very good at matching food descriptives with my cigar experience, but I try to concentrate to see if I can associate the flavors of this cigar with any food groups….I would say that I am getting a mixture of raisin and almonds. I would peg the strength and body of this cigar at a solid medium with a fairly rich flavor profile. There is just a touch of pepper or spice in the background giving a nice balance to the sweetness up front. This cigar produces an acceptable amount of smoke, but just as I am settling in to enjoying things the burn on this goes south. The ash is a mottled grey and rather flakey. I correct the burn and re-light, but still find that I have to work at keeping it lit. The flavor of this cigar is very nice and has a very interesting complexity with nice balance…….but once again I am having to re-light and then correct the burn. One thing I notice while I am able to keep things lit is this cigar has a very 'clean' taste or short finish. I'm wondering if this cigar is comprised of Dominican leaf, as that is what I tend to associate with this characteristic?
Shadow: After lighting the cigar the chocolate aroma disappeared and just a straight tobacco aroma was left. Wasn't anything amazing to this cigar.
jgbutler: The cigar started off with a slight pepper on the lips and had a strange floral taste and for lack of a better description, an incense type of aroma. That floral taste went away prior to the finishing the first third and the cigar picked up an earthy flavor with a touch of cedar and a hint of an almond/walnut nuance. The pepper disappeared short of finishing the first third of either cigar. Both examples of the cigar were what I would call full bodied with copious amounts of smoke. The cigar started off medium strength but ramped up to more medium-full by the halfway point but at the same time the balance of the cigar got better with a more abundance of flavors coming in. Both examples of this cigar did everything it could to go out for the entirety of the cigar and demanded several relights throughout the cigar. With the work needed to keep it going a harshness started to set in. In the final third of the second cigar I started picking up a slight metallic taste that pretty much ended any enjoyment that was left in the cigar.
TommyBB: At the beginning this is a mild 'hamburger'; there's a sense of both meatiness and breadiness to the flavors of the cigar. That is, when I can keep it lit. It's not a powerhouse, but there are some pleasant flavors deep in there, waiting to come out. As I continue, the burn improves, some, and the flavors a bit, too. But there's a slightly burnt taste, to it, likely from the alarming number of times I have had to re-light the cigar.
gumby: The pre light aroma was off putting but the initial puffs raised my interest. Unfortunately, it went downhill from there. Massive tunneling and uneven burns (over an inch variance from side to side). Relatively no ash due to the clumped wad of the roll. Bitter brute of a smoke with no character. I had hoped the first one was just a miss but I had similar experiences with the second one as well. One of the least favorite cigars that I have smoked in years.
Capitone: Sweet raisins once it gets going. Started out grassy at 1st light. 2nd 3rd kicks up pleasant dark maduro notes. Texture of smoke is oily and sweetness reminiscent of raisins or dates. There is a definite toast aspect layered throughout the taste profile. Medium to full smoke. Never offensive.
Summary Comments
AKDiscer: (#1) This cigar could stand to dry out just a touch for better burning experience and possibly the scent of the aroma. I'd smoke this cigar again. (#2)
spiridon: This cigar started off with great promise, and of course it is possible or probably even likely that I just happened to get a couple of bad rolls. I enjoyed the body and flavor profile of this cigar when I could keep it lit, but the troubles I had with the burn took away from the enjoyment. Burn issues aside, this cigar IMO was right down the middle in the way of strength and body with a pleasing mixture of flavors which were nicely balanced. IF construction issues were corrected this would be a cigar that I would enjoy from time to time, mainly as a change of pace from my normal diet of pepper and spice.
Shadow: Cigar was alright but nothing that I would say I'd go searching for a box of them.
jgbutler: The dark oily dense cigar really had me anticipating something good. Unfortunately it was not to be. The effort it took to keep both examples lit and going as well as the metallic taste that started showing in the second example diminished any enjoyment and satisfaction that either of the cigars could possibly have delivered.
TommyBB: I like this cigar, but it's a disappointment, to me. Both of the specimens are simply lovely to behold, but after that, I've had any number of burn problems, tunnelling, and constant relighting is needed. The flavor is mild-to-medium, and fair, not great. I will smoke both, and enjoy them, but it really let me down. At the right price, as is the Cigar Weekly way, it's an acceptable cigar, but not one I'd likely buy too many of if they're not reasonably priced, I'm sorry to say.
gumby: I hate to be negative on a cigar that someone donated to review, but this was awful. Hours later I am still trying to get the taste out of my mouth.
Capitone: The appearance of the stick is well made but the extra oily look did put me off a bit. Just seemed or gave the appearance of 'manufactured' vs. 'natural'. Pleasantly surprised by its character once lit. Very well behaved to be so full bodied. Would not turn this one down if offered although the profile isn't my preference. Good smoke. I can see a lot of 'full body fanatics' going crazy over this stick.
Scores
Reviewer

Appearance and Construction (0-5)

Burn (0-5)

Draw (0-5)

Aroma (0-5)

Flavor (0-10)

Taste and Aftertaste (0-10)

Overall Quality (0-10)

Total (0-50)

AKDiscer

4.5

3

5

4

8

7

7.5

39

spiridon

3

2

4

3

5

6

6

25

Shadow

4

4

4

3

7

7

6

35

gumby

3

0

0

2

2

1

1

9

jgbutler

4

2

5

3

7

6

6

33

TommyBB

3.5

2

3

2.5

5.5

6

5.5

28

Capitone

4

3

3

5

8

8

8

39

Averages

3.7

2.3

3.4

3.2

6.1

5.9

5.7

30.3

To achieve the final score, we throw out the high and low total scores, then average the remaining scores.
Review Results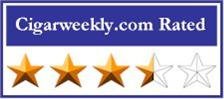 Final Score: 32.8 out of 50 – 3 1/2 Stars – Above Average
This cigar was a totally different experience from the Arapiraca Corona (Review #2015-1). Rustic construction, loose roll, open draw and heavy oiliness gave an unpromising pre-light impression. Very stout in body, but rather monochromatic overall, with construction problems manifesting in tunneling and a chronically uneven burn requiring frequent touch-ups. Not a bad cigar, just not interesting enough to hold my attention.
Kings of Kings (Broadleaf) is available in five sizes, boxes of 20:
Cuadrado: 6 X 64 Soft Box Pressed.
MSRP was not provided. More information is available at http://www.kingscigars.com

__________________________________________________
All information in the Cigar Weekly Blind Reviews database is © copyright the authors and Cigar Weekly. Unauthorized use is prohibited without express permission of either.