A Cigar's Tale 'Short Story' Review XXIII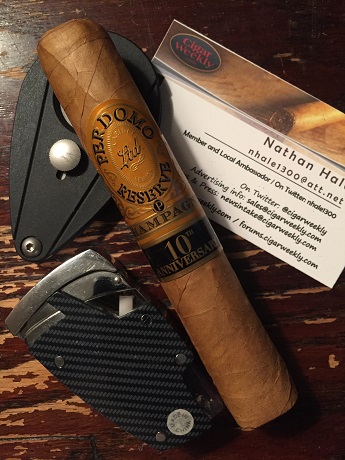 October 17th, 2016
Today, I am reviewing another sample from the 2016 IPCPR show – the Reserve Champagne 10th-Anniversary from Perdomo. Now, I know you're probably thinking that this is not a new cigar. And you'll be right. That said, the Perdomo was sent to me to assess with the understanding it did indeed come from this year's IPCPR show. So I'm going to do my review thing regardless.
This particular 10th-Anniversary came to me in the Epicure (Toro, measuring 5 inches by 54 ring gauge) size. It sported a Connecticut wrapper along with a Nicaraguan binder and filler.
Upon visual inspection, I took note of the light brown wrapper, which had some small veins and visible seems. The wrapper was smooth, and the cigar firm. The aroma coming off the wrapper included scents of leather, dried fruit, mushroom and oak, while the foot gave off some raisin, brown sugar, green pepper and almond.
After cutting the cap, I took a couple of cold draws just to see what I could pick up. The cold draw produced notes of salt, black pepper, clay, earth and peanut.
Upon lighting up this cigar, I was greeted with a flavor profile that included earth, herbs, mushroom, butter, black pepper, leather and tobacco.
The second third of the session provided notes of coffee, walnut, butter, paprika, leather and oak.
Everything came together in the final third to give me a flavor profile that encompassed tobacco, dried fruit, coffee, peanut and leather.
This cigar isn't tremendously complex, but it's still enjoyable. It offers a consistent flavor profile throughout, and a mild to medium strength. Even better, the Perdomo Champagne 10th-Anniversary weighs in at a pretty good price point, which makes this cigar an everyday go-to contender.
Pre-light: 7
Light: 6
Draw: 7
Construction: 5
Flavor: 6
Power: 5
Average: 6
__________________________________________________
You can follow me at www.facebook.com/ACigarsTale or on Twitter and Instagram @nhale1300. As always, you can find more of my reviews (and additional reviews by many other talented reviewers) at www.cigarweekly.com. There, you can also find interesting articles concerning non-cigar related topics, as well as great content on the forums.