VILLIGER CIGARS TO LAUNCH "VILLIGER DO BRASIL" AT THE TPE 2020

(Miami, Florida) January 22, 2020—Villiger Cigars to release the "Villiger do Brasil" cigar brand at the TPE 2020 taking place this January 29-31 at the Las Vegas Conventions Center. Villiger do Brasil is a Brazilian puro which features two blends, Claro and Maduro, created to celebrate Villiger's century long history with Brazilian tobacco. Villiger's new factory in Bahia, Brazil also named "Villiger do Brasil" (Villiger of Brazil, translated from Portuguese) opened its doors in 2018.
The Villiger family's relationship with Brazilian tobacco dates to Villiger Cigars' beginnings in 1888, when Jean and his wife Louise Villiger imported Brazilian tobacco, shortly after founding the company. Later in 1979 a Villiger subsidiary company opened Porto Alegre (Rio Grande do Sul), Brazil. The company was named CHARUTOS TOBAJARA LIMITADA and produced handmade cigars for export to Germany and Switzerland. Later Villiger moved operations to Northern Brazil (Bahia) where the new Villiger do Brazil factory was opened.
The Villiger Do Brasil cigar brands promise a multifaceted journey into the land of passion and it shows in its two versions: CLARO and MADURO. The light Brazil Connecticut Shade wrapper gives the CLARO version a velvety light brown tone, that visually supports its balance and fine aromas. Typical notes of coffee and wood meet a subtle sweetness with hints of cedar and pepper. Arapiraca tobacco gives the darker MADURO version its silky dark brown and a fruity character, which plays around with notes of leather and coffee. Both varieties have a medium taste, whereby the MADURO tastes a shade stronger.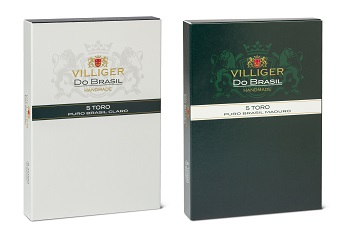 Villiger Chairman of the Board, Heinrich Villiger said:" My family saw the value in Brazilian tobacco when they began Villiger Cigars as very small operation in 1888. Brazilian tobacco is unique, as its structure is very robust, which leads to strong aromas and flavours. Its distinct qualities can only be created in Bahia, Brazil. We look forward to sharing the Villiger do Brasil brand with the United States marketplace."
The Villiger do Brasil Claro and Maduro are available in 5 count boxes
Vitolas and MSRP
Robusto (5x50) - MSRP: $9.00
Toro (6x50) – MSRP: $9.50
ABOUT VILLIGER SONS LIMITED
Villiger Sons Limited was established in 1888 by Jean Villiger in the small town of Pfeffikon, Switzerland, where Villiger remains headquartered to this day. The company manufactures and sells more than 1.5 billion cigars annually, world-wide. Today, under the leadership of Heinrich Villiger, the company prides itself in its commitment to quality, in all their products made in many countries around the globe.
Villager Cigars North America on social @VilligerCigar #CigarsSince1888