A Rich Pour 33: Warm Weather Whites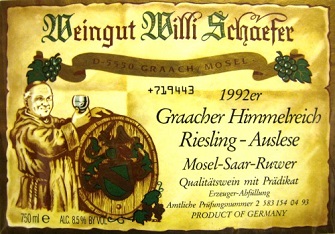 The sun is shining, and any memories of the chill of winter are now distant ones. A sudden hankering for liquid coolness demands to be satisfied. What to reach for? There are countless choices – an Indian pale ale perhaps, a gin and tonic, a Mojito or Pina colada, a mint julep, a whisky and soda or a refreshing white wine. That last option sounds like a pretty good one. Let's explore it further.
White wines can, of course, be enjoyed throughout the year. But they really come into their own when the hours of daylight lengthen and the thirst factor escalates.
While many red wines acquire a sense of equilibrium on the palate by backing up their primary flavours with tannins and acidity, white wines rely solely on acidity to gain a proper balance. It's this very trait that keeps decent white wines from seeming flat or cloying. Acidity can also help some white wines to age gracefully for years or even decades. More on that aspect a little later.
The grape variety (or varieties) a white wine is made from plays a crucial role in how the wine will taste and, in many cases, how crisp and refreshing it will appear on the palate. While some grape varieties are known for producing white wines that lean toward the vegetal or herbaceous (think Sauvignon Blanc from New Zealand or Entre Deux Mers in Bordeaux, for instance), others stake their reputations on highlighting fruitiness and – often – mineral notes (such as German Riesling or Chenin Blanc from the Loire). Then there are those wine grapes, like Pinot Gris (Pinot Grigio in Italy), which can sometimes be a little harder to pin down flavour-wise.
Even more critical to the final style of wine in the bottle is the role of the winemaker, who determines every factor from cultivation through harvest to fermentation and filtration. Some winemakers embrace the concept of minimal intervention while others espouse the benefits of a more manipulative approach, which can include ageing in new oak casks. Either strategy can yield palatable results, though the more traditional 'less is better' tact seems to be gaining favour of late, if only because it permits terroir and grape variety to better express stylistic individuality.
Serving a white wine well chilled will, of course, accentuate a sense of freshness on the palate, no matter the grape variety from which it's made or the flavour spectrum and degree of acidity. But going the extreme cold route can also rob the wine of its subtler nuances. More often than not, there's no need to turn the wine in your glass into a veritable iceberg, and serving it at between 45 and 50 degrees Fahrenheit usually hits the 'sweet spot'.
The more complex the wine, the more there is to be gained from avoiding too cold a temperature. Experimentation and personal preference are the keys here. I will simply say that allowing a quality white wine to warm ever so slightly and open up in the glass can provide great pleasures.
There are far too many white wines fitting the 'crisp and refreshing' bill to explore within the confines of this article. I'll merely mention a select few I've enjoyed of late.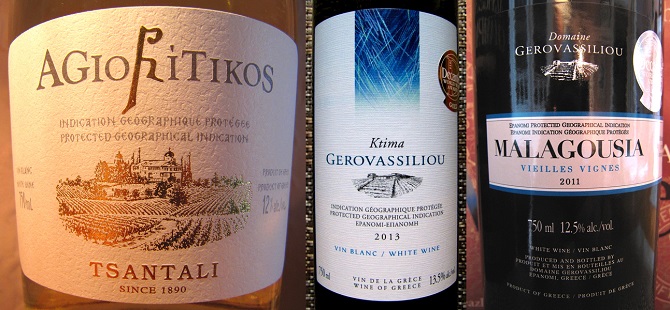 Greece
Tsantali Agiorítikos: A mixture of the Assyrtiko, Athiri and Rhoditis grape varieties. Citrusy, herbaceous and quite dry, this one pairs well with seafood and salads.
Ktima Gerovassiliou White: A blend of Malagousia and Assyrtiko grapes. Fruity, vegetal, complex, balanced and more structured than the preceding, this versatile wine will enhance dishes ranging from fish through white meats and pasta in cream sauce.
Gerovassiliou Malagousia: A very old grape variety that, at one point, seemed on the brink of extinction. Once again, we have a versatile wine, full of tropical fruit and citrus notes, and more than worthy of any fine fresh seafood dish. One to try!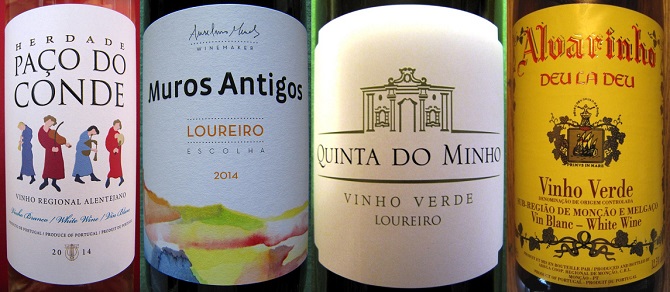 Portugal
Herdade Paço do Conde, Alentejano: A melding of Antao Vaz and Arinto. With ripe fruit, floral and vegetal notes as well as a sage compromise between good acidity and suppleness, this relatively inexpensive white is sure to please.
Muros Antigos Vinho Verde: Made from the Loureiro grape. Vinho Verde is perhaps the consummate summertime quaffing wine, and this one's no exception. 'Nuff said.
Quinta do Minho Vinho Verde: Also produced from the Loureiro. A lower alcohol version that's light and refreshing. Its citrus notes and hint of effervescence would shine brilliantly alongside grilled calamari.
Deu de Deu Vinho Verde: Made exclusively from the Alvarinho variety. Look for citrus and green apple flavours allied to crisp acidity.
Spain
CVNE Monopole, Rioja: 100% Viura. A clean, fruity and floral concoction that goes down easily. Always worth considering.
Ijalba Maturana Blanca, Rioja: Like the Malagousia, this old grape variety once appeared in danger of disappearing. Thank goodness that didn't happen! Viña Ijalba's version represents a unique and characterful interpretation, what with its combination of tropical fruits and subtle mineral notes. The counterbalancing acidity is refreshing yet rather restrained. I can picture this wine ably accompanying grilled chicken, eggplant or salmon.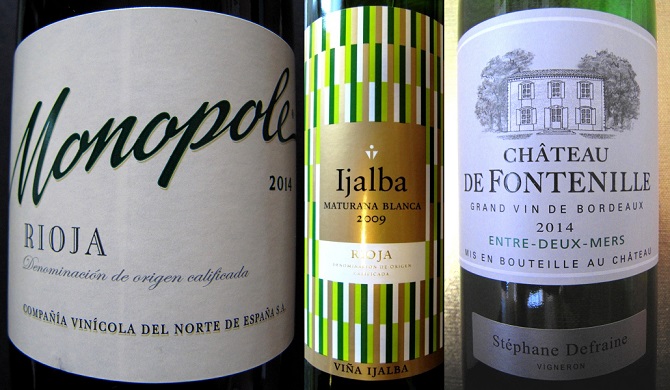 France
Château de Fontenille, Entre-Deux-Mers: A somewhat atypical mélange of Sauvignon Blanc, Sauvignon Gris, Sémillon and Muscadelle. There's citrus and peach fruit, but also a persistent spiciness that grows on the finish. Get ready to cook grilled shrimp or fish cakes, or perhaps bring out some really tasty smoked ham, and you'll be all set.
Riesling
No… Not a country, you're right. For me, Riesling is the premier white wine grape in the world. It can produce a simply staggering range of wine aromas and flavours depending on country, region and the contribution of the winemaker. So instead of focusing on any particular nation, I'm offering up a tiny smattering of examples from some exceptional producers.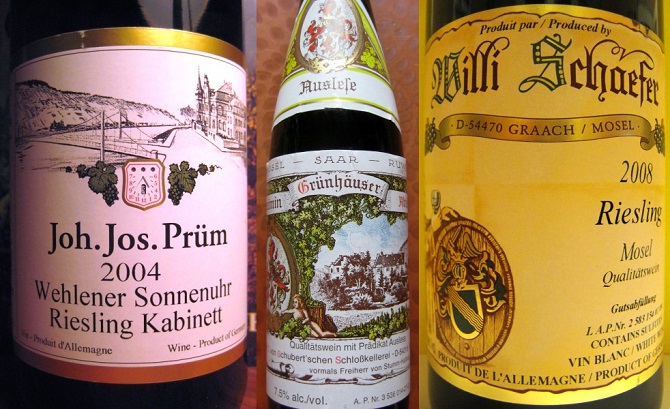 Joh. Jos. Prüm, Mosel, Germany: If you're a fan of German Rieslings, you already know about this fabled estate. Suffice it to say that Prüm's releases regularly number among the finest anywhere. Their effortless elegance (no matter the degree of dryness or sweetness) translates into wines that, despite their attractiveness in youth, are built to go the distance in the cellar.
Maximin Grünhaus, Mosel, Germany: A legendary estate. Once again, elegance is the keynote. These are wines to meditate on as well as to downright enjoy. Their combination of light alcohol, delicacy and piercing clarity can be a revelation.
Willi Schaefer, Mosel, Germany: Not the easiest wines to come across, as demand always outstrips supply. But if you do happen upon them, be prepared for intense fruit notes backed up by bracing acidity.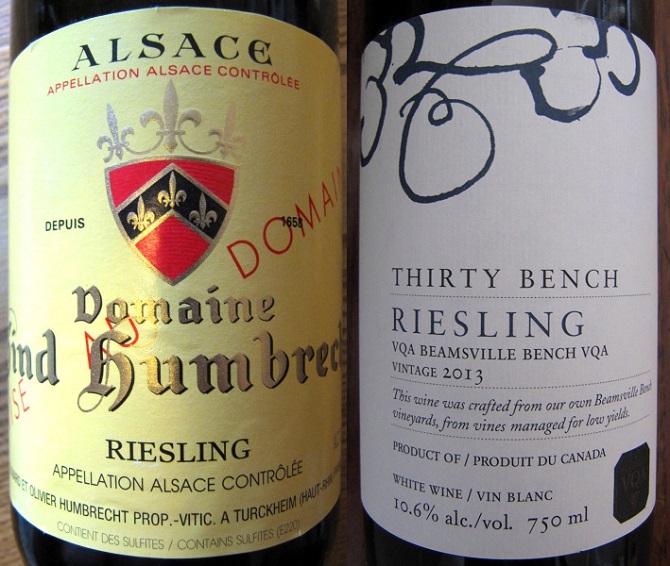 Zind-Humbrecht, Alsace, France: One of Alsace's top estates, with a reputation for well-structured wines possessing great depth of flavour. Even the entry-level releases are worth looking at.
Thirty Bench, Niagara, Canada: This estate has, since its inception, gained renown for its Rieslings. The single-vineyard editions, though pricier, can be sensational.
My preferred food pairing with many a Riesling (from dry to semi-sweet)? Fresh lake trout. Most Rieslings also match well with East Asian cuisine. And the sweeter ones are thoroughly enjoyable on their own.
I fully realize I've shortchanged numerous areas, grape varieties and producers here (Chablis, Chenin, Furmint, Grüner Veltliner and Viognier, to cite just few). And I'm also certain you have your own favourites. Either which way, I hope I've tempted you to pop the corks on more than a few bottles of refreshing white wine this summer.

Cheers!
__________________________________________________
Doug Kuebler (jazznut) is an inveterate aficionado and collector of wines and whiskies. Apart from organizing wine and food seminars, Doug has also written extensively on wines and liquors over the last three decades. His first published book-set,
The Tumbler's Guide to Single Malt Scotch Whisky
, has been well received in North America, the British Isles and Asia.
__________________________________________________