CIGAR REVIEW: José Blanco Señorial Maduro Lonsdale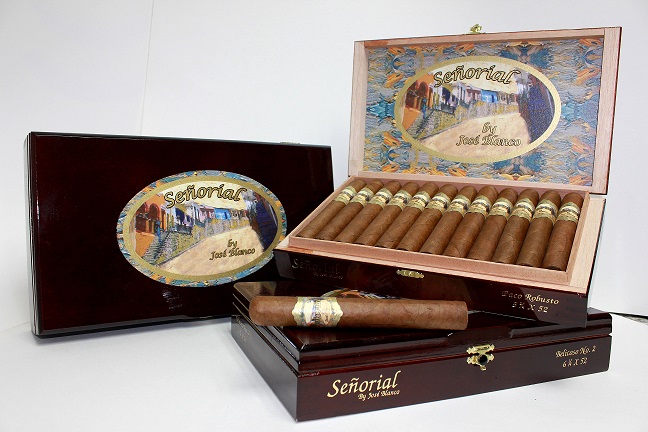 Monday November 9, 2015
José Blanco has cigar tobacco in his blood. His great-grandfather, grandfather and father all farmed tobacco in Tamboril, Santiago, Dominican Republic. José's uncle, Arnaldo Blanco, founded Tabacalera Palma in 1936, and it is still producing cigars in the Dominican Republic. José Blanco learned the family business of cigar making and tobacco farming while growing up, and rolled his first cigar at age 16.
For 30 years, José served as a member of the La Empreza Leon Jimenes (former owners of La Aurora) tasting panel - even as he held jobs in other industries. In 1999, he joined La Aurora full-time, and was eventually named Sales Director, although he continued to hone his skill at blending tobacco.
Blanco retired from La Aurora in 2011 in order to start his own brand. But he served for two years as Senior Vice President of Joya de Nicaragua. There, he learned about Nicaraguan tobacco, and honed his blending skills further. In 2013, he moved back to the Dominican Republic to set up his own shop.
José and his wife, Emma Viktorsson, founded Las Cumbres Tabaco - the 'summits of tobacco'. Their first offering, the Señorial Maduro, debuted in June 2014. And a new line, the Freyja (named after the Norse goddess), officially debuted at the International Pipe and Cigar Producers and Retailers show this past July. José has kept the production a family affair, which is detailed in Emma's blog, Cigar Fantasia.
It is fair to say that José Blanco is a true friend to Cigar Weekly. He has hosted his well-known and well-regarded blending seminars at tobacconists all over the country. Many of these seminars have been attended by CW members. In fact, José even hosted a blending seminar just for CW. But his interest goes well beyond that. In 2009, when he was still with La Aurora, José was extremely busy at the IPCPR show. Yet when I walked into the booth, he bade me sit, and worried with me about CW's future. We were working hard, but things had slowed here on the forums.

I have never forgotten that gesture and his genuine concern.

The cigar I am reviewing for you was featured at this year's IPCPR 2015 in New Orleans. You might have guessed from the title that the size of the cigar I am reviewing is a Lonsdale!! There's a point in its favor: not many companies seem to be featuring this size at the moment. And a grand elegant vitola it is. In the company's nomenclature, this is called a Lonsdale Refinado.

The cigar is long and thin. I would say it's 'refined'. But that wouldn't be original now, would it? The cigar measures 6½ inches x 44 ring gauge. Las Cumbres hopes to sell it at a suggested retail price of $7.50.

It is comprised of a filler blended with Dominican Piloto Cubano and Dominican Criollo 98. These are bound with Dominican Piloto Cubano, and finished with the now prized Mexican San Andres maduro wrapper leaf. Like most of the cigars I have been reviewing, this one seems sweetish before lighting. It's just got 'that smell' that I like from cigars. As the time comes for the matches, a small breeze cascades around my feet. So let me see how well this will work.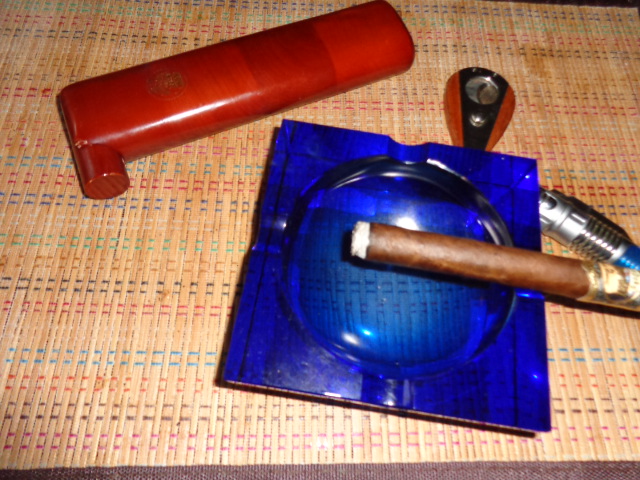 One match, and this cigar is well on its way. It lights cleanly and evenly all the way around - a bit easier with a thin ring gauge. There is the slightest touch of pepper as it begins - just on the tip of the tongue - and a cedar character on the back of the tongue. As I let it sit a couple minutes and draw again, the draw is generous, but the flavor has settled a bit. I am not the biggest fan of peppery spice, and am therefore pleased with this combination. The cedar is still there, but the smoke is not overpowering.

A beautiful ash forms on the end of this cigar, and a fine burn keeps it intact. The cedar is still present, but some earthiness is beginning to present itself alongside that cedary note. I am enjoying this cigar along with a Virgil's Zero Cream Soda. The two pair well.

As the cigar burns further, it gets both sweeter and earthy. Between the foot and the band, it drops its ash but once. The cream soda helps ameliorate any charry harshness it might develop. However, the cigar does start to tunnel a bit.

As the burn nears the band, I have to touch up the tunneling a little. And I see that the cigar may be unraveling at this juncture. I'm thinking it's because of the oppressive humidity out here tonight. Well, that's New Orleans in August for you. Flavor is consistent, though. The Lonsdale doesn't burn hot, and the pepper notes all but dissappear, which means the cigar is still pleasant for me.

At the band, the unraveling burns away and the cigar corrects itself. I start to feel the effects of this one in my head. It's a deceptive bit of strength from an almost Dominican puro. This cigar certainly keeps evolving!

The band is removed, and the cigar slowly wends its way to the final few draws. Other than for the minor issues of slight tunneling and unraveling, this represents a pleasurable cigar. For now, I will rate it VERY solid at 3.5 out of 4 possible points.
Postscript: Perhaps, if I had put it away and not left it on the dining room table (my writing desk) for a couple weeks, those issues would not have occurred. I would like to try one in a tobacconist shop, and compare the two experiences to see if poor storage was a factor in how the cigar burned. In short, a very nice cigar indeed.
__________________________________________________
Discuss this cigar review in the Review section of the Cigar Weekly forums HERE. Not a member yet? Then join fellow cigar enthusiasts by registering for the forums HERE. You'll be glad you did!
---