Romeo y Julieta House of Capulet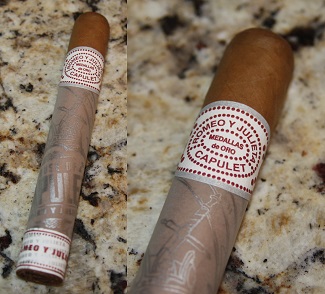 When first glancing at the Romeo y Julieta House of Capulet, my initial thought was, "What an elegant presentation they've done with this cigar." The cigar was dressed in a traditional RyJ-style band (found on many of their cigars) – a white band with red lettering towards the head of the cigar, as well as one surrounding the foot. Covering the cigar between the bands was a nice silver-etched translucent wrapper. Like I've said, an elegant presentation, and one that gave much anticipation as to what was to be discovered underneath.
This was a Romeo y Julieta cigar manufactured as an exclusive for Famous Smoke Shop. On behalf of Cigar Weekly, I would like to express a big thanks and my personal gratitude to Famous Smoke Shop for the availability of these cigars for review!