GTO Pain Killer Maduro Robusto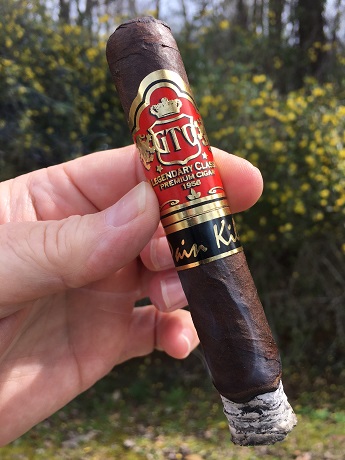 March 27th, 2017
Size of cigar: 5 inches x 52 ring gauge
I know what a GTO car is, but what's a GTO cigar? Well, a little Google action provided the answer to that question. GTO Cigars is a family business that manufactures its cigars in its own factory – Tabacalera GTO Dominicana.
The firm's cigars are small batch, boutique cigars, but not small batch in the sense that they are made as a side job in an enormous factory pumping out a hundred million cigars per year – not that there's necessarily anything wrong with that system.
GTO represents a different, very organic approach to the production of a cigar. The business model seems to be more 'Mom and Pop', rather than 'International business'. Except for a couple of blends that utilize Connecticut wrapper leaf, GTO's cigars are all Dominican Puros. The tobacco is grown right on the family farm in Valle del Cibao, in The Dominican Republic.