DEBUT COLUMN: Now Showing in The Man Cave
Publisher's Note: CW Contributing Editor Rob Geyer (Rob G) has graciously volunteered to write a regular column on movies. He also is the proud owner of his own man cave, where he can smoke cigars while he watches movies. This column isn't meant to be like Roger Ebert, but rather a review of movies available on DVD that Rob has recently viewed and/or enjoyed.
Seabiscuit (2003)
HD DVD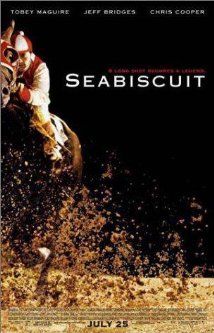 It's the 1920s, and the United States is feeling the full effect of the industrial revolution. Henry Ford's assembly line has changed the face of American industry forever. Cowboys like Tom Smith (Chris Cooper) become displaced, as the wide open plains of the western frontier slowly disappear. Many are forced to find work elsewhere. Some, like Tom, take up jobs with sideshows, circuses and rodeos.
For men like Charles Howard (Jeff Bridges), the American dream turns into reality. A bicycle repairman turned car salesman, Charles becomes one of the richest men in the nation, running the largest automobile dealership west of the Mississippi. But unprecedented wealth cannot protect Charles and his wife (Valerie Mahaffey) from the tragedy that lies ahead. Their only son is killed in an automobile accident. Divorce soon follows, and Charles, although wealthy, finds himself very much alone.
For the middle class, the roaring 20s is a time of prosperity with jobs for all. Red Pollard (Toby McGuire), a youth, is content and happy, with loving parents and close family bonds. But when the stock market crashes in 1929, millions of families, including the Pollards, lose everything. Every member of the family works odd jobs to put food on the table. Red's parents eventually abandon him, leaving him to fend for himself at the tender age of 15. All alone in the world, Red becomes a boxer and jockey to support himself. No matter what he does or where he goes, the demons from his past never seem to subside.