La Aroma de Cuba Mi Amor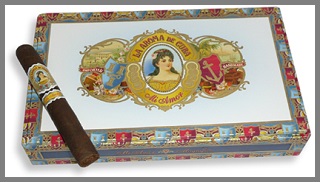 Editor's Note: Each week, our friends at Cigar Guys Radio Show, based in Atlanta, GA, do a review called 'The Cigar of the Week' on their radio show, which can be heard Saturday mornings on AM1230 ESPN the Fan 2 (WFOM radio) from 9AM to 11AM. That review is printed (in its entirety) here on Cigarweekly.com, usually on the Monday following its broadcast.
THE CIGAR GUYS RADIO SHOW 'SMOOTH DRAWS PICK OF THE WEEK'
As they've done each week, Alan and Gary stopped in at the Cigar Merchant of Roswell to meet with owner Scott Baily, as well as select and smoke the 'Smooth Draws Cigar of the Week Selection'. This past week, Scott chose the buy xanax online La Aroma De Cuba Mi Amor by Ashton Distributors, Inc.
THE CIGAR BACK STORY
At the 2010 IPCPR Trade Show and Convention, the La Aroma De Cuba Mi Amor was debuted by Robert Levin, the head of Ashton Distributors, Inc. Ashton Distributors Inc. has owned its own cigar brands for more than 25 years. But the company had broken new ground with the creation of La Aroma de Cuba Mi Amor. This cigar brand was the first from Philadelphia-based Ashton to be made with a Mexican wrapper.