Cigarticles
Steven John Faccenda-Toje 1957 to 2010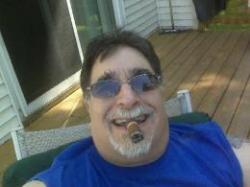 How does an edifice remain intact without part of its foundation? When a significant portion is removed, how does it continue to stand, but for careful stewardship? When our pillars or our foundations are rocked, perhaps broken away the whole of the structure suffers. When this is translated into the terms of a family or a strong, tight-knit community this suffering is more pronounced and acute.
And so, Cigar Weekly has recently felt the keen sting of loss. One of our giants has been called home, at 53 years old, altogether too early of an age, as we count years. His family, still young, and growing; he and his wife were looking forward to many more years together. We have lost a friend, a brother, a fellow lover of the leaf. We have lost a man who did more to build the community of Cigar Weekly than almost anyone else, with the exception of founder Daniel Bienkowski (DanB) and current ownership.
Steve Jr., Tim, Taryn, and Deborah Faccenda
Steven John Faccenda, known to us all as Toje, came to Cigar Weekly through an invite from one of the earliest members, Eric Hall (ehallz) who described it all back in 2003-2004 through a series of posts. "Cedarman asked me to check out CW, and then I asked TOJE to check out CW. (SORRY GUYS!") Steve was given the title "Ambassador" in the early days of the Community Forums and Discussion Groups because, as DanB once famously put it, "everywhere he goes he tells everyone about this place."As CW Charter Member Andy Kerman (ak2000) remembered some years ago, "The first 10 members to make 100 posts were made Charter Members and they were the original moderators. TOJE being in a league of his own was made Ambassador" Eric Hall describes it this way: "Suddenly, people started posting more to earn club member status...with TOJE taking off like a rocket! He became the most prolific poster and soon had his 100 posts (the rest is history! Love Ya TOJE!") And he really did try to tell everyone he knew about Cigar Weekly.
Steve's sense of humor was infectious, and his playful posts in those early years really made CW a fun place to be. The jocular nature really cemented friendships and attracted new members. It created memories and bonds which continue to draw people back into the community as well as making fond memories of times and those who shared them. His love for others, and the light-hearted way he expressed it, won him many friends and fans. In those days many would ask, in discussions, "WWTD? What Would Toje Do?" The answer, was, usually "I'd HIT it!"
Eric Hall continues, in discussing the early days and establishment of CW as a "safe haven" away from conflicts and flame wars at other forums; "TOJE, by coincidence, happened to fall prey to the sharks at my previous BB. He had the balls to offer cigar lovers the opportunity to win free cigars at another site. I sent TOJE an e-mail to check out this 'new and friendly CWBB.' He brought more cigar lovers to this site in the early days than anyone. TOJE is the first Hard-Core CWBB fan. Period."
After the founding of the forums, Steve began working for the magazine side of Cigar Weekly. His photography graced blind reviews and articles of all types for a number of years.
He organized some of the biggest and most memorable cigar events in the world of cigar forums, these are still mentioned in reverent tones to this day. He even welcomed fellow CW members into his home for these so they could enjoy events without having to spend on accommodations. They were events in his beloved New Jersey, usually at the JR Cigars location in Whippany. He was able to draw in cigar smokers from all over the northeast, as well as smokers from a number of online cigar communities. These Holiday Herfs and Herfs for Fools, were the envy of smokers nationwide. Many came because it was Toje leading the events, and as several of us would say, in the early days, "WALT: We All Love Toje." Eric Hall echoes this sentiment, in continuing to describe the early history. Hall left the forums because things were getting too close for him. As he stated "the Internet is the Internet and my Friends are my Friends." In response, a close friend of Steve's, Paul "Bulworth" Tallerico noted : "That boundary was smashed forever at the first Holiday Herf at JR's, and there's no looking back now. Until then I had also 'segregated' my online life from real life. I have met and made a lot of friends here, and I treasure that. Jbrock, Jefslat, SMOKO (SMOKOZUNA,) CP (Caballo Pinto,) Cabi (Cabaiguan,) Yos (Las Villas,) TOJE, hell why even name names, I've met half this place."
It is a sad fact of life within a community that egos get in the way of friendship and brotherhood with a terrible regularity. Conflicts happen and members who get angry with each other may be alienated, resulting in their taking a couple different paths. Some either leave or find themselves driven away. Regretfully, in the middle part of the last decade, this happened between Steve and some of us longtime members; we share the blame for this sorry turn of events, which rent our online family. This is likewise reflected in Steve's official obituary, which mentions his founding of the BOTL.org online cigar community but omits Cigar Weekly.

Thankfully, those of us who enjoy cigars, know that sharing time together over a cigar brings us together. We open our minds and hearts to each other, we converse and discuss everything from mundane minutiae of life, to sports, to the very cigars we smoke, to our families, and yes we ask forgiveness, reconcile and renew the bonds of "brotherhood (and sisterhood) in the leaf." For Steve and me, this moment came in Houston, Texas, at the Retail Tobacco Dealers Association (RTDA) annual trade show in 2007. Steve was present because by this time, he had left Tiffany's and was a full time sales representative for CAO Cigars, of Nashville, Tennessee. Their cigars had long been favorites of his, and their Director of Lifestyle Marketing, Jon Huber, had been a friend for years. Steve and I met at the show in Houston, we had conversations, embraced, and made our peace with each other, at least I hope we did. We did NOT clear the air, in fact, we clouded it with fragrant cigar smoke as part of a lovely reconciliation.
Steve "Toje" Faccenda with Jon Huber of CAO
Steve was a fixture at many tobacconists, and big cigar events in the northeast as part of his new role with CAO, and he continued to personally touch cigar lovers and members of CW who attended those events. It was clear just how deep the feelings were as they are reflected in a thread which appeared just prior to Steve's passing. It is now in the "Trophy Case" which appears in the Cigar Weekly Community Forums and Discussion Groups. We have lost a friend, a man unselfish and welcoming to all in his sphere of influence. Our community, HIS community, is empty without him, and many of our hearts are, as well. His loss leaves a hole that will never be completely filled, and while our wounds will hurt less over time, they'll never go away.
_____________________________________________________________________________
STEVEN JOHN FACCENDA

AGE: 53 HACKETTSTOWN

Steve "Koto" Faccenda, 53, of Hackettstown passed away peacefully in the presence of family on Saturday, May 29, 2010 at Compassionate Care Hospice in Dover, NJ.

Born in Morristown, Steve grew up in the Cedar Knolls section of Hanover Township and graduated from Whippany Park High School in 1975. While there he was a member of the football team that shared the 1974 Colonial Hills Conference title and was an all-conference kicker while also playing both offensive and defensive line. After high school he received an Associate's Degree in Graphic Arts from Chowan College in Murfreesboro, NC before becoming a professional photographer where he practiced his profession at Dennis Sawyer Photography in Bloomfield and Edmund M. Kramer Photographers in Florham Park. Steve also previously worked as a manager of the former Smile's Bar in Parsippany and Full House in Whippany; as a Quality Control Manager at Tiffany's in Parsippany; and most recently as a Regional Sales Manager for CAO International Inc., a Nashville, TN based cigar company.

Steve was a founding member of a private internet based cigar enthusiast board called The Brotherhood of the Leaf, an avid photographer, enjoyed golf, playing softball on Zagursky's, watching the Yankees and Jets, and most of all, spending time with his family and friends.

Steve is survived by his beloved wife of 17 years, Deborah Gifoli; his loving children, Steven Jr., Tim and Taryn; his parents, John and Dolores Faccenda of Hanover Twp.; his brother, Gary and his wife MaryLee of Denville and their children, Nick, Allison and Tyler; his sister, Madeline of Randolph; his sister-in-law, Fran Faccenda and her daughter Jaye of Boonton Twp. and many more nieces, nephews, aunts, uncles and cousins.

Steve is also predeceased by his older brother, Jay Faccenda.

Friends and relatives may call at the Bradley-Braviak Funeral Home 49 Whippany Rd. Whippany NJ, on Tuesday, June 1st from 2-4 & 7-9pm. A funeral mass will be held on Wednesday at Our Lady of Mercy Church in Whippany at 10:00 am. In lieu of flowers, donations in Steve's memory to an education fund set-up on behalf of his children would be greatly appreciated. Donations can be made to "The Steve Faccenda Children Education Fund". For more information or to send a condolence please visit

www.bradleyfuneralhomes.com Published in Daily Record on May 31, 2010
_______________________________________________________________________________________________
Thomas B. Bender IV "TommyBB"
Editor-in-Chief.