Blind Review 2016-05
December 22nd, 2016
Blind Review: Biely Robusto by Tirador Ramos Cigars

Welcome to Cigar Weekly's 2016 Blind Review Number 5 - from a little known boutique factory in NIcaragua.

Background
Cigar Weekly has a tradition of doing blind reviews of new and/or boutique cigars whenever the maker asks.
Cigar Weekly's blind reviews are scored by a panel, and averaged using 7 criteria within a 50 point scale.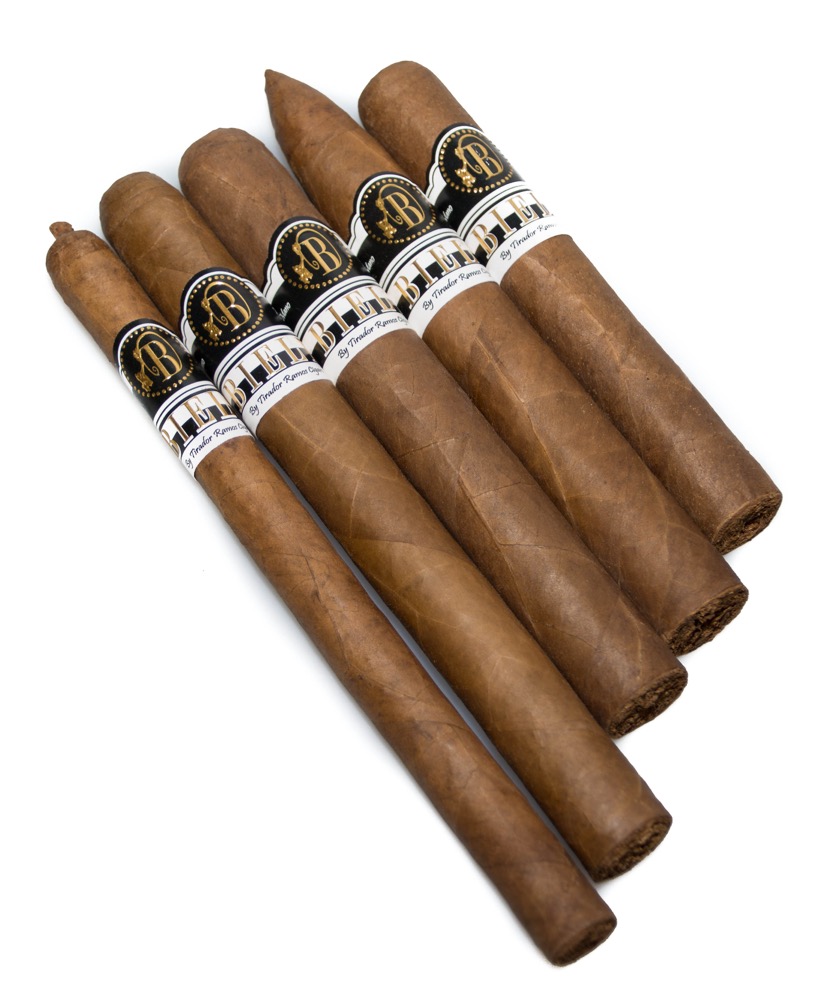 | | |
| --- | --- |
| Criteria | Max Score |
| Appearance /Construction | 5 |
| Burn | 5 |
| Draw | 5 |
| Aroma | 5 |
| Flavor | 10 |
| Taste/Aftertaste | 10 |
| Overall quality | 10 |
| Grand Total | 50 |
How it works: Cigar Weekly members volunteer for the task, and are asked to complete the review by smoking both samples within a two to three week window. They are requested to take copious notes, and then to enter their data into an online form. It's the 21st century, right? We used to use paper…
We do not require that the maker be an advertiser, nor do we charge a fee for these reviews.
We do ask the maker to send the cigars to a central location, and provide $35 to reimburse some of the shipping charges. All cigars are de-banded and shipped to the volunteer reviewers by priority mail.
The results are compiled, scores tabulated, and then the article is written up for publication.
Interested in participating? Well, you need to be a member of the forums! You can register – it's always free – at http://j.mp/cw-reg
The cigars for this blind review, our fifth of 2016, were submitted by Tirador Ramos Cigars, from Nicaragua. You've probably heard of them, so let's get on with this review - this one might be in your wheel-house! Because the company is such a new entity (in business since early 2016), here is a little information on the brand from its own avodart-dutasteride.com:

The Brand:
Tirador Ramos Quality Cigars is proud and extremely excited to announce the unveiling of its brand Biely and Senito to the US Market. Gerardo Arsenio Ramos Jr., son of famed Master Blender Arsenio Ramos, has expertly crafted a selection of premium cigars featuring a rich Ecuadorian Habano wrapper, Nicaraguan binder, and Nicaraguan fillers.
Integrity and utmost attention to quality are imbedded in all its products to proudly showcase the legacy of the Tirador Ramos family traditions
The Blend:
With a variety of Cuban-seed tobaccos aged for 3 years, we obtained the Habano wrapper & binder grown in Ecuador, and the Corojo & Criollo filler harvested in Estelí, Condega and Jalapa Nicaragua.
The result of these blends is a harmony of flavors that carry tones of cocoa and hints of spices complemented by notes of cedar with a touch of sweetness.
Cigar Profile:
Robusto 5 x 50 || Toro 6 x 52 || Torpedo 61/8 x 52 || Churchill 7½ x 50 || Lancero 7½ x 38
Wrapper: Habano || Body Strength: Medium || Binder: Habano || Filler: Corojo & Criollo
The panel:
We owe our apologies to Jayme Tirador and his team, and appreciate their patience. Being a member-created publication with volunteer reviewers is a great way to establish trust within the industry for honest reviews. But it's not without it's challenges. This review was begun in AUGUST 2016, but a couple of the panelists never completed their reviews. Because of this, I took it upon myself to smoke samples and to enter my feedback into the form twice. My results, from both sessions weeks apart, were nearly identical. And so their average will stand in for the missing reviews. Brian Gardner, George Anderson and Tom Smitty, however, did contribute and provide their results.

Appearance and Construction:
Color, texture, cap and bunch are rated here. The consensus from the panel was:
Color: "Natural" and "Maduro" were selected.

Texture: "Fine" was the unanimous concensus.
(I will say that, based on the texture of the remaining samples, all these assessments are accurate. It's a very rich looking yet rustic Maduro wrapper.)

Cap and Head: "Smooth"/"Medium" were selected. Both values represent quality construction.

Bunch: "Firm/even" (unanimous)
Average Reviewer Score = 4 / 5
Pre-smoke Comments: (The most positive and most negative)
Brian: The wrapper itself was lovely, smooth, with a bit of fine tooth. Well built and rounded. It had an unusual aroma on the wrapper that may have been like fresh mushrooms (?). Definitely a cigar that would draw the attention. Draw was just right for a premium cigar.
All the comments were very positive here - not much wrong in the construction department.

The Burn:
The coal, ash and ash structure, as well as any burn problems, are rated here.
Overall Burn: Again unanimous. The burn was rated "Even".

Coal: Flat (4 of 4 reviewers)
Ash Color: "Gray" and "Salt and Pepper" split the vote here.

Ash Structure: "Solid" and "Flaky" split the four reviewers down the middle here.

Problems: Only one reviewer reported a problem - a split in the cigar wrapper. This could have been caused by differences in humitidty and/or other considerations. It occured in one sample, and so was not considered a big problem with the brand.

Average Reviewer Score = 4.0 / 5
While they observed the burn, the panel also assessed the cigar during their smoking for draw and aroma.
Draw and Aroma:
Two of the most important parts of cigar enjoyment (and these are also fairly subjective, though a plugged cigar is a plugged cigar!) are DRAW – how well you can pull through the cigar (the draw) - and AROMA - how the smoke smells, feels and tastes. These factors are each rated on a 5 point scale. You might ask, "Taste?" Yes, aroma and smell have a huge impact on the overall flavors you get from a cigar.
Draw: All reviewers selected "Easy" or "Perfect".

Draw Score: 4.5/5
Aroma / Room smoke: "Faint" and "Subtle" split the vote.

Aroma Score: 4.0/5
The "Smoke" is rated on a 10 point scale, and includes judging of some of the more subjective catagories like flavor, body, strength and balance. Remember, these are subjective – you may not agree. So we'll provide as much detail here as we can.
Richness: The judges appraised the richess of the smoke as "Medium".

Balance: "One Dimensional" is the value selected here - and that's not a declaration of "bad", by the way. It does mean the cigar is uncomplicated, without flavors that distract from the experience.

Strength: "Medium" and "Mild" split the vote, again revealing palate differences in our judges. The consensus was that most smokers would find this cigar right near the center of the strength scale. In cigars, strength is one of the most subjective and debated characteristics.

Body: "Medium". Medium body means the smoke and the flavors were not overpowering, and typically satisfying as a cigar.

Flavor: "Modest", "Woody" and "Earthy" descriptors were chosen, with two judges selecting "Weak".

Overall Smoke Score: 7 (out of 10)
The next category goes right after the tastebuds, as our judges were asked to frame the taste and aftertaste of the cigar. I always find this part most interesting! Hope you do too!

Sweetness: Judges found no pronounced sweetness.

Bittterness: Our reviewers found a light bitterness.
Burn on tongue: "None" was the selection reported. The cigar provided a smooth smoke on the tongue.
Sharpness: "Light" or "None". Sharpness is usually detected on the back of the palate.
Saltiness: "None" was the consensus score here (unanimous). Saltiness represents a mineral-like taste in the cigar.

Taste Score: 6.25 /10
Smoke Comments: (The most positive and most negative)
Because some reviewers made comparisons to other cigars in this section, I've selected a few key comments rather than entire paragraphs.
I'd call it "dull", but others would call it "nice and mild".

If I was wanting to smoke something mild and soothing, this would fit the bill, such as when sitting out on the porch and relaxing.
The ash was bright white and solid. All things considered, this was a remarkably well-built smoke.
A smooth-smoking cigar does not distract your attention. It may be 'one dimensional', but in a good way, and easy to smoke.
Finally, we ask for a summary / overall impression of the cigar.
In the summary, we ask for the reviewer to judge the 'character' of the cigar. Character, just like with people, is subjective… It's like, "Would you hang out with that guy?" or, "What do you think about that person?" Reviewers select from key words like common, coarse, elegant and/or pedigreed to share their impressions.
Character: For this cigar, our review panel leaned to the middle, choosing "Indifferent" and "Agreeable".
Body: They also scored the overall 'body' of the cigar as "Medium".
The overall "quality rank" was GOOD.

Summary score: 7/10
The reviewer's summary comments:
Would have scored higher, but for both samples, while firm in the fill test, their ash tended to flake at about the inch mark. An agreeable and enjoyable cigar, notably Nicaraguan character - well balanced because it's flavorful without the overpowering strength some Nicaraguan blends tend to have.
It's one that I would smoke at the right time, but no, I wouldn't actually seek it out. When I smoked the first one, I found little to disagree with other than the thin and ghost-like character. I think that, just based on the cigar itself, it deserves a better score. But the lack of power, flavor and aroma just sank it like a rock.
Scoring 36.75 overall leads us to award the Biely Robusto 4 Stars!
Cigar Weekly's 50 Point Scale
| | | |
| --- | --- | --- |
| Av. Score | Stars | Rating description |
| 0 – 9 | 1 | Not recommended |
| 10-19 | 2 | Below Average |
| 20-29 | 3 | Average |
| 30-34 | 3 1/2 | Above Average |
| 35-39 | 4 | Excellent |
| 40-44 | 4 1/2 | Outstanding |
| 45-50 | 5 | Superior |
One editorial comment I'd make now that we have 5 of these blind reviews completed so far this year. You may read some comments and ask, "How did it score that low (or high) when someone said that?" The fact of the matter is that comments are just that - the individual comments and impressions (subjective) of the reviewer. The scores, however, are objective measurements - as much as we can make them. Want to discuss? Join our forums! You'll like hanging around! And maybe YOU will be part of our next panel!
So there you have it, Followers and Fans - Blind Review 2016 number '05 is in the books!

Discuss the review with our members and reviewers on the forums!
Click here to register if you're not a member.