Salamanca Matthew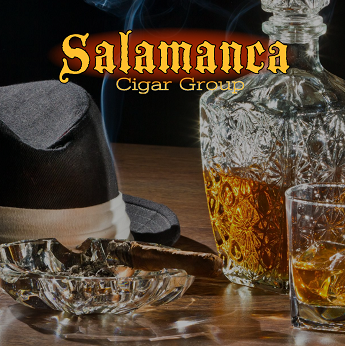 August 6th, 2018
Perhaps the hardest thing about this review was deciding which one of Salamanca's excellent cigars to select as the subject. Being that I've smoked more boxes of the Matthew than the others, I chose to review it this time around.
A wise man once told me that the most important thing a reviewer can tell the reader is if the cigar in question is worth buying and, more importantly, buying a box of. Well, in keeping with those words of wisdom, I'll tell you that I've smoked at least a half-dozen boxes of this Nicaraguan Beauty.
The Colorado Habano wrapped Toro (measuring a 54 ring gauge by 6 inches), which is sourced from the Plasencia Farm in Nicaragua, is really as wonderful to look at as it is to smoke. This seven-element vitola is the creation of Alan Fonseca.
The wrapper, while a Colorado, is very chocolatey and hearty in appearance. Veins are minimal and seams are almost imperceptible. The leaf has a velvet quality and a slight sheen. The upper band (bearing the Glandon family name) and foot band pay tribute to the late Beth Fonseca's heritage.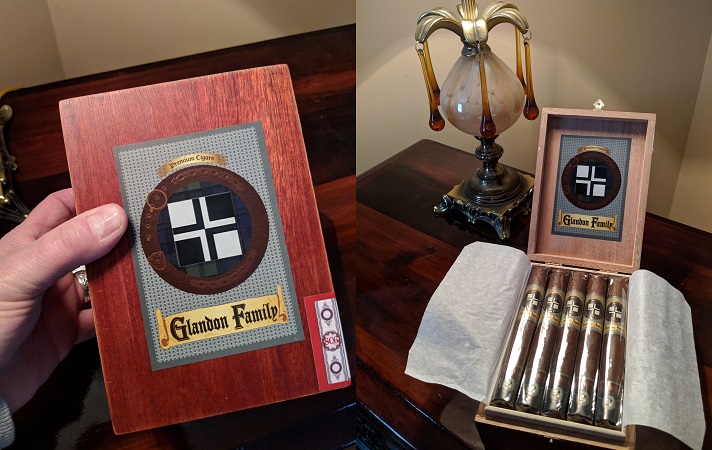 The cold aroma is like sweet hay, and has a slight dried fruit (cherry and raisin) quality.
The cigar lights easily and gives off a very pleasant, sweet cedar smoke as I take my first firm draws. The construction is solid, and the salt and pepper ash burns evenly as I work my way into the first third.
The second third picks up a bit in strength, but the dominance of the cedar and dried fruit seems to give way to a blend of wood, nuts and a bit of cocoa. I find it hard to pick up all of the flavors in this cigar, partly because it's very complex and partly because I enjoy smoking it so much that I tend to get lost in the overall flavor and experience of the cigar.
I'm almost to the final third, and am reminded of why I love this cigar so much. I'm also very pleased with myself because I recently stocked my humidor with a fresh box!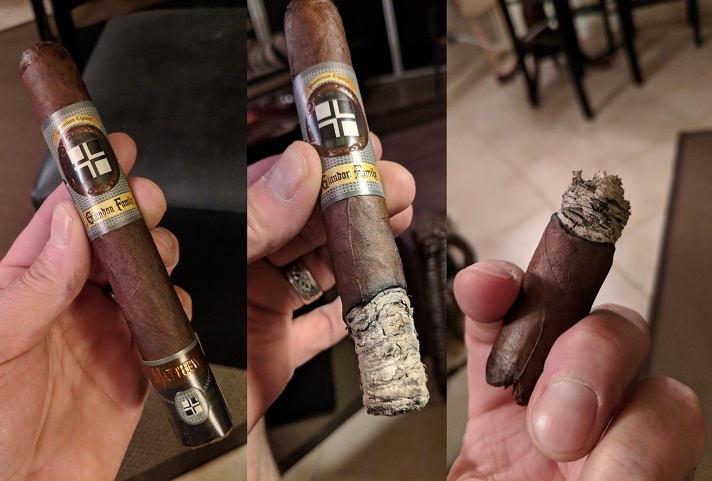 The Matthew is the quintessential smoke for me and, truthfully, it is hard to beat on any level. I recently learned about what goes into a blend like this, and after doing so, it's easy to understand why I go back to it over and over again.
The blend of this cigar surpasses most that I smoke in that it's comprised of a wrapper, two binders and four fillers! Not to mention that the source is the oldest tobacco farm in the business. Plasencia has been perfecting the process for nearly 150 years!
As I move squarely into the final third of this nicely rolled cigar, I'm thoroughly lost in its blend and balance. The strength (in my opinion) has now mellowed back to a solid medium, but the flavor remains full.
I can no longer taste one flavor over another. But the finish is long and smooth, and I can say with certainty that I will continue to stock my humidor with these Matthews. I strongly recommend that you do the same if you have the opportunity. At about $150 for a box of fifteen, this cigar is one of the best you'll find in this price range. And in my opinion, it's one of the best – period!
Salamanca's other offerings are also exceptional and worth seeking out. In the spirit of full disclosure, the blender, Alan Fonseca, has become a friend of mine over the last couple of years (as I've come to know him through his cigars). It's a beautiful thing when you get to know the blenders behind the blends, and come to find that the quality of what you're smoking is born of the quality of the people who create it.
There is nothing more I can ask of this cigar. In my book, the Matthew is a 10, and I look forward to enjoying many more. Don't hesitate to buy a box. You won't be disappointed.
You can acquire a box of Matthews (as well as Salamanca's other blends) by going to www.salamancacigargroup.com and finding a retailer.