Tasting Sensations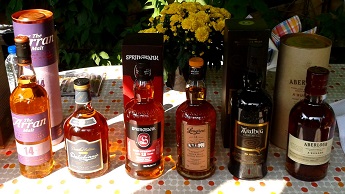 September 10th, 2018
I and a group of friendly like-minded spirits lovers often get together to enjoy some good food and – of course! – good whiskies. Over the course of many such gatherings, I've had the opportunity to sample whiskies I might not have otherwise tasted. In today's article, I profile just a few of those whiskies that have, for various reasons, impressed me.
I'd like to start off with a trio of malts from the Isle of Arran Distillery, one of my favourite Scotch whisky enterprises. Arran is a young concern, having opened its doors in 1995. Despite this fact, the distillery has rapidly become known for the intrinsic quality of its spirit, not to mention its enthusiastic experimentations with cask finishing.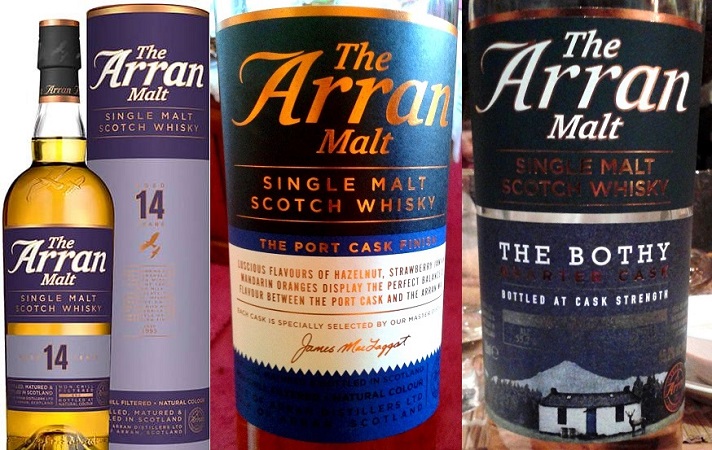 Arran 14 Year Old (Scotland, Island – 46%)
The fourteen year old represents a lovely and lively expression from this excellent distillery. It's chocked full of citrus tinged malt sweetness, and displays just a hint of the sea to add to the overall freshness.
Arran Port Cask Finish (Scotland, Island – 50%ABV)
This whisky is all about sweet fruit (berries and, perhaps, apricots as well) bound to oak derived spiciness and just a tinge of the seashore. Very well done.
Arran The Bothy Cask Strength (Scotland, Island – 55.2%)
The Bothy counts as yet another excellent expression from this distillery. Finished in quarter casks, it exhibits loads of sweet malt followed by dusty oak nuances and a hint of the seaside. Though drinkable as it pours, it opens up nicely when a drop or two of water is added.
Edradour Dougie MacLean's Caledonia Selection 12 Year Old (Scotland, Highland – 46%)
Edradour Distillery lies in the Perthshire area of the eastern Highlands, near Pitlochry. Its attractively whitewashed, farm-style buildings, crowded about a winding rural road and stream, have been the focus of many a photographer or painter.
This particular bottling boasts a very, very good Highland taste profile, with the flavours unfolding in a composed fashion. It's slightly more edgy than the standard 10-year old release and perhaps just a tad less round and succulent overall, but totally enjoyable nonetheless.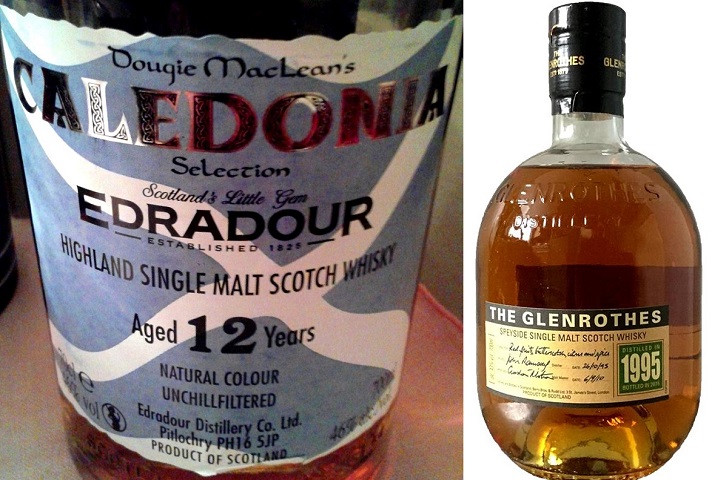 Glenrothes 1995, bottled 2015 (Scotland, Highland – 43%)
The Glenrothes Distillery hides in a secluded spot beside the Linn Burn, a little way up the glen formed by the passage of the Burn of Rothes. Its buildings occupy the one-time site of a sawmill, and peer down upon an old graveyard. Rather than emphasizing age-statements on its bottlings, the distillery instead opts for no-age-statement and vintage-dated releases.
This malt's as silky as they come. It displays a solid, sweet malt core (pear fruit, mostly) with the oak perfectly integrated, as one would expect from a whisky with some two decades of ageing under its belt. Faint hints of lime zest and spring meadows peek through periodically. Don't rush it in the glass, and you will be rewarded.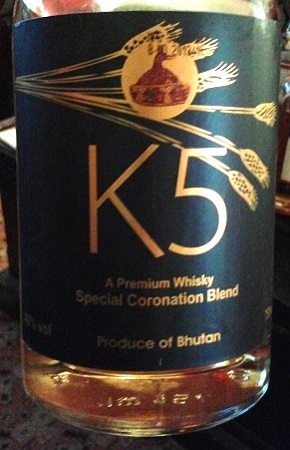 K5 Special Coronation Blend (Bhutan – 40%)
Who knew that certain allusions to the 'high highlands' actually refer to the Himalayas and, more precisely, to a distillery located in the Kingdom of Bhutan near the Indian border?
The Gelephu Distillery (sometimes also known as Gaylegphug Distillery) is situated in its namesake town, and was established in 1976 through the efforts of the Army Welfare Project (or AWP). It also leases additional facilities at the Samdrup Jongkhar and Samtse distilleries. Each year, the enterprise produces some 365,000 cases of a variety of spirits.
K5 Special Coronation Blend is definitely an interesting Bhutanese tipple, being a marriage of 65% 8 and 12-year old malt Scotch whiskies sourced from a single, though undisclosed, distillery, and 35% 'neutral' grain whiskies distilled locally.
Smoothness and sheer drinkability are the primary characteristics of this spirit. There's a definite honey-toffee-fruit sweetness, which is counterpointed by underlying hints of smokiness and oak. K5 Special Coronation Blend may not be the most astounding whisky on the planet, but it's certainly a decent enough pour.
Kilchoman Machir Bay (Scotland, Islay – 46%ABV)
Kilchoman is truly a 21st-Century phenomenon, only commencing spirits production in 2005. The small enterprise sources barley from its own farmlands and operates an on-site malting facility. In the short years of its existence, Kilchoman has already established a reputation for the quality of its whisky.
Machir Bay represents a sort of 'entry level' expression from this relatively young Islay outpost. The purity of the distillate, which boasts a lovely integration of peat and malt, is noteworthy. I've yet to have anything less than tasty from the Kilchoman Distillery.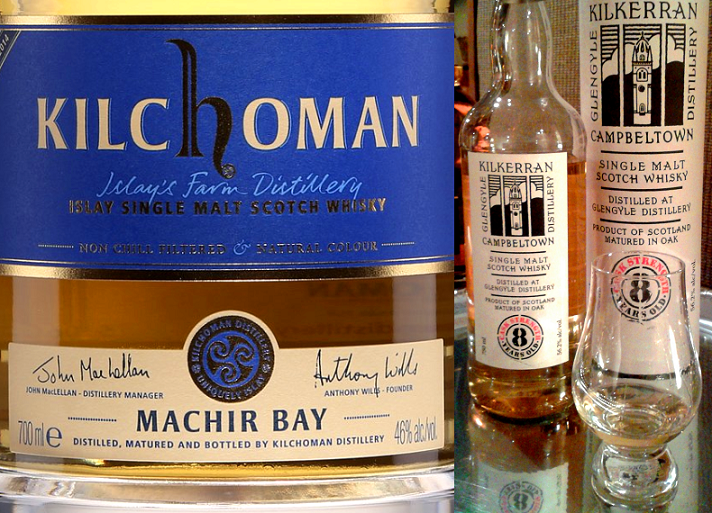 Kilkerran 8 Year Old Cask Strength (Scotland, Campbeltown – 56.2%)
Kilkerran is the proprietary name given to malt whiskies distilled at the resurrected Glengyle site. (Glengyle had not been in operation since early in the last century, and was reopened by J. & A. Mitchell – of Springbank fame – in 2004.)
This Kilkerran expression comes across as being more 'Lowland' than 'Campbeltown' in character. It's very clean on the palate, with notes of garden greenery playing off sweet malt, the latter of which seems even more pronounced in the glass the second time around. There's also the merest hint of coastal brininess lurking in the background. The whisky is perfect with a couple of drops of water.
Springbank 18 Year Old (Scotland, Campbeltown – 46%ABV)
Springbank's make is considered by many Scotch aficionados to be one of the most complex and rewarding of malt whiskies. Production-wise, the spirit is notable for undergoing partial triple distillation through a trio of small stills. The barley utilized is lightly to moderately smoked and extensively dried with warm air in Springbank's on-site floor maltings.
I was expecting quite a sweet dram here. Big mistake!
The opening salvo of oak-infused dryness may come as a bit of a shock (especially vis-a-vis the 15-year old), with that typically 'sweet'n'sour' Springbank demeanour taking its own 'sweet' time to emerge. This whisky is fulsome, delectable, very complex and with a lengthy finish. It's one to savour.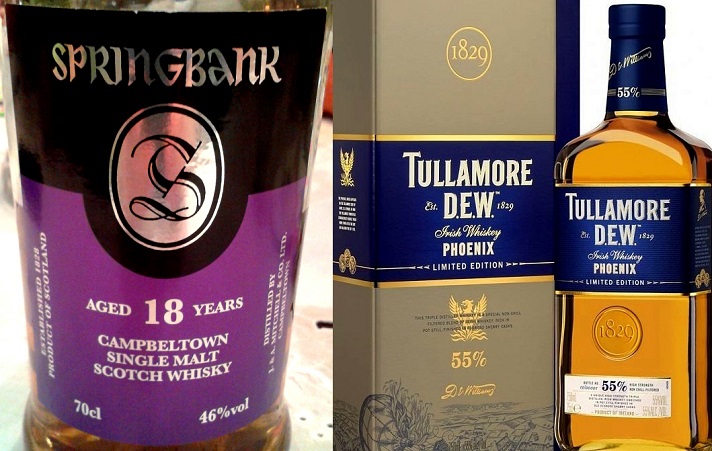 Tullamore Dew Phoenix (Ireland – 55%)
Here's a triple-distilled Irish blend with a high proportion of malt and pot-stilled whiskey in its makeup. The spirit is quite palatable as it pours, although the addition of a little water does tend to up the sweetness quotient. Think candied almonds and toffee in a somewhat buttery textural framework, and you won't be far off the mark.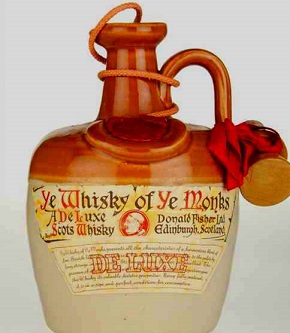 Ye Whisky of Ye Monks Deluxe (Scotland, circa late 1950s/early 1960s – likely 43%)
I'm closing with an 'oldie but goodie' blend. This whisky is deceptively light on the palate with a much greater depth of flavour than one might therefore expect. It's also very perfumed, even floral, and reminds me somewhat of an 18-year old Grant's. A pleasant brittleness from the grains, topped up with malt sweetness, makes this one something of a revelation. The finish is medium-long. Yes indeed... some bottles of Scotch from decades gone by can provide for pleasant surprises!
__________________________________________________

Doug Kuebler is an inveterate aficionado and collector of wines and whiskies. Apart from organizing wine and food seminars, Doug has also written extensively on wines and liquors over the last three decades. His first published book-set, The Tumbler's Guide to Single Malt Scotch Whisky, has been well received in North America, the British Isles and Asia.