Bolívar Belicosos Fino

October 22nd, 2018
Bolívar Belicosos Finos
Size - Campaña (5.51 inches by 52 ring gauge)
Wrapper - Cuba
Binder - Cuba
Filler - Cuba
Wrapper
This cigar has a thin brown wrapper with thin veins and a well applied cap. The wrapper has a nice earthy smell. This is a beautiful looking cigar.
Construction
This is a very dense cigar. No soft spots are evident. The Campaña has a very nice draw and burns evenly from beginning to end. It has a solid gray ash. All told, the construction is excellent.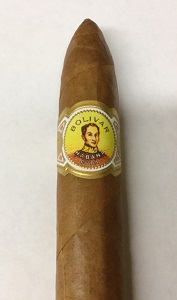 Flavor
This cigar starts off strong in flavor, and stays strong right through to the end. There are lots of earthy tobacco flavors. It's a very complex cigar with flavors of bitter nuts, cedar, dark chocolate, coffee and cream. There is even a slight flowery note on the finish. The smoke is dense and rich, and the flavors are classic Bolívar.
Final thoughts
This is a real powerhouse of a cigar. The flavors are complex and strong. Only seasoned cigar smokers will fully appreciate this cigar. It pairs well with strong coffee and strong spirits such as Bourbon and Scotch, the flavors of which can really add to the enjoyment of this cigar. This Bolívar provides an excellent smoking experience.
Score
Wrapper - 5/5
Construction - 5/5
Flavor - 9/10
Final Score - 19/20