Partagás Shorts (Cabinet Selection)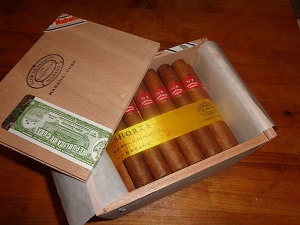 December 3rd, 2018
In the interest of full disclosure, this is going to be anything but an impartial review. In short (pun intended), this is one of my favorite cigars. By favorite, I mean stuck-on-a-deserted-island-with-no-other-cigar-to-smoke-for-the-rest-of-your-life favorite. I try never to run out of them. A little "lagniappe" (Cajun French for an extra little pleasure) comes in the form that it is one of a few cigars made by Habanos, S.A. that is still sold in a cabinet of 50. There is an argument between Cuban cigar lovers that cabinet selection cigars age better and with more flavor than traditional dress boxes. I won't weigh in on that argument except to say that it doesn't hurt them any.
In the cigar trade, this size is known as a Minutos. Here in the States, we prefer the moniker 'très petit corona'. It's approximately 4½ inches long and has a ring gauge of about 42. All of the binder, filler and wrapper tobaccos are a unique blend grown in the Pinar del Rio region of Cuba, which is approximately the western third of the nation. They are rolled by hand in an historic factory in the capital of Habana (Havana).
The cigar that I selected for this review is the first one out of a cabinet that has been resting in my coolerdor for about four years. Opening it, the particular barnyard earthy aroma typical of Cuban cigars wafts out of the box (an aroma that my friends and I have nicknamed 'chicken poop'). To my delight, they are covered in tiny crystals of essential oils on the surface of the wrappers. Again, there is an argument over whether this 'plume' on the wrapper is responsible for enhanced flavor and evidence of proper long-term storage. On this argument, I will weigh in that my opinion is it greatly intensifies the cigar's flavor.
Gingerly sliding the first cigar out of the cabinet to avoid damaging the wrapper coming out of a tight space, I inspect it visually. The wrapper is smooth, absent of veins and fairly glistening with the crystals in the light. It is well made without feeling tight or soft - just about a perfect looking example of the vitola. Sniffing the wrapper as I draw the cigar under my nose, the cedar it was packed in is immediately present along with the aromas of leather and a slight earthiness.
After clipping the cap, I draw through the cigar before lighting it. The smells that I experienced in the aroma are also present before I light it, and it feels like it is going to deliver a generous amount of smoke. My mouth begins to water because I know I am in for a treat.
Upon first lighting it, a 'umami' earthiness explodes across the palate. Umami is considered to be the fifth taste, after sweet, salty, bitter and sour. It is very difficult to describe, but the standard of comparison is in grilled beef, soy sauce or fresh mushrooms. A couple of puffs in, the cedar and leather start to emerge. It is not bitter or harsh on the tongue or throat. I'm not a retrohaler, so I cannot comment on that aspect of the cigar.
Now, when I tell you that these flavors are not going to change throughout the duration of the cigar, you may be tempted to dismiss it as being one-dimensional. You would be wrong to say so. These flavors are going to intensify throughout the smoke, causing you to lick your lips and taste the residue on them. When I do so, the tiny crystals crunch between my teeth, bringing a smile to my face. In fact, the lip-licking is accompanied by a sensation that the smoke is coating my whole tongue. The amount of smoke is quite generous for such a small cigar, and the burn stays razor-straight throughout. The ash is firm. And when you are tempted to tap it off, it is reluctant to release the gray ash with flecks of white.
As I said before, the flavors continue to intensify. I remove the band and continue to smoke the cigar until it is burning my fingers slightly. For a cigar this good, I usually keep a wooden toothpick on hand so that I can enjoy every last millimeter of it without burning my fingers. As the sun sets and my deadline approaches, the only regret in smoking this cigar is that I'd love it to be twice as long so that I could enjoy this complex intensification further and further along. When the toothpick is about to scorch, I reluctantly put what's left of the cigar in the ashtray and head inside to write this review.
If you ever have the opportunity to try one of these little flavor bombs, do not hesitate. You will not regret it.
Predictably, this is 9.5 out of 10 points. It is not the ultimate Cuban cigar. But you wouldn't feel cheated to be able to smoke one after your last meal.