Tales From The Lower Shelf #2
Hangman's Budget Pairings – Tales From The Lower Shelf
Sons Of Anarchy Black Crown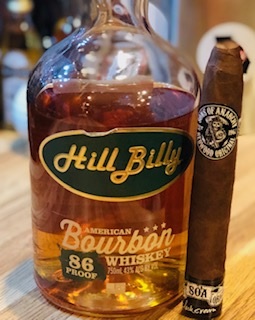 Vitola: Torpedo
Price Paid: $3 from Cigar Bid
Wrapper: Ecuadorian Oscuro
Binder: Nicaraguan
Filler: Cuban Seed Nicaraguan Long Filler
For the second installment of this series I am going with The Sons Of Anarchy Black Crown Torpedo. This is one cigar that can vary in price depending on where you purchase it, but most places will be between $3-$6, well within the range of "BUDGET FRIENDLY." I paired it with a newer bourbon to the market Hill Billy 86 Proof.
I discovered Hill Billy while attending Stogie Fest 2019 at Aroma in Jacksonville in March. At $20 a bottle it is a solid bourbon to have in your rotation. Bottled in South Carolina, it is distilled in Lawrenceburg, Indiana and aged in new charred oak barrels. Spicy wood notes with some corn and vanilla and a bit of spice.
Mash Bill: 18% Rye, 78% Corn, 4% Malted Barley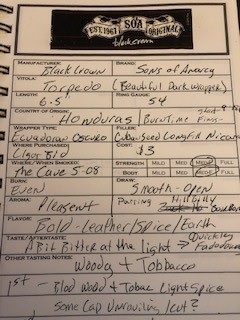 Now For The Cigar:
1st Third
Very smooth draw a little bitter at the light, but that quickly faded. I picked up a bold wood flavor with some tobacco and light spice. The retrohale was very bitter.
2nd Third
Better retrohale in the 2nd third. Heavy earth and the spice has faded (but will return).
Final Third
I had some cap unraveling, could have been the cut, I had 4 more for that pk and no other issues. The spice came back and left its mark and the retro is much smoother.
Conclusion
I smoked this bad boy down to the nub. This is a smoke I keep on hand. It's a very solid everyday stick, that has some cool "branding" that is fun to have with friends and talk about some of your highlights from the show (or bash the Mayans MC poor attempt at a follow-up series).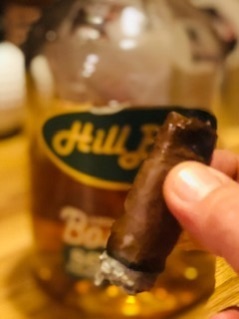 Rating
Pre-light: 10/10 (tobacco)
Light: 9/10 (easy to light)
Draw: 10/10 (great draw start to finish)
Construction: 8/10 (very good looking cigar, but some cap issues)
Flavor: 8/10 (transition throughout)
Strength and body: 9/10