REVIEW: SalamancaCicarGroup Mesmerize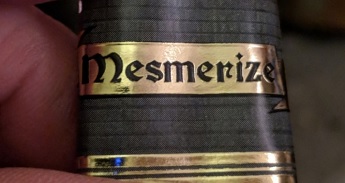 It's been a while since I've written a review and this one is long overdue. I've smoked more than my fair share of the Mesmerize and they are one of my favorites. This 6.5 inch, 54 ring Nicaraguan is sweet, so I'm pleased to share a bit about it with you.
As with all of Alan Fonseca's creations, sold under the banner of SalamancaCicarGroup.com, the construction is something to behold. Aside from the 7 elements that make up this cigar, the triple cap is expertly applied and allows for a solid "nubbing" should you take this rusty railroad spike to the limit.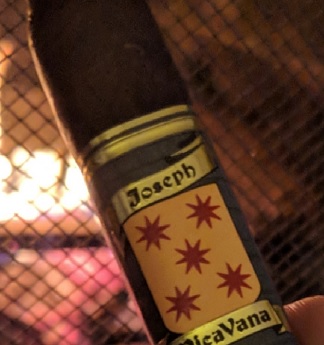 The distinctive rich brown wrapper has a slightly reddish hue in the right light (full disclosure: my wife tells me that I'm slightly color blind, an assessment that I'm not in agreement with). Veins are prominent in this rustic looking San Andreas Maduro wrapper. Underneath it's attractive cloak, lies a masterful blend of Nicaraguan tobaccos grown in the fertile and prolific fields of Placencia Farms, a 146 year old, 4th generation, family run tobacco farm in Esteli, Nicaragua.
It should be noted that we usually smoke 3, 4 and on occasion 5 element cigars, when smoking most cigars; however, in this case, the Mesmerize boasts a single wrapper, double binde,r and 4 fillers, all specifically chosen from individual lots of Placencia's prized tobaccos.
I'll be the first to say that I have not been blessed with the ability to identify nearly all of the aromas and flavors at play when I enjoy a cigar but I know what I like and perhaps more importantly, I know what I'm willing to order by the box.
As I mentioned, this cigar is beautifully made, it's toothy, solid (when properly stored), needs no touch ups and will give you an even burn for an hour or more.
The cold aroma upon opening the box is one of barnyard, earth, cedar and dried fruit, mostly raisins. From the foot, there is a hint of chocolate. If your a fan of dark chocolate covered raisins and fruits, this is a smoke that I think you'll enjoy. It's just slightly sweet, not like milk chocolate sweet in my opinion but like the darker variety.
Cold draw, adds a little cream to the mix and at times I think I've tasted a bit of floral flavor, other times, none at all. I can't figure that one out. Baking spice? Yes, spicy and a little black pepper but not much.
Make no mistake, it's bold and full bodied, just not an ass kicker. The time and precise balance that went into this cigar are evident once you get into it.
By now, my mouth is watering because I usually don't play with a cigar this long to try to figure it out, I just cut, light and begin to enjoy. So, without further delay, I'm gonna light this softly box-pressed beauty up!
Again, construction is great, solid from cap to foot, tight seams and no visible flaws.
Upon lighting, I'm smelling toasted bread, caramel and a woodsy aroma. As I clinch the body of this box-pressed timber between my teeth I can feel the layering of all that's gone into it. You can half bite down on this double wrapper and feel the binders and fillers push back. If you're looking for a cigar to take to a "Long Ash" competition, this one fits the bill.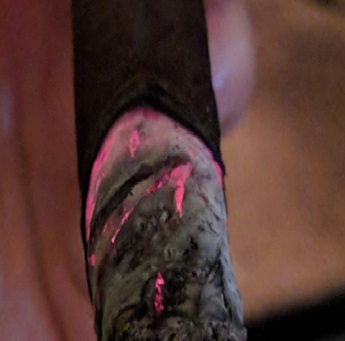 That woodsy aroma defines itself as cedar as I get into the better part of this first third and there is a smokey flavor, like the flavor you'd get from roasted chestnuts that lingers in the background. I know it sounds a bit crazy but I'm really dialed into this one so I'm going to do my best to tell you what it's all about.
I'm about done with the first third and the smoothness and balance of this cigar are showing their colors.
I just snapped of the 2 ½ inch Ash that was holding on and could feel it's resistance. So far, it's burned evenly and has been everything I've come to know and expect from the Mesmerize, an elegant, flavorful and relaxing smoking experience.
I'm into the second third and now my taste buds either begin to get lulled into a pleasant slumber or the balance and meticulous blending of the 7 elements begin to become what the creator intended to be a perfect blending of all of the above. This is what I call the essence of the cigar. This is always the same for me with the Mesmerize, it's really perfect. I can count on my enjoyment meter topping out at a 10 here. Cigars are, in my opinion, are very consistent in their character when well made. By the time I'm mid way through, they envelope me in a great smoking experience. If I'm not feeling it by this point, they've lost me and after 25 years of enjoying cigars and trying hundreds of brands and individual blends, I have no issues with putting the ones down that don't do it for me. I used to smoke every cigar to the end, out of principle. I've come to realize, that for me, it's not about smoking a cigar as much as it is about the smoking experience.
Salamanca Cigars, in my humble but strong opinion, are some of the best cigars available today. I personally know the blender/brand owner and have a great appreciation for the skill he possesses and attention to detail he puts into his blends. I wholeheartedly recommend that you try these cigars and I can tell you that I buy full boxes regularly and more so than any other brand. At about $12 a stick and $180 a box, they are the most reasonably priced cigars of this quality that you'll find. Salamanca Cigar Group is what we would call a boutique brand. Made in small batches, where quality control and delivering an expertly crafted product is at the forefront of Don Alan Fonseca's mission. Quality always comes before quantity and consistency is a hallmark of the brand.
I'm into my last third of the Mesmerize and my wife is texting me that it's 1:30 AM and I need to get to bed. This is an all too common occurrence in my house. Enjoying a great cigar while the house is quiet and everyone (almost everyone) is asleep is what it's all about for me. I won't rush a smoke, not one that's this good anyway.
If you haven't had the experience, order a box of Mesmerize. You won't be disappointed. I routinely give these cigars to friends and to a man or woman, they always enjoy them. I'll have people who only smoke every now and then and that are far from aficionados--along with daily smokers--recall how much they enjoyed this cigar a year or two after having it.
You won't find them at most shops and you definitely won't find them at the online retail houses. Seek them out, go to SalamancaCigarGroup.com and look at all of their offerings. If you're lucky enough to have a shop that carries them near you, you're in the minority, support your local B&M. If all else fails, look me up #CigarGent, I'll point you in the right direction.
I hope this review was helpful. I'm a regular guy with a regular palate who has tried a lot of cigars, from a few bucks to those in the upper $20s - $30 range. I would never call a cigar #BoxWorthy unless it's something I would and do buy myself. That's the best recommendation I can give. Try them and let me know what you think.
I've enjoyed sharing the Mesmerize with you and hope you have a chance to enjoy one yourself. Until next time, #NeverSmoke1Alone !