REVIEW: Don Juan Calavera Maduro Toro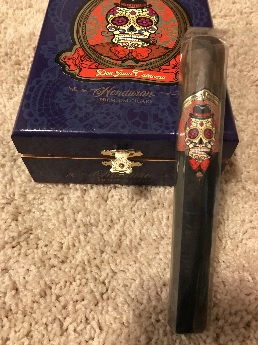 Danli Honduras Tobacos – Don Juan Calavera Maduro Toro (6x52)
First Impressions: The Don Juan Calavera Maduro is another extension of the Don Juan Calavera line. Similarly, to the Sumatra line, the Maduro is dressed up with the same beautiful label and a piece of black tissue paper made to look like the calavera is wearing a tuxedo. The maduro is sold in a beautiful dress box of 10. I have said it before, but I really like the marketing behind this brand. Prior to this review, I enjoyed three samples of the maduro toro.
Prelight: I've come to associate Danli Hnoduras Tobacos with high quality and great taste. The maduro line did not disappoint. Each sample passed the pinch test with flying colors, revealing no soft or hard spots. With each prelight draw, there was a little bit of resistance with extremely subtle flavors of grass. The maduro wrapper was milk chocolate brown, with few veins and almost no imperfections.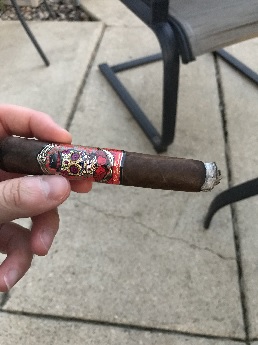 First Third: I really enjoyed the first third of this cigar. Upon lighting it, I was hit with flavors of cream. A short time later, the cigar switched gears on me and I was getting hints of black coffee. I noted that there was a beautiful aroma throughout the experience. As I made my way into the 2nd third of the cigar, the cigar became a little bit bitter, but not in a bad sense.
Second Third: As I continued on, the cigar continued to change flavors on me. During the second third, I noted a bit of spice, and the creaminess of the cigar came back on retrohale. I couldn't help but to retrohale quite a bit during this third.
Final Third & Construction: During the final third, the flavors changed on me again and I picked up a strong flavor of nuts. Call me crazy, but I tasted sunflower seeds on the retrohale (definitely a first for me). The overall construction of these samples were great. Each cigar burned straight and revealed a nice gray and white ash. The maduro line seemed to hold the ash better than the sumatra; however, neither held on for longer than about an inch. None of the samples required any touch ups.
Overall: I thoroughly enjoyed the Don Juan Calavera Maduro. The medium bodied cigar was fantastic from start to finish and definitely kept my interest the entire time. I would highly recommend everyone check out the Don Juan Calavera Maduro line.
Prelight - 9
Light – 8
Draw – 9
Flavor – 9
Construction – 8
Power – 6 (not included in the rating)
Rating – 8.6/10 - Highly recommend picking up at least a 5er!