REVIEW: Cusano Nicaragua Estelí Toro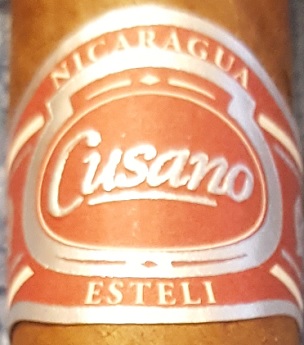 Time marches on. It has been said often enough and recalls a once-popular country song of the same name. The Beatles expressed a similar sentiment as well. SO, here goes nothing or very little. Life and living continue with every complete rotation of the Earth and we cannot stop it. We can only try to keep juggling the objects in our own lives in the air.

This is true. Certainly for me. Smoking companion Reese, the intentionally incontinent dachshund is gone. In her place at that domicile is Kenda, the incorrigible Corgi, a wee pup of three months at this time of writing. His abode is home and I am not there so we have not yet established a routine, much less him calling to come outside with me.
Tonight I smoke a Cusano Nicaragua Estelí Toro. This cigar and blend came to the market in 2016 from Oettinger Davidoff. Joe and Mike Chiusano introduced their cigars and their brand in 1995 and created well-regarded cigars for 14 years. In 1997 they moved their production to Tabadom in the Dominican Republic where they joined forces with Henke Kelner of Davidoff. In 2009 Davidoff was acquired by Swiss lifestyle company Oettinger.
The Nicaragua Estelí is made at the Davidoff factory, still in the Dominican Republic. According to my web research, the filler blend consists of Nicaraguan and Dominican leaf, bound by an Ecuador Connecticut blend. Most sites I read indicated that the capa is Sumatra although an article in Cigar Journal from 2016 quoted Charles Awad, senior vice-president saying the wrapper is a "San Andres. " The vitola measures six inches with a 50 ring gauge.
Accompanying the smoking is a large insulated tumbler of Crystal Light Peach Tea, Greater New Orleans July humidity, a few mosquitoes and a number of blue jays. A nice clean clip begins the experience. With the humidity, I fully expect the head to unravel at some point. Otherwise this cigar is really pretty with a few small veins only. Pre-light draw is less than sweet, it will be interesting and I anticipate a leathery character.
One match lights it, which to me is always encouraging. The initial draws are a bit flat, yet with the agreeable, aforementioned leathery character. The draw is doggone nearly perfect with an abundance of smoke.
As we progress, the original leathery character has become a bit muted. The flavor is not particularly forceful or strong, however, I get coffee flavors as well. That pleases me too.
A third of the way through, the leather returns. It is interesting the way the flavor changes. Nearing the halfway point, the ambient humidity is beginning to affect the burn forcing me to draw more to get smoke and keep the cigar lit.
As we come close to the end at the band, and my burn issues are GONE. The leathery character is still present and enjoyable, I do not find these as strong as the catalogs indicate. If you can catch these at any kind of discount, sale, they are a heck of a find!
Good cigar from Davidoff, and an affordable too. At less than $40.00 per box of 16, these are worthy of consideration as a fine, regular, everyday smoke. Overall rating is 3½ stars, T2B CW price/quality rating is easily 4 stars. Enjoy.
Facts: Cusano Nicaragua Estelí toro:
Wrapper: Negro San Andrés, some indicate Sumatra.
Binder: Ecuador Connecticut
Filler: Dominican and Nicaraguan
Body: Medium (some catalogs indicate medium-to-full.)
Size: 6" x 50