NewAir 400 Climate Controlled Automatic Cigar Humidor CC-300H Review
EDITOR'S NOTE: This is a sponsored review. CW assumes no responsibilty for its contents or should be considered an endorsement.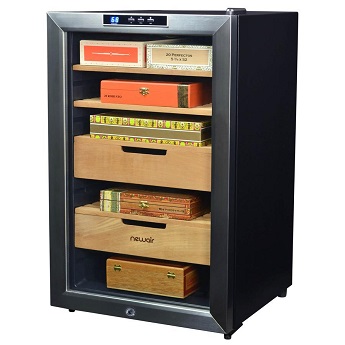 If you could dream of a place to store your prized collection of cigars, where would that place be? The NewAir 400 CC-300H aims to be cigar lovers dreams when maintaining the quality of their collection with a built in Opti-Temp technology to keep the perfect temperature year round, as well as a top of the line storage capacity of 400 cigars total.
Price
While the 400 CC-300H is much smaller in size than some traditional cabinet humidors, it is also much more smaller in price, too. Try to shop around and find it for anywhere between $500 -
$700 and you got yourself a good deal.
Key Features
We already know about the Opti-Temp and how it heats and cools to maintain consistent temperature year-round. What else does this humidor offer?
Ridiculously accurate thermostat adjusts temperature in one degree increments, meaning it has the perfect capability to get a temperature range to fit your needs.
The amount of space this humidor has is outstanding. It holds up to 400 individually wrapped or boxed cigars for serious collectors or even beginners to the cigar collecting world.
Beautiful and adjustable spanish cedar shelves and drawers that enhance flavor and aroma. Spanish cedar adds an enticing aroma to the cigars, helps repel tobacco beetles, and helps retain moisture for a proper humidity level.
And finally, a lock and key helps you protect your entire collection. This can serve as a way to keep the door shut from anyone opening it. If you have small children, this also prevents them from getting into it and it minimizes the overall amount of openings and closings of the unit.
What Stands Out
The best quality that stands out about the NewAir 400 Climate Controlled Automatic Humidor CC-300H, is the Opti-Temp.
This feature alone sets itself apart from other humidors. With the high level of accuracy of temperature ranges, it keeps your cigars at an ideal range for perfect storage.
NewAir suggest that an ideal temperature range is 65 to 75 degrees, and the humidity is 65% to 75%. This humidor does exactly that, along with the other benefits noted so far.
Final Thoughts
Is the NewAir 400 Climate Controlled Automatic Humidor CC-300H worth it? Will it keep my cigar collection in excellent shape any time of the year?
Absolutely.
Following the manual is easy and the set up takes no time at all. The seal on the door and climate control makes it a breeze in keeping it the perfect environment for your cigars. Assuming everything goes well in maintaining your cigars, as it should, you should not ever have a bad cigar when keeping it in the NewAir 400.