REVIEW: Fat Bottom Betty (5" x 54) by Deadwood Tobacco Co./Drew Estate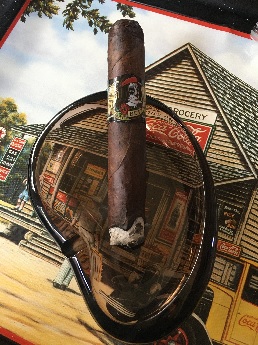 This is a review of the Fat Bottom Betty from Deadwood Tobacco. The cigar is manufactured by Drew Estate at their Esteli, Nicaragua factory. It's one of five vitolas in this Deadwood line. Other offerings include Sweet Alice (corona), Sweet Jane (figurado), Baby Jane (cigarillo) and Sweet Jane "A" (A-size). There is also a Deadwood Special Edition line. From the names of the cigars and the fact that Deadwood Tobacco is located in Deadwood, South Dakota—a Biker's mecca—I must assume that's the demographic for which marketing was searching.

The Fat Bottom Betty is a big-ass robusto (5" x 54g). Sorry for the pun. I couldn't help myself. She's a thick robusto with an oily, reddish-hued, dark brown Connecticut broad leaf wrapper. The binder and filler are Nicaraguan. The foot is closed. There are a few bumps, but no obvious flaws. The sample squeezes just right and has a cold smell of fruit and barnyard. I used a punch cut and a butane lighter to start the session.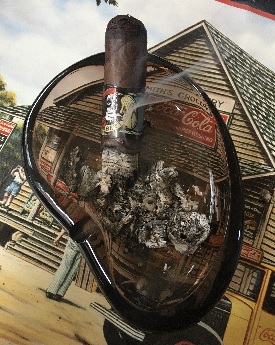 Upon placing the cigar in my mouth, I was surprised by its sweetened tip. That was unexpected and unwelcome. Full-disclosure, I don't care for infused, flavored, or sweetened cigars. It's OK if that's your thing. It's just not mine. For me, that sweetened tip makes it hard to discern the true flavors of the cigar. There was plenty of pleasant-smelling smoke from an easy, bordering on loose draw. The ash was light gray and flakey. The burn off the light was uneven and required one touch up. After that, the burn was even. Perhaps due to the easy draw, though, the burn was faster than one would hope.

The first third of the cigar flavors included baking spices (allspice, cinnamon, and nutmeg). There was faint pepper on retrohale. The middle third produced more flavor with notes of wood and earth. The final third turned savory and finally put some pepper on the tongue. The cigar improved greatly on the last portion. This was the sweet spot—at 35 minutes in. In overall nature, this cigar reminded me pleasantly of a Natural/Larutan, another Drew Estate creation. At the 45-minute mark, the cigar let me know that it was time to put it down.
Admittedly, the Fat Bottom Betty is not my type of cigar. So, how did I score it?

Pre-Light – 9 – (A rough, sexy, oiled up stick.)
Light – 9 – (Easy enough.)
Draw – 9.5 – (Hey, no problem here.)
Construction – 8.5 – (Deduction for that initial uneven burn.)
Flavor – 8.5 – (Sparse.)
Power – 8.5 – (Not included in the average, but a powerhouse this one is not.)
Average – 8.9 (OK, call it a B+.)

For a type of cigar that is not my favorite, the Fat Bottom Betty scored higher that I thought it would. I truly went into the review blind. I had no preconceived notions having purchased simply it out of curiosity. The Betty is solidly medium bodied with a medium amount of flavor. It is an excellent cigar to transition newbies from drugstore cigars to more stout, hand-rolled cigars.

The Fat Bottom Betty sells for $9 (MSRP) plus tax and is available at select retailers or online from deadwoodtobacco.com.