REVIEW: Groovyguygifts Cigar and Whiskey Groomsman Gift Box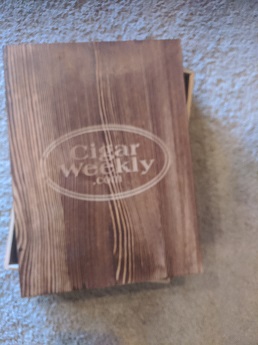 Recently, Joe from groovyguygifts.com contacted me to ask if I was interested in reviewing some of his company's products. Groovyguygifts specializes in high quality, personally engraved gifts, especially (but not limited to) groomsman's gifts. Upon reply, he sent me what must be the top-of -the-line presentation box. I've tested it out and am ready to report what I think of it.
The materials are of a very high quality. The box has a distressed, rustic pine finish with a deeply engraved logo/monogram. They were able to use the Cigarweekly logo on several of the items. Those that were too small for the logo were engraved with a capital 'C'.
Upon opening the box, you can see an extreme attention to detail. The lid is lined with foam and felt, as are the individual pieces of the set. It comes with a flask (roughly a half pint), a sommelier's corkscrew, a heavy duty stainless steel cigar cutter, 4 stainless shot glasses a single finger cigar case and a heavy duty bottle opener.
My first reaction to the set was the quality of the materials and the care with which they were packaged. My second thought was "this would be great for the golf course!" Unfortunately, I don't play golf, so I didn't get the chance to try it out in that environment. I did check out the items in a more piecemeal fashion.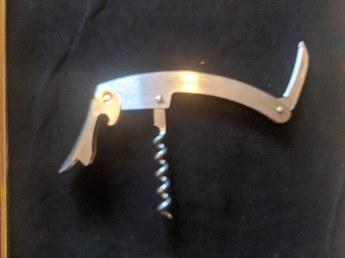 The sommelier's corkscrew was the first item to be used. My wife likes to have a glass of wine in the evening before retiring. I have a sommelier's corkscrew that I have used for 30 years. It has a plastic handle and the brand name it was an advertisement for has long since worn off. The item in the gift box had sharper edges on the handle (wouldn't be a second thought if you were wearing a golf glove). One thing it did have that my old trusty corkscrew did not was a serrated edge on the blade for cutting the metal cap on the top of a wine bottle. This new to me and is most useful.
The hip flask has a beautiful brushed stainless steel finish and holds about a half pint of liquor. If I was a golfer, I wouldn't want to drink any more than that or my pathetic score would easily rise into the triple digits and then some. Save the alcohol for the 19th hole. The four shot glasses nestle together nicely. I have very large fingers, so to my eye they're about the size of a good thimble. Again, I would very conservatively tipple out on the course, so that would work nicely.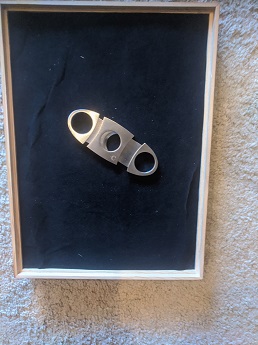 The cigar cutter is the star of the show for me. Double-bladed guillotine cutter has a very smooth action and very sharp blades. I had no trouble trimming a torpedo on the bias or the cap off a non-figurado cleanly. The cigar finger case is the one part that I was disappointed with. Although beautifully chromed, it is difficult to open reliably and both a petit corona or a lonsdale would be a tight fit. If there was one thing I would suggest improvement in, it would be the size of this case. Granted, the petit corona is my favorite size of cigar, but most cigar smokers prefer a larger cigar than I do.
The bottle opener is great. A solid eighth of an inch thick of stainless steel, it has a tapered edge inside the opener hole that makes getting the toughest bottlecap open is a breeze. The other side has a large hole that would easily accommodate a belt to keep it handy at all times.
Overall, I would give it four out of five stars. Increasing the cigar case size is the only thing that is lacking that extra star. I would be very pleased to receive this as a groomsman's gift.