Punch Sucker Punch King Hit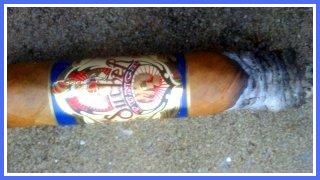 Size: 6 inches x 54 ring gauge
I've often been asked, "Why are your reviews so short?" The answer is simple. Any idea should be expressed plainly, and in as few words as possible. This isn't Penthouse Forum, and I don't see any reason for over analyzed purple prose. I'm not being paid by the word. Actually, I'm not paid at all. So I'll leave those wordy critiques for the true masters, and take care of the short, quick reviews. Today, I'm reviewing one of the cigars from Punch's new Sucker Punch line, the King Hit.
The Punch Sucker Punch King Hit is a fat, yellow-tinted, light-brown toro. Its wrapper is minimally rumpled, but uniform and free of flaws. The pre-light smell is of rotten vegetables. The cigar feels a little soft when pinched, but it's no big deal. A punch-cut provides an easy draw and copious smoke. The mostly even burn is 48-minutes in total, and leaves a sturdy, mid-gray, widely segmented ash. Except for the relatively quick burn, I can find no deficiencies in construction and performance. Give it 5 points for fabrication.
The Sucker Punch line is a General Cigar product, made in the Dominican Republic. The filler is Nicaraguan ligero, the binder is from Cameroon and the wrapper is an Ecuadorian Connecticut leaf. The cigar is medium-to-full-bodied, and is interesting in that it seems to live up to its name. It begins with leather, pecan hull and mineral flavors. Honestly, it is brassy at first, and I am almost ready to write it off. But it quickly mellows as the natural sweetness becomes apparent. Over the last third of the cigar – Boom! – pepper comes in big time, giving the smoker, in essence, a sucker punch. Score it 4 out of 5 for flavor. I'll be smoking this one again.
Recap of the Punch Sucker Punch King Hit: Nicely constructed, good flavor and aptly named. Make it 9 on a scale of 10. It is a good cigar at $6.
The Punch Sucker Punch King Hit can be purchased exclusively from Famous Smoke Shop.