Toraño Dominican Selection Gordo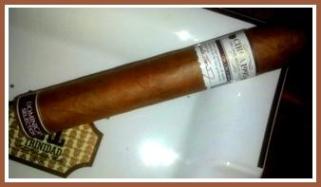 Size: 6 inches x 60 ring gauge
The Toraño Family Cigars factory may be better known for the cigars it makes for other labels than for its own lines. CAO, Dunhill, Gurkha and many more have had their cigars produced in the Toraño factories in Nicaragua and the Dominican Republic. Only in the last decade has the Toraño name itself become well known.

Last year, General Cigar acquired Toraño Family Cigars and announced the family company would cease to exist, but that the Toraño cigar line would carry on. In my humble opinion, it would be best if the Toraños kept running the production part of the business while General Cigar handled the distribution.
What, if any, effect all of this will have on the quality of Toraño branded cigars in the future remains to be seen. For the record, the cigar I am reviewing here was rolled and distributed well before the acquisition.
The Toraño Dominican Selection Gordo is a big, fat, dark blonde toro. Although it is covered by an Ecuadorian Connecticut wrapper, the binder and filler are what give the cigar its Dominican name. The wrapper is dry, and has a couple of prominent veins as well as some discoloration (but nothing major). This is quite an attractive cigar.
My sample squeezes alright, and feels fully packed. Surprisingly, a punch cut allows a good draw on this big stick. The 52-minute burn is slow, cool and even, and the resulting ash is uniformly segmented. You'll get no complaints from me on the way this cigar smokes. The score for construction and performance is 5 out of 5.
The pre-light aroma is sweet and rotten like dead flowers. That bodes well because it seems to me that, more times than not, the nastier the cold smell, the better tasting the cigar. The flavor profile includes about what one would expect from a Connecticut wrapper – notes of bread, wheat, nuts, earth and paper. There is just a touch of pepper and leather present, and the cigar has a slight astringent quality. That leather becomes more pronounced toward the finish, when the cigar burns a little bit warmer. This cigar is mellow and mild to medium bodied. I'll give it 3.5 out of 5 on flavor.
To summarize my review of the Toraño Dominican Selection Gordo: Big and mellow and just what one would expect from a Connecticut wrapped cigar. My total score is 8.5 out of 10 points. This is a very good cigar. I would give one warning, however: Just because this is a mild, mellow cigar, don't let the nicotine sneak up on you. It's a big ole cigar with a lot of leaf.