Kings Cigars King of Kings Habano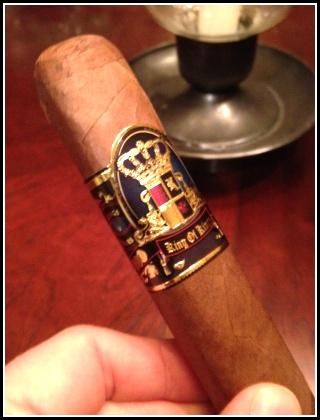 Size Reviewed: 6 inches x 64 ring gauge (soft box pressed)
When I hear the name King of Kings, I think of the obvious biblical reference as well as the sonnet Ozymandias about the great Pharaoh Ramesses (or Ramses) II, penned by the early 19th-century English romantic poet, Shelley. "My name is Ozymandias, king of kings; Look on my works, ye Mighty, and despair!" In my view, any cigar with that name has quite a reputation to live up to.
Until fairly recently, I did not know much about Kings Cigars. However, some careful research on the Internet (along with speaking to a cigar aficionado friend) helped to enlighten me about the company. Kings Cigars is a relatively new company, which started up in 2010. It offers a line of royal-themed, handmade cigars from Esteli, Nicaragua and Santiago in the Dominican Republic. This firm seems to have quite an interesting variety of cigar lines to meet a broad spectrum of tastes.
The King of Kings line is currently available in one format (cuadrado, measuring 6 x 64) with two options for wrappers – a Pennsylvanian broadleaf and an Ecuadorian Habano. The binder is cited as being Nicaraguan, and the filler is described as a 'proprietary blend with Nicaraguan tobacco'. My understanding is that these cigars are made in Esteli. This review specifically profiles the King of Kings with the Ecuadorian Habano wrapper. As always, I've made every attempt to limit my exposure to any other reviews of this cigar prior to writing my own. These are my subjective thoughts. I welcome yours.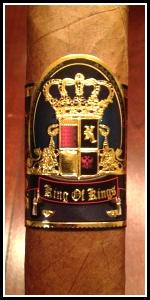 Pre-light visual and olfactory impressions
While this cigar measured a 64 ring gauge, it was not as intimidating in presentation as that size might suggest (at least to me anyway!). I found the soft box press with broadly curved corners actually resulted in a very pleasant, comfortable and ergonomic design for handling a cigar of this girth. The light brown color of the cigar, very smooth finish and tight construction with a double cap gave it a refined look. Yes, the feel of the cigar was a bit soft, but not unpleasantly so. And the band was positively opulent in appearance.
Prior to lighting, the cigar exhibited a very complex aroma, which included scents of tea, fennel and almond in the foreground along with a very subtle backdrop of earthiness. The latter nuance triggered a Pavlovian reaction in me, and contributed to a very mouth-watering combination overall.
Cut and light
Due to the gauge and shape of this cigar, I decided to use a punch in the center of the head. The head was a little soft, but didn't collapse. I was able to get a good clean punch, while the cap remained intact.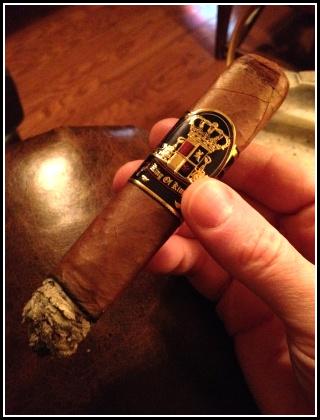 I used a triple flame butane lighter with Xikar fuel, toasting the foot and rotating the cigar before beginning to draw on it (to get a consistent burn started). The cigar lit fairly easily and started burning consistently. Nevertheless, the combustion became inconsistent for the duration. My first taste impression was of a pleasant creaminess with almond and bread notes.
The post-light experience
Smoking took place inside (70ºF, dry humidity). I paired the cigar with still spring water so as to not introduce other factors into the tasting experience. The draw was very smooth and clean. The ash was flaky and dark grey to blackish, while the greyish-white smoke didn't prove as voluminous as I might have expected.
I was pleased at how coolly this cigar smoked from the start. The first third of the cigar seemed predominantly creamy and cool, with notes of almond and tea. And the creaminess persisted throughout the session. At the halfway point, the cigar opened up as faint hints of lightly toasted fennel and sweet bread embellished the almond notes. The smoke became full and rich as I continued on and the cigar heated up. From the 3/4 mark through to the conclusion, creaminess was very prominent along with a warm spiciness (balanced between sweet and savory). At this point, the strength of the cigar seemed to increase (perhaps I was appreciating the cumulative effect). Altogether, I enjoyed 90 minutes of cigar relaxation.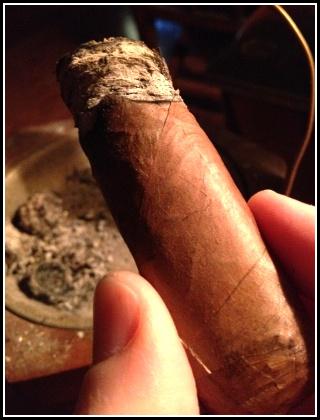 Overall impression
I will level with the reader here. I rarely smoke cigars of such a large ring gauge. Despite being initially intimidated by that attribute, I really liked this cigar. It might surprise you but, for me, this proved a mild to medium bodied cigar, while its strength was medium (although it did increase somewhat over the last third).
The flavors and tastes I have described certainly varied from moment to moment, and were stimulating both aromatically and taste-wise – all of which goes to show a cigar does not have to be overwhelmingly full bodied and full strength be something great.
I think it shows true skill and craftsmanship to be able to create a cigar that is refined, urbane and complex in character. And this is precisely what Kings Cigars has accomplished with their King of Kings Habano. I look forward to trying the broadleaf wrapper. In the meantime, I hope you will enjoy this cigar as much as I did.
Scores
Pre-light: 9
Light: 9
Draw: 10
Construction: 8
Flavor: 8
Power: 5
Average: 8.3
__________________________________________________
Jerry Vogler (jbvogler) is a cigar aficionado who resides in Kennesaw, Georgia