Room 101 Limited Namakubi Monstro

Size: 5 inches x 60 ring gauge
What's in a name? What does the name on your cigar mean? What image does it evoke? The various cigar brands and themed names for assorted blends and sizes are often arbitrary, and sometimes comical. Take, for instance, Room 101 Limited's Namakubi line.
Namakubi – Japanese for freshly severed head – is a nod to the legendary Samurai practice of presenting a vanquished foe's head to the victor. That's interesting and all, but what does it have to do with cigars produced in Central America? The explanation from Matt Booth of Room 101 Limited is that Namakubi represents the head or bounty that is presented to the cigar smoker. It's our prize. Okay, if you say so. In the end, it really doesn't matter what you call a particular cigar. You could call it Aroma de Burro, and if it were good, cigar enthusiasts would buy it, smoke it and like it. So Namakubi works for me. Here is my review of the Room 101 Limited Namakubi Monstro.
This is not a new cigar. The one I smoked had been in my humidor for 22 months. And why review a cigar that's been around for four years? Well, because some poor fellow may have missed it. In case you hadn't noticed, there are – like – a 'billion' cigars out there. I digress.
The Room 101 Limited Namakubi Monstro is appropriately named. It's a mouthful – a huge, medium-brown, really fat robusto with a smooth, slightly oily wrapper. There are numerous small veins (but no prominent ones), and no visible flaws. The pre-light smell is of fresh chaw and – how to phrase this gently? – cow manure. It's a really good, stinky cold smell that promises a good smoke to follow. My sample squeezes nicely from one end to the other. There are no soft or hard spots.
A punch-cut (my preference) allows an easy draw, which is a surprise in this 60-gauge cigar. My sample is a bit tough to light, and begins to burn unevenly right away. After one correction, the rest of the 51-minute burn is mostly even, cool and slow. There are no nasty flavors that so often appear upon an extending lighting. The ash is sturdy, dropping only once. It is dark gray with uneven segmenting mirroring the slightly uneven burn. There is plenty of smoke.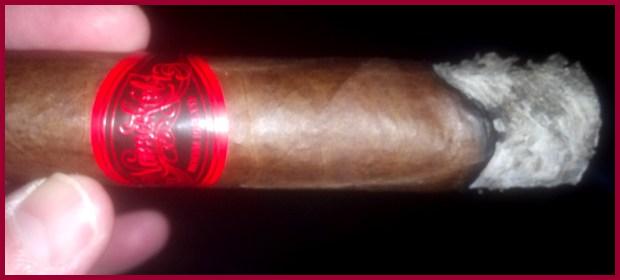 The Namakubi line is manufactured in Honduras from a blend of Dominican and Honduran Vuelta Abajo filler and a Honduran Generoso binder. It is wrapped in Ecuadorian Habano leaf. This arrangement makes for a full-bodied though not overpowering smoke.
I found this cigar to be well-balanced. I tasted pepper, earth, cedar and leather in equal proportions. As the cigar shortens, the flavors intensify a bit, but do not change. It is rich, but not overwhelming.
After everything is said and done, I liked it. I'm not usually a fan of big ring gauge cigars, but I will make an exception for this one. Using the CigarWeekly.com scoring system, the Room 101 Limited Namakubi Monstro earns a respectable score. If you've not yet enjoyed it, I recommend that you try one. Retail cost is approximately $9.50.
Pre-Light: 9
Light: 8
Draw: 9
Construction: 8
Flavor: 9
Power: 8
Average: 8.5