Southern Draw Firethorn Robusto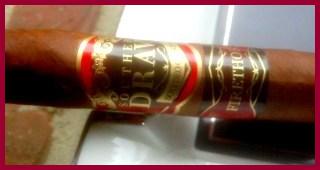 Size: 5.5 inches x 54 ring gauge
Every now and then, curiosity gets the better of me. I stumbled across Southern Draw Cigars somewhere on the internet, and was immediately intrigued. I'd never heard a word of hype, or really anything at all, about the company or its cigars. So, I investigated.
Southern Draw Cigars was started a little over a year ago in Austin, Texas by a group of cigar-loving U.S. Veterans. According to the website, the name Southern Draw is emblematic of the quintessential Southern gentleman, everything he represents, and a cigar that always has a perfect draw. The cigars are made by A.J. Fernandez in Esteli, Nicaragua.
Okay, I was now 'hooked', and my curiosity about this boutique company had to be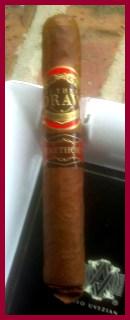 satisfied. As there were no retailers near me that carried the Southern Draw line, I purchased one of their samplers on-line.
Firethorn sports a double-fermented Habano Rosado wrapper – one of four different wrappers that Southern Draw offers. The Robusto, one of three sizes offered, is long (5.5 inches) and fat (54 ring gauge). Appearance-wise, it's medium-brown with a slight reddish tint, and somewhat lumpy-bumpy with a few small veins. There are no blotches or flaws. The cigar seems very soft and loose, and that is worrisome. On the plus side, it is at least consistent in feel from its closed foot to the cap. The cold smell evokes a delicious mix of raisin, hay and cinnamon.
Lighting this cigar is a joy. The loosely closed foot fires up easily and quickly. A punch-cut allows an effortless draw and leads to huge clouds of smoke – a result, no doubt, of that loose packing. This doesn't bother me, because it's the way I prefer my cigars. I detest a tight draw. The burn, however, lasts but a fast 36 minutes. It is a mostly even burn, and it leaves a dark gray ash with even segments. The ash is surprisingly sturdy given the construction, and drops only once.
The Southern Draw Firethorn Robusto is blended and rolled at Tabacalera Fernandez from Mexican and Nicaraguan binders and fillers. It is a medium to full-bodied cigar that is full-flavored without being overpowering – a most desirable attribute.

As for the flavor profile itself… On the first third, I detect burnt toast, charcoal, black pepper and a smattering of nuts and leather. In the middle of the smoke, I notice a slight sweetness of a citrus nature. On the back third, there is more leather, and a little bitterness creeps in. This is probably from the cigar burning hot from that loose pack and fast combustion. It seems that the perfect draw comes with a trade-off.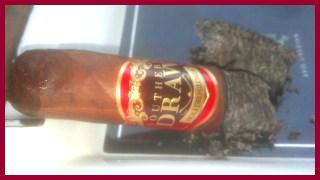 Using the scoring parameters from CigarWeekly.com, here's how the Firethorn Robusto rates with me:
Pre-Light: 8.5
The Southern Draw Firethorn Robusto sells for around $9. I find it to be a good, solid cigar that should be welcome in anyone's humidor. For fans of blender A.J. Fernandez, it is a must-try. And it is a cigar that I will definitely smoke again. In fact, I very much look forward to sampling Southern Draw's other offerings as well.