Just My Opinion – A review of three more cigars from IPCPR 2015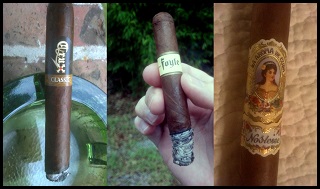 Some might ask, "Why give this idiot cigar samples to review? He's no expert." Those people would be right. I'm not an expert. And I might be an idiot.
When it comes to cigars, I'm an amateur, and not a professional. I'm not part of the cigar industry. I am a cigar enthusiast - just a guy who's been enjoying cigars for 25 years. And like anyone who does something for that long, I have learned a thing or two. My palate is not the most sophisticated. But, what I lack in talent, I make up for in effort. I speak for the average guy that buys his own cigars. That's why I contribute to CigarWeekly.com, and that's why they publish me.
This post is a review of three more cigars that have been introduced or marketed at the recently completed International Premium Cigar and Pipe Retailers Association's annual trade show. What I have to say about the Crux Classic Toro, the Foyle Epee and the La Aroma de Cuba Noblesse is - to quote Dennis Miller - just my opinion. I could be wrong. Remember, I'm an amateur.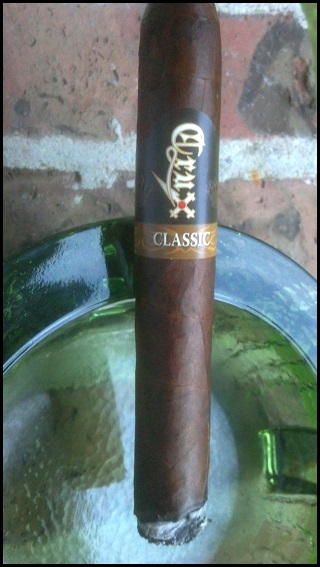 Crux Classic Toro
(6 inches x 52 ring gauge)
By the time this review is posted, the boutique cigar maker known as Crux Cigars will be about a year old. The company already has eight varieties of cigars on the market. Why not call one 'Classic'?
The Crux Classic Toro is a chubby double corona - or is it a torpedo? It has been rolled with an ever-so-slightly tapered and rounded cap, referred to as a Marblehead. Whatever this unusually shaped cigar is called, it is covered with a slightly reddish-tinted, medium-brown Jalapa Habano leaf with a few big veins. It squeezes okay, with only one small soft spot. Overall, the cigar feels good and hefty in hand. It appears to be put together nicely, and has a nice barnyard and fresh chaw smell before the flame.
A modest guillotine-cut allows an easy draw and adequate smoke. The 45-minute burn starts crooked, but evens out by the halfway point. The mid-gray ash is remarkably sturdy, and drops only twice. The flavor profile of this Nicaraguan puro includes pepper, leather and cedar. It's a tad edgy and raw, but gradually mellows out, with earth and nut notes replacing the pepper. This is not an overly complex cigar, but it does have a nice profile. I'd call it medium to full-bodied.
Pre-light: 9
While I feel that this cigar would benefit from some more time in the humidor, I would definitely and happily smoke one again. The Crux Classic Toro, with its Marblehead cap, retails for about $7.50.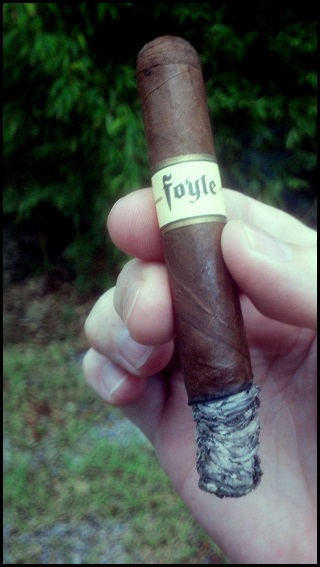 Foyle Epee
(4½ inches x 40 ring gauge)
I'd never heard of the boutique brand Foyle until I received this IPCPR 2015 sample. I had no preconceived notions. What I learned from the company distributor's website is that the line is wrapped in a Honduran criollo leaf. The filler and binder are presumably Honduran, since the cigars are rolled in Danli at the Raices Cubana cigar factory.
This is a medium to dark-brown petite corona. Full disclosure: Small cigars aren't my thing. The wrapper is somewhat veiny, but has no obvious flaws. The sample is good and spongy. The pre-light smell is fresh chaw and manure.
A punch-cut allows an effortless draw and voluminous smoke. The 27-minute, even burn is a bit hot, but then this is a very small cigar. In my dilettante's opinion, the Foyle Epee is a medium-bodied smoke, full of flavor but not overpowering. There is pepper, cedar and sweet fruit in there, as well as leather on the finish. It's a good, quick smoke - it would be perfect as an after dinner cigar. I mean, who has time for an hour-long smoke after drinks and an equally long meal.
Pre-light: 9
I really liked the Foyle Epee, but at $5.50 it's a little pricey for a small smoke. The distribution for these cigars appears to be limited. Good luck finding these little gems.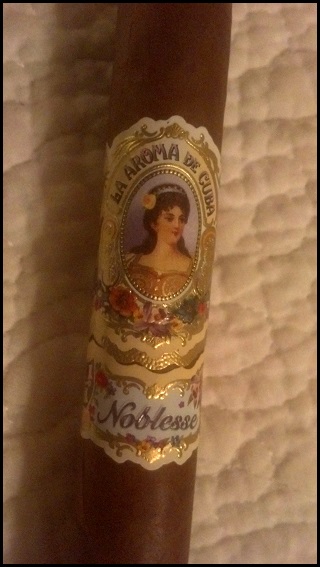 La Aroma de Cuba Noblesse
(5½ inches x 52 ring gauge)
Cigar Number Three is the La Aroma de Cuba Noblesse - a joint effort of Ashton and Pepin Garcia. The presentation is impressive, with a baby blue ribbon on the foot and two bands - both featuring elaborate artwork.
The cigar is a medium-brown, long robusto (5½ inches). It's supposed to be longer because the Noblesse only comes in a toro size (6½ x 52), right? If I have to guess (and I have to), this is a prototype for a Noblesse vitola that was not, will not or has yet to be released. Whatever the case, it's a La Aroma de Cuba Noblesse.
There are a few prominent veins on the silky Ecuadoran Habano Rosado wrapper. There is also one stiff portion when the sample is squeezed, but it's no big deal. The cold smell is stale popcorn.
A punch-cut allows a free-flowing draw and adequate smoke. The 39-minute burn is razor even. The resultant ash is pale-gray and smooth with fine, even segments. The binder and filler for the La Aroma de Cuba Noblesse come from three different farms in Nicaragua. This blend produces a medium to full-bodied smoke with a lot of pepper-spice, cedar and coffee. There are underlying notes of sweet fruit and hazelnut. To me, this is an excellent cigar that I would characterize as stout. While it is absolutely not harsh, it is quite strong, and not for beginners.
Pre-light: 9
Obviously, with a score of 9.0, I enjoyed this cigar immensely. It is $16 retail. I won't be firing up one of these after the yard work is done. This is a vacation or special occasion cigar for me.
I was fond of all three of these cigars. Each had its own character and its own appeal. Of course, I would smoke any of them again. Of the three, I'd have to say the La Aroma de Cuba Noblesse was my favorite. But that's just my opinion.