E.P. Carillo Selección Oscuro Small Churchill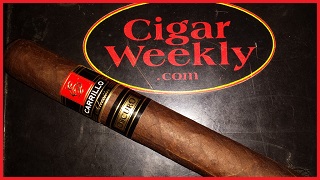 Does anyone remember the tissue wrapped El Rey del Mundo Oscuro from Villazon? I'm sure it's still being produced, but I haven't seen or smoked one in ages. It used to be one of my 'go-to' cigars. Well, I have finally found a worthy replacement. The E.P. Carillo Selección Oscuro takes me back to the flavor profile of the El Rey del Mundo, but with a higher octane rating.
Size: 5½ inches by 50 ring gauge (Robusto)
Wrapper: Mexico San Andres Oscuro
Binder: Ecuador
Filler: Nicaragua
The Selección Oscuro Small Churchill is adorned with a double band in a simple but classic style - black & gold with red & white highlights. The wrapper has a rather rustic appearance and of course, being Oscuro, is a rather dark brown. Overall, this is a good looking cigar with a nice heft, as well as no soft spots or noticeable imperfections.

Holding the foot close to my nose, I am greeted with a combination of sweetness and leather - a very intoxicating blend of scents.
(Before lighting up the E.P. Carillo, I had sampled two other cigars, both containing my flavor profile of preference – that is, lots of spice and pepper. Those two cigars were both nice. But for some reason, they just weren't satisfying my craving for the day. I was obviously in the mood for something heavy and rich.)
I decide to use a guillotine cut for this one, and the cap cuts cleanly.
I put a flame to this Selección, and am happy to discover I've found exactly what I was craving on this day. On the very first draw, I'm greeted with the taste of deep, rich chocolate along with a hit of black pepper - not so much pepper as to be overwhelming, but not really a background player either. In short, simply a perfect balance and combination of flavor sensations.
As I am sitting enjoying this cigar and reveling in the moment, I detect a little more of an espresso taste creeping in, which tones down the spice and pepper just a bit. After all, there is only room enough for just so many players on this stage.

I continue my trip into the mid portion of this smoke, and haven't yet had to do any corrections to the burn. The ash is firm, with a mottled grey and white appearance. The draw, from the start, has been very pleasing, allowing for a large volume of smoke.
I take notice that the flavors of this cigar continue to subtly change during the journey - never any wild swings, but instead a sense that the pepper, chocolate and espresso are taking turns showing off their attributes, with none overpowering the other at any time.

So far, I would peg this cigar at medium to full strength, and full in body and flavor. I am now midway through the stick, and begin to detect yet another player to the show - one of creaminess. There seems to be a lot going on here (a good bit of complexity), and I find it hard to distinguish each of the flavors being revealed. All I know, at this point, is that I am enjoying the hell out of this smoke!

As I enter the final third, I still haven't needed to make any burn corrections. I also find the strength to be escalating a bit - to the point of the cigar being what I would consider full strength.
The body and flavor have remained rich and full throughout. Nearing the end now, the cigar loses a little of its complexity, and leans slightly toward a straightforward sweet tobacco taste. The creaminess has faded, but the espresso and chocolate flavors remain.I finally let the stogie die a quiet death as I let out a sigh of contentment. I have found what I was looking for on this day!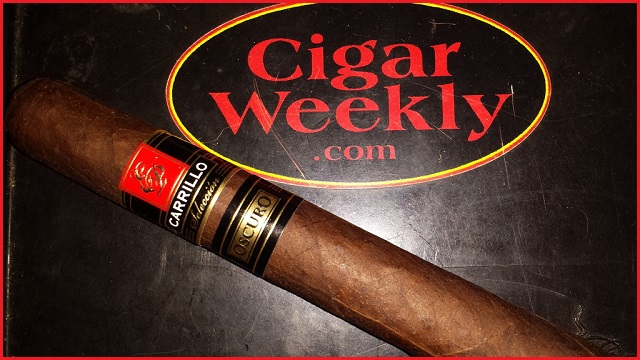 Parting thoughts…
I think I am like most cigar smokers in that I do have a favorite strength/flavor profile. Most of the time, I favor a fuller bodied, spicy, peppery smoke, with a layer of creaminess and bitter chocolate. With this being said, I also enjoy stepping out of that particular box from time to time, and looking for a change of pace.
This cigar fills those needs perfectly for me today. It provides a good dose of spice and pepper as well as a balanced helping of espresso.
The major 'change' for me with this Selección Oscuro is the hefty shot of RICH dark chocolate, which gives the smoke an enjoyable hit of sweetness I was definitely in the mood for.
Would I buy a box of these? Most Definitely!
At the end of the day, I would give the E.P. Carillo Selección Oscuro Small Churchill 4.75 out of 5 stars. I highly recommend you give it a try.
__________________________________________________
Does this review pique your interest? Would you like to discuss the merits of this and other cigars? Cigar Weekly is home to a wide range of cigar enthusiasts. Plus, joining the forums is both easy and rewarding. Rest assured, we're a welcoming group with a wealth of knowledge on tap (including insights on all things tobacco related, as well as on food, wine, beer, spirits and more)! Why wait? Register today!