Alec Bradley Post Embargo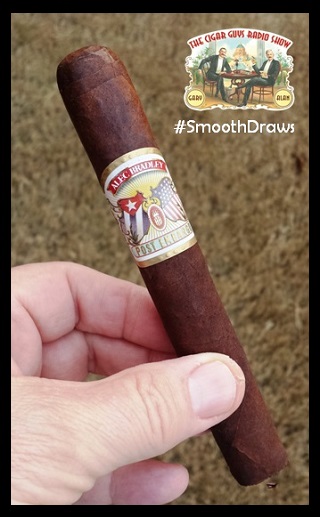 The Cigar Guys Radio Show Smooth Draws Pick of the Week
As they've done each week, Alan and Gary stopped in at the Cigar Merchant of Roswell to meet with owner Scott Baily, as well as select and smoke the 'Smooth Draws Cigar of the Week Selection'. This past week, Scott chose the Alec Bradley Post Embargo.
A CIGAR IS MORE THAN TASTE
Alan Rubin, of Alec Bradley Cigars, came on the scene in 1996. His cigars have experienced a meteoric rise, winning more Top 25 ratings than those of any other maker of cigars. These cigars include the Prensado (which happened to be the 2011 Cigar of the Year), the Tempus, Nica Puro, Black Market and Maxx.
At the 2015 IPCPR Trade Show and Convention, Alec Bradley Cigars showed off a new release called the Post Embargo. This line was to represent the hope of a new era that would end the Cuban embargo and allow all cigar producers to be on a level playing field, where consumers could compare and contrast cigars from everywhere.
When I first saw the packaging and label of the Post Embargo, I thought the label would make a great T-shirt for Captain America to wear to a costume party. And the gigantic box reminded me of Rocky Patel's steamer trunk when he came out with Cargo.
However, Alan Rubin completely redesigned the band and boxes to reflect symbolic images of Cuba and America, with classic artwork from vintage Cuban brands doing this soon-to-be-classic cigar justice!
The Post Embargo line was launched in a series of events at Cigar Cigars, a chain of cigar retail stores located throughout Pennsylvania, starting on November 16, 2015. The line is now available at select retailers.
CONSTRUCTION
The Alec Bradley Post Embargo is crafted at the Raices Cubanas factory in Honduras, and is a solid medium to full bodied smoke. The wrapper is a Honduran Corojo. There are two binders, one from Nicaragua and the other from Honduras. And the filler tobacco is sourced from Nicaragua and Honduras. The Post Embargo is available in four sizes – Robusto, Toro, Gordo and a limited production Lancero.
Initially, the cigar will be released in limited numbers, with 1,000 boxes of Robusto, Toro and Gordo available, and 500 boxes of the Lancero. By 2016, the cigar will be in full production.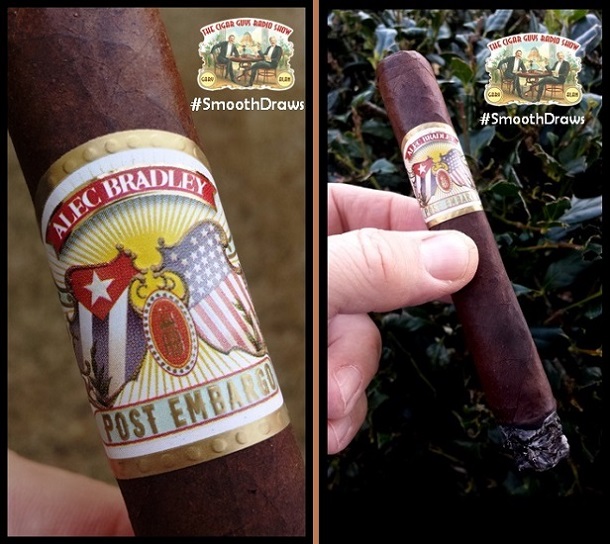 DRAW
The Alec Bradley Post Embargo was so easy to smoke and enjoy. The draw was effortless, and produced billowing clouds of smoke that allowed for easy tasting notes.
TASTE PROFILE
The Alec Bradley Post Embargo had very well defined and complex flavors. As always with tobacco from Nicaragua, I found that earthiness, which I like so much. There were also flavors of cocoa powder, nuts and spices with a touch of pepper. In the background, I noted a subtle sweetness of caramel and raisins, while slight hints of cedar, black licorice and cinnamon teased my senses.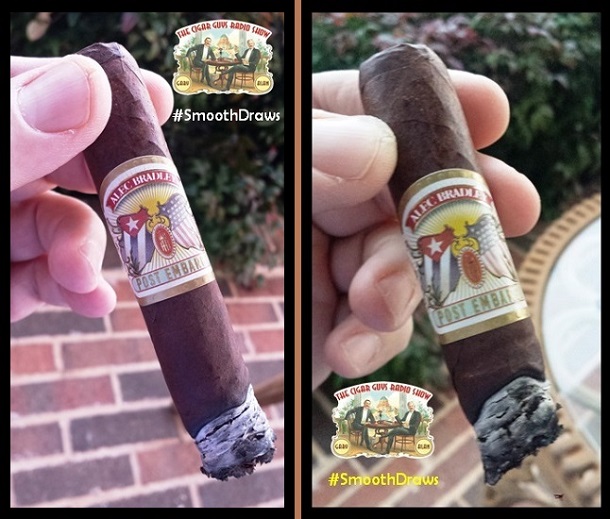 DOES IT GET A BUY RECOMMENDATION?
Given everything I've said so far (the back story, the construction and the flavor profile), I'd have to give the Alec Bradley Post Embargo a Cigar Guys Radio Show buy recommendation. This was a great cigar, and one I am sure will be rated highly in the future.
__________________________________________________
Alan 'The Cigar Savant' Friedman
Co-Host, Cigar Guys Radio Show

Saturday from 9 AM - 11 AM
Personal:

This email address is being protected from spambots. You need JavaScript enabled to view it.
Company:

This email address is being protected from spambots. You need JavaScript enabled to view it.
Website: Cigarguysradioshow.com
Follow Our Sunday Cigar Herf: #CigarHerf
Facebook: Facebook.com/Cigarguysradioshow
Instagram: Instagram.com/Cigarguysradioshow