La Aroma de Cuba Mi Amor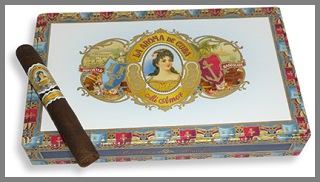 Editor's Note: Each week, our friends at Cigar Guys Radio Show, based in Atlanta, GA, do a review called 'The Cigar of the Week' on their radio show, which can be heard Saturday mornings on AM1230 ESPN the Fan 2 (WFOM radio) from 9AM to 11AM. That review is printed (in its entirety) here on Cigarweekly.com, usually on the Monday following its broadcast.
THE CIGAR GUYS RADIO SHOW 'SMOOTH DRAWS PICK OF THE WEEK'
As they've done each week, Alan and Gary stopped in at the Cigar Merchant of Roswell to meet with owner Scott Baily, as well as select and smoke the 'Smooth Draws Cigar of the Week Selection'. This past week, Scott chose the La Aroma De Cuba Mi Amor by Ashton Distributors, Inc.
THE CIGAR STORY
At the 2010 IPCPR Trade Show and Convention, the La Aroma De Cuba Mi Amor was debuted by Robert Levin, the head of Ashton Distributors, Inc. Ashton Distributors Inc. has owned its own cigar brands for more than 25 years. But the company had broken new ground with the creation of La Aroma de Cuba Mi Amor. This cigar brand was the first from Philadelphia-based Ashton to be made with a Mexican wrapper.
The La Aroma de Cuba brand – translating to 'My Love' – originated in Cuba, and was reinvented by Ashton. It was originally debuted in 2002 as a Honduran cigar. A few years later, Ashton enlisted Jose Pepin Garcia to make a new version of La Aroma, which was dubbed Edición Especial. Then, in 2009, Ashton moved production of the original La Aroma over to Garcia as well, and the line was re-blended.
Today, the Garcia family (originally hailing from Cuba) rolls every La Aroma de Cuba at the My Father Cigars factory in Estelí, Nicaragua. José Pepin Garcia, his son Jaime and daughter Janny now make millions of cigars at My Father. Quite possibly, none is finer than the La Aroma de Cuba Mi Amor brand.

THE CONSTRUCTION
As stated before, the La Aroma De Cuba Mi Amor is produced at Don Pepin Garcia's Tabacalera Cubana S.A. factory in Esteli, Nicaragua. It is double banded, box pressed and packaged in boxes of twenty five. What makes this cigar interesting and so tasteful is the wrapper. It's the first time that Ashton Distributors Inc. has released a cigar cloaked in a Mexican wrapper. Mexican leaf has been used forever in the cigar industry. But this is not just any wrapper. It's a Cuban-seed Mexican wrapper.
Ashton has always opted to use Connecticut broadleaf on its dark cigars. Most Mexican Maduros are made with a leaf known as San Andrés Negro, while these La Aroma de Cuba Mi Amors have wrappers grown from Cuban seeds. The lush and fertile San Andrés Valley outside of Veracruz turns the leaves dark and oily, packing them with flavor.
Two binder leaves are used. The filler leaves are grown by the Garcías on their own farms and are, of course, Nicaraguan. The Mi Amor is a beautiful and well-made cigar with a deep chocolate brown color, which looks like a Maduro with its nice oily sheen and quite a bit of tooth.
THE DRAW
The draw on La Aroma De Cuba Mi Amor is incredible, with very slight resistance. Each draw is smooth, easy and effortless, producing very ample amounts of thick, tasty smoke.
THE CIGAR TASTE PROFILE
The La Aroma De Cuba Mi Amor is a medium bodied cigar with deep flavor and complexity – very well-balanced, with intense flavors of rich coffee paired with a touch of vanilla. Earthy dark chocolate and cedar components are tasted, with notes of sweet nougat, nuts and anise. Hints of black pepper, raisin and molasses toy with the senses as a brightness composed of caramel and cherry emerges.
DOES IT GET A BUY RECOMMENDATION
The La Aroma De Cuba Mi Amor has been rated as high as 95 by Cigar Aficionado Magazine. In 2010, it was in the top 25 cigar list compiled by Cigar Aficionado Magazine. (It placed number 6.) In 2011, it made it to the number 2 spot. So it has the taste and flavor any novice or connoisseur would enjoy. More importantly, the La Aroma De Cuba Mi Amor is one of the most wallet friendly cigars on the market today, making it a true stand out. So we highly recommend and give the La Aroma De Cuba Mi Amor a Smooth Draws Radio Show buy recommendation.
__________________________________________________
Alan 'The Cigar Savant' Friedman
Co-Host, Cigar Guys Radio Show

Saturday from 9 AM - 11 AM
Personal:

This email address is being protected from spambots. You need JavaScript enabled to view it.
Company:

This email address is being protected from spambots. You need JavaScript enabled to view it.
Website: Cigarguysradioshow.com
Follow Our Sunday Cigar Herf: #CigarHerf
Facebook: Facebook.com/Cigarguysradioshow
Instagram: Instagram.com/Cigarguysradioshow