Xen by Nish Patel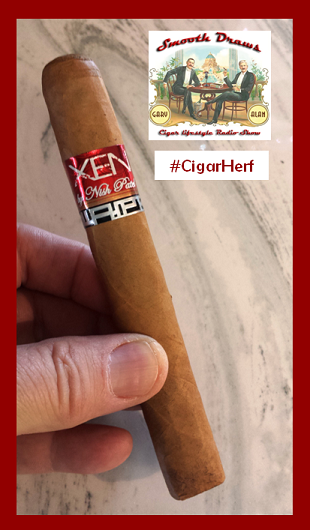 Editor's Note: Each week, our friends at Cigar Guys Radio Show, based in Atlanta, GA, do a review called 'The Cigar of the Week' on their radio show, which can be heard Saturday mornings on AM1230 ESPN the Fan 2 (WFOM radio) from 9AM to 11AM. That review is printed (in its entirety) here on Cigarweekly.com, usually on the Monday following its broadcast.
The Cigar Guys Radio Show Smooth Draws Pick of the Week
THE CIGAR
This week, Alan and Gary selected the Xen by Nish Patel – a Rocky Patel Premium Cigar.
BACK STORY
It would be difficult to find a cigar smoker (whether a novice or aficionado) who has not heard of Rocky Patel. After all, Rocky Patel Premium Cigars is one of the most successful cigar companies in the world. With lines like Decade, The Signature Collection, Royale, Nimmy-D and the Edge Series, Rocky Patel offers a cigar for everyone to enjoy.
Rocky Patel charged his brother, Nish Patel, to blend a cigar – with a Connecticut wrapper – that would not be a traditional mild creamy smoke, but rather one that would have more of a medium strength and body with great flavor. During the 2011 IPCPR, the Xen was released with the slogan 'Rethink Connecticut'. The cigar featured an Ecuadorian Connecticut shade wrapper.
THE CONSTRUCTION
The Xen by Nish Patel is rolled at the TAVICUSA factory in Nicaragua, and uses an Ecuadorian Connecticut shade wrapper. The binder is from Nicaragua. Now, the filler blend is a mystery in that Rocky Patel has kept it a secret.
The construction is painstakingly detailed, with the cigar wrapped within a golden brown outer leaf. The cigar is box pressed, and sealed with a triple cap. It is available in four vitolas, each size presented in beautiful boxes of 20. The Xen also happens to be the first Ecuadorian Connecticut box-pressed cigar.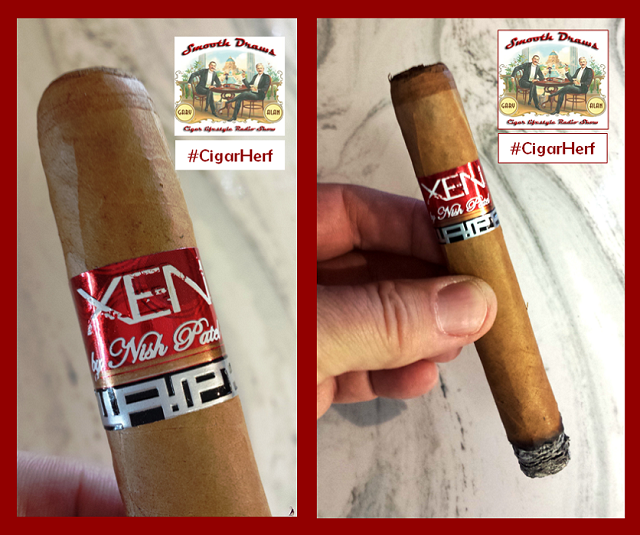 THE DRAW
The Xen by Nish Patel had a draw that was easy and smooth – just like you would expect from any Rocky Patel produced cigar. This easy draw allowed for an ample amount of smoke, allowing us to fully discover the taste profile and nuances.
THE CIGAR TASTE PROFILE
The Xen by Nish Patel lived up to its marketing publicity, in that it was definitely a medium bodied smoke – though at times, it bordered on a medium to fuller bodied cigar. It had a nice amount of complexity.
We noted the taste of butter and a light cedar nuance. There were hints of pepper and coffee. I noted a sweet spiciness along with a hazelnut tone, and that earthy flavor of Nicaragua that I like so much. A very enjoyable experience.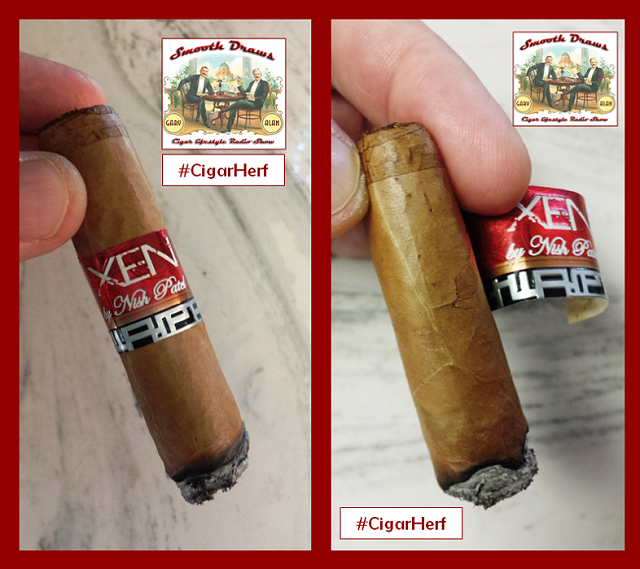 DOES IT GET A BUY RECOMMENDATION?
The Xen by Nish Patel is a winner – a true standout among Connecticut wrapped cigars. This is one that would make for a perfect morning cigar with coffee. It would also be a great cigar for the novice that is ready to move up to a cigar with more intensity, or for the aficionado looking to enjoy a Connecticut wrapper.
Does it get a smooth draw buy recommendation? Absolutely. But more than that, it gets a 'Smooth Draws Buy a Box' recommendation. You must smoke this cigar. You will not be disappointed.
__________________________________________________
Alan "The Cigar Savant" Friedman
Co-Hosts, Cigar Guys Radio Show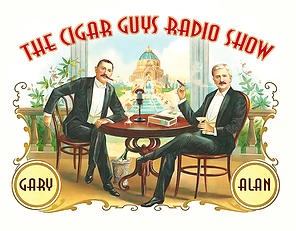 Saturday from 9 AM - 11 AM
Available on TuneIn Radio Outside the Atlanta Area
Address:
513 Brookeshyre Court
E-mail:
This email address is being protected from spambots. You need JavaScript enabled to view it.
Website:
Cigarguysradioshow.com
Twitter: @Cigarguysradio Live #CigarHerf: Every Saturday on Twitter during show hours!
Facebook: Facebook.com/Cigarguysradioshow