Tabaquero Corona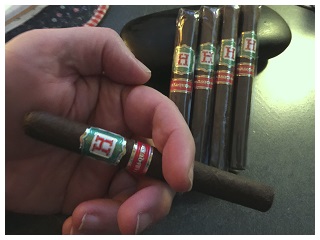 Ever since meeting with Hamlet Paredes at the ICPCR last summer, I'd been anticipating his new line, Tabaquero, hitting the market. I pre-ordered a five-pack of his coronas from an online vendor, and received them shortly thereafter. After letting the cigars settle for a bit, I had one on a Saturday night, following my son's wedding. It did not disappoint.
If you are familiar with Hamlet Paredes, you likely already know he worked at the Partagas factory in Havana for 20 years, becoming a master roller. He defected to the U.S.A. in 2014, and went to work for Rocky Patel in Florida. His Partagas custom cigars always had a unique flavor, and they were much sought after. I hoped his new line would be just as good.
When I got to talk to Hamlet at the 2015 IPCPR in New Orleans, he was very excited to be promoting his cigar for the American market.
CI describes the cigar this way: "Tabaquero comes draped in a San Andres wrapper, concealing binders from Brazil and Mexico, and Nicaraguan long-filler. Medium-bodied, and containing Cuban-esque richness, flavors abound, including spice, cocoa, coffee, pepper, earth and subtle cream."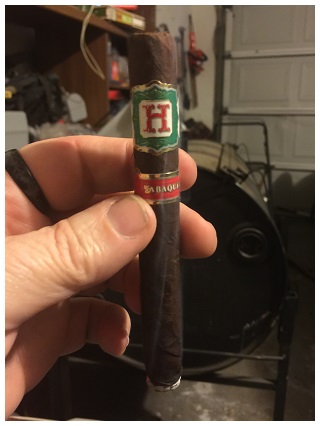 These are very darkly wrapped cigars, with good smooth construction – firm, but not too, to the touch, with nice aromas of well-aged tobacco from both wrapper and foot.
My first Tabaquero cut very cleanly with a Palio. The pre-light draw was easy without being loose, and showed light hints of various flavors, including tobacco and spice.
After lighting, the initial draw was a bit strong, but it mellowed quickly to a nice blend of tobacco and spices with undertones of cocoa and earth. The ash was nice and firm. At about the half-way point, a distinctive undercurrent of pepper started to build.
The excellent construction of this cigar allowed for the smoke to stay cool and pleasant, allowing a creaminess to develop. The corona finished clean, with no harshness in the after-flavor, and the cigar burned razor sharp with no touch-ups required.
The Tabaquero produced more smoke that one might expect from a corona. In fact, it smoked very much like a Habano, and was easy to enjoy right down to the nub.
I cannot, in good faith, compare these to Hamlet's previous creations with Cuban tobacco. However, given the wide variety of leaves he had to choose from, he's done an excellent job (with the blend, binder and wrapper) to create a most enjoyable cigar. I am definitely looking forward to smoking more of these, in different sizes, to see how well the filler competes with the wrapper, as a corona's flavor is generally dominated by the wrapper.
Construction – 5/5
Burn – 5/5
Quality of flavors – 5/5
Overall impression – 5/5
In short, this is a stellar cigar from one of the best in the business. Joe Bob says, "Check it out."
The Tabaquero corona revisited
I fired up another of the outstanding Tabaquero coronas by Hamlet Paredes on another day. Love these cigars!
This one sported a beautifully smooth and dark wrapper, and was very fragrant from the wrapper and foot. It seemed firm but not hard-bunched, and had a perfect pre-light draw.
The cigar clipped and lit perfectly, immediately producing ample flavorful smoke. Cocoa and leather notes, along with some pepper in the back of the throat and the nose, were apparent.
A slight run was easily corrected, and the cigar burned evenly thereafter. Woody notes picked up at the 1/3-point, adding to the other flavors. This was a full-bodied cigar with complex flavors that develop nicely as it progressed. Yes... I might be a bit biased, as I'd always enjoyed Hamlet's Cuban blends whenever I could obtain them.
I paired the cigar with a Sierra Nevada Otra Vez, which complemented the flavors of the corona to perfection.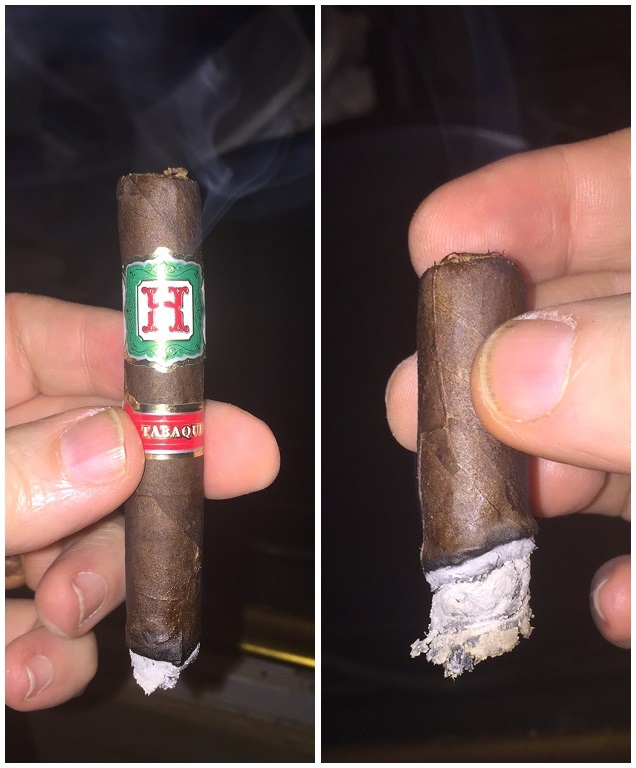 The second third was more flavorful, as my tasting notes showed some cinnamon emerging – one of my favorite flavor profiles. Once again, a slight run was easily corrected, and the even, flat burn continued. Hints of nutmeg were revealed as I approached the final third.
One slight tear occurred (my fault from removing the bands a bit too quickly), but it had no impact on the quality of the smoke. The cigar did not get warm until well into the final third. This prompted me to slow down – no easy task with a cigar this flavorful. The corona cooled back down as I slowed my smoking.
This was an excellent cigar that impressed me from light to nub. Get your hands on some of these stellar cigars. They really deserve my 5/5 rating. Joe Bob says, "Definitely check it out!"
And huge kudos to Rocky Patel for bringing Hamlet into the fold to add to his already excellent line.
__________________________________________________
Jeff Slatton (jefslat) hails from the San Antonio, Texas area.