La Gloria Cubana Serie RF No. 21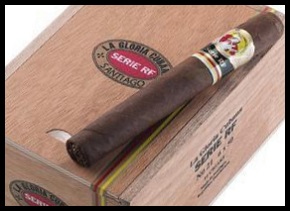 What's in a name? When it comes to cigars, perhaps not much. One can find hundreds of different cigars with wonderful, and some not so wonderful, names. Many cigar brands sound traditional, while others are more contemporary. Still others have names that are clearly marketing ploys.
Although the name of a cigar has nothing to do with how it smokes, or with the quality of the brand, I've always been a person who enjoys a cigar with a fine name. Some cigars (and I won't mention any specifically) sport names that, to be frank, make me want to avoid them at all costs. However, a few of those cigars also happen to be amongst my favorites. And no... A fine sounding name is not always an indication that the cigar will be a winner, either.
La Gloria Cubana, literally The Glory of Cuba, is one of those cigars brands that did it right in choosing a name. The brand name belongs to both Cuban and Dominican cigar manufacturers. I've had very little experience with the Cuban line. But I have smoked my fair share of the Dominican-bred LGC cigars.
I've always enjoyed La Gloria Cubana cigars, even though they haven't been in my regular rotation. So it's only natural that I was excited to sample the La Gloria Cubana Serie RF No. 21.
I received my cigars from Famous Smoke Shop. The four samples arrived in a well packaged box.

This particular cigar is one I had never smoked previously. The LGC Serie RF No. 21 has acquired a reputation for being a strong cigar. While I periodically enjoy bold cigars, I normally prefer a moderate flavor profile, and usually don't go for very strong ones.
After unpacking the cigars, I placed them inside my Aristocrat cabinet humidor for safe keeping. They stayed there for several days before I decided to light up any of them.
Upon inspection, I noted that the cigars had that classic La Gloria Cubana appearance – which is to say they were clearly well made but didn't look perfect. The wrappers looked natural, with bumps and imperfections. While some of you may disagree, I actually prefer this style as opposed to that of cigars with a 'perfect' look. La Gloria Cubana cigars have a realistic, classic look. And the Serie RF No. 21 is no exception.
The heads of the La Gloria Cubanas cut quickly and easily (I used my guillotine cutter) on all three cigars I sampled. The pre-light draw was also smooth on all three samples.
One (the second of the three I smoked), however, shared no further similarities with the other two. I have smoked cigars long enough to recognize that occasionally a bad one will find its way into a box of even the best premium cigars.
Well, my friends, this second LGC was one of those. After lighting it with my Alec Bradley 'The Burner' Table Cigar Lighter, I almost immediately started tasting a very undesirable flavor. This flavor was nothing like that of the first sample I had smoked. The cigar became very acidic, and I ended up doing something I rarely ever do – I tossed it after suffering through it for about 5 minutes.
One might think that, after such an experience, I would give the RF No. 21 a low grade. And if I were grading solely based on my experience with that one cigar, I would. But fortunately, I also smoked two others (out of comprare kamagra italy were sent). And those two were nothing like that one terrible oddity. To the contrary, they were excellent. Both exhibited a smooth draw from beginning to end, along with a relatively firm grey ash. The smoke was not as chewy as I prefer, but it was still plentiful.
As for the flavor profile, can you say, "Pepper?" Wow! Talk about spice. I could actually feel the 'burn' in the back of my throat – something I've never sensed with any other cigar. I was also able to detect hints of sweetness and even cream. But spice was the predominant flavor.
Overall, I'd say this is a very good cigar. It would be an excellent choice for anyone who likes a stronger flavor profile. While I enjoyed the construction and smoking quality of these cigars (with the exception of that one 'lemon'), they were just too strong for my liking.
Size:
6 inches by 50 ring gauge (Toro)
Rating analysis:
Average: 8 (average does not include power)
__________________________________________________
Rob Geyer (Rob G) haails from Syracuse, NY. His man-cave is the envy of all of us.