A Cigar's Tale Review IX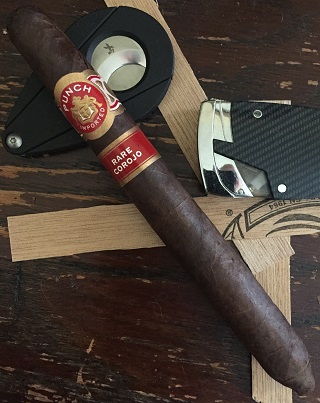 Cigar name: Rare Corojo
Wrapper:
Ecuador (Corojo Sumantra)
Filler:
Dominican Republic, Honduras and Nicaragua
Vitola reviewed:
Perfecto (7.2 inches x 54 ring gauge)
Visual
Looking over this darker chocolate-colored wrapper, I notice one medium-sized prominent vein. The surface is slightly toothy, and there are some visible seams. Construction on this cigar is okay, but I am used to seeing better from Punch – and even on other cigars in the line and year.
Cold aroma
Along the wrapper, I take a few passes with the ole sniffer, and find notes of grass, hay, leather and cocoa. The foot offers a bit more, with scents of raisin, cinnamon, sweet hay, cocoa and a slight tobacco note evident.
Cold draw
After cutting the cap off, I take a few cold draws to see what I'll get. I note some cinnamon, spice, hay and cream. There is a sweetness here that is pleasing, for sure.
1st third
Moving into the nuts and bolts of the review, I go ahead and light this cigar up. I take a few puffs, and start picking up several flavor notes, including white pepper, clay, grass, cocoa, cream and wood. The sweetness from the pre-light draw is still apparent. There's an even burn throughout the first third, and the experience, so far, is very nice.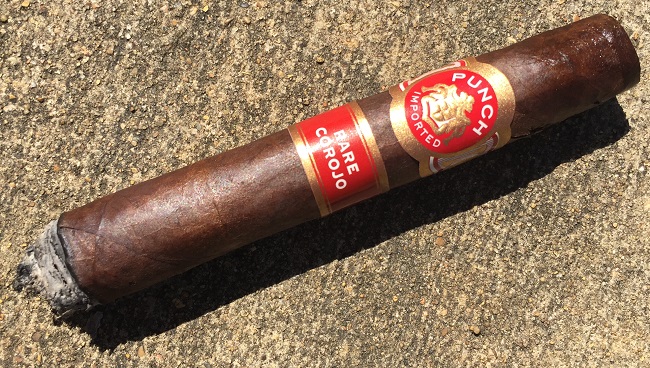 2nd third
The transition from the first to second third is also nice. Hints of espresso, cream, earth, cedar, dried fruit and black pepper emerge throughout the second third. The burn is slightly uneven, and the ash has a lighter gray color. The draw is slightly tight and smooth.
Last third
Moving into the final third, I begin to pick up a nut flavor for the first time. There are still notes of sweet tobacco, black pepper, coffee and earth. The pepper has become bolder. And I would say the strength has bumped up a bit in degree to medium-plus. Here, the cigar is fuller in body and in strength.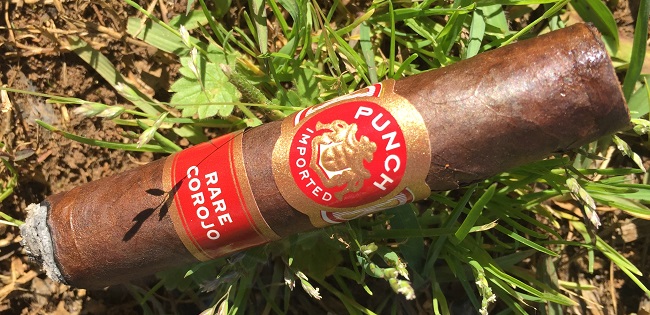 Afterthoughts
This was an interesting cigar. It was almost like having a meal backwards. The Rare Corojo started out with more sweetness – not unlike a dessert. The middle brought forth the meat and potatoes, while the last part was like a good salad with a lot of peppers and seasoning.
I have heard a lot of good things about this cigar, and now I see why. My palate must be a little different though, because while I did find this to be a good cigar, I don't think it quite lived up to all the hype. Don't get me wrong. I fully plan on keeping a few of these in my humidor – for sure. And I look forward to the latest release of this limited cigar.
Rating scores
Pre-light: 7.5
__________________________________________________
Please like my page at www.facebook.com/ACigarsTale . Follow me on Twitter and Instagram @nhale1300.