GTO Hypnotic Connecticut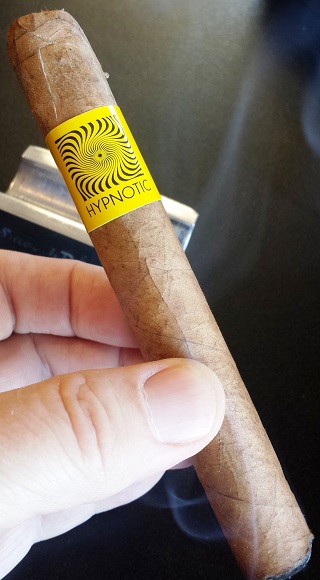 Editor's Note: Each week, our friends at the Smooth Draws Radio Show, based in Atlanta, GA, do a review of 'The Cigar of the Week' on their radio show, which can be heard Saturday mornings on AM1230 ESPN the Fan 2 (WFOM radio) from 9AM to 11AM. That review is printed (in its entirety) here on Cigarweekly.com, usually on the Monday following its broadcast.
The Smooth Draws Radio Show Pick of the Week
Regardless of the reason, smoking is common not only among casino players, but among sports stars in general. If you're looking for the best cigars for a
new online casinos
atmosphere, check out the best cigar stores in Canada. These establishments not only sell high-quality cigars, but also offer the highest level of service that online casino players really like. You will also enjoy the rich and complex taste of a quality cigar.
THE CIGAR
This week, we selected the GTO Hypnotic Connecticut, which is produced by Oscar Rodriguez, a good friend of ours for several years now.
BACK STORY
Oscar Rodriguez is the CEO of GTO Cigars and Tabacalera GTO Dominicana. He epitomizes the current generation of cigar manufacturers – those desiring to produce innovative and unique styles and blends, yet still adhere to the tried and true methods that have proved successful for decades.
A cigar smoker since his early 20s, and also having been brought up and trained by his father and grandfather on the family tobacco farms and at the Tabacalera, Oscar has a keen talent for blending very tasty cigars that adhere to his family's rich Dominican Republic tobacco growing and cigar manufacturing roots and traditions.
What people like most about this personable cigar maker, who now splits his time between the Dominican Republic and Alabama (the latter where he is a practicing physician), is that he is highly approachable and enjoys talking with fellow cigar smokers at events, shops and lounges. And that's where the inspiration for the Hypnotic line first came to him.
Oscar saw many novices smoking infused cigars as a way to introduce themselves to the cigar lifestyle. He then set out to blend a cigar that could be an alternative to the infused ones. This would be a cigar that the novice, as well as the experienced aficionado, could enjoy. It would be made, with pride, from top-of-the-line tobaccos, and would be mild while still displaying a true natural tobacco taste with a hint of sweetness. Oscar released the Hypnotic line in October of 2015.
THE CONSTRUCTION
The GTO Hypnotic Connecticut is a well constructed cigar rolled at Tabacalera GTO Dominicana in the Dominican Republic. Oscar is an expert at cultivating first generation Cuban seed tobacco (called Dominican Piloto Cubano) on the family farm, which lies within an area of fertile soil located in the Valle del Cibao.
This mild to medium-bodied cigar uses Sumatra fillers imported from Indonesia. The binder is Dominican from the Cibao Valley, and the wrapper is a U.S. Connecticut shade. But the most interesting construction fact is that the tip is sweet. This sweetness is created by a natural based sugar. The regular production GTO Hypnotic Connecticut is offered in an attractive yellow box (containing twenty cigars) sporting a stylized hypno-disk.


THE DRAW
The draw was smooth as well as easy, and we would classify it as outstanding. It produced billowing white clouds of smoke, making for an interesting and notable smoking experience.

THE CIGAR TASTE PROFILE
We found the GTO Hypnotic Connecticut to be flavorful, complex and very well balanced, highlighted by subtle and complex nuances. We tasted clean natural tobacco flavors. Hints of woodsy-like cedar with creamy vanilla were also evident, while an almost toasted buttered rye bread note teased the senses. We also noticed hints of dried fruit and coffee. The experience was both relaxing and satisfying.

DOES IT GET A BUY RECOMMENDATION?
If you looking to initiate a friend or spouse to the cigar life style, you must consider the GTO Hypnotic Connecticut. And if you're more experienced and looking for an early morning cigar, look no further. We absolutely give this cigar a Smooth Draws Radio Show buy recommendation.
__________________________________________________
Alan
Alan "Cigar Savant" Friedman
Doc
Gary "Doc" Laden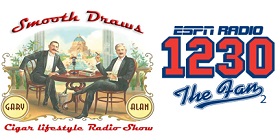 3605 Sandy Plains Road
Suite 240-147
Marietta, GA 30066
This email address is being protected from spambots. You need JavaScript enabled to view it.
This email address is being protected from spambots. You need JavaScript enabled to view it.