Rocky Patel Vintage 1990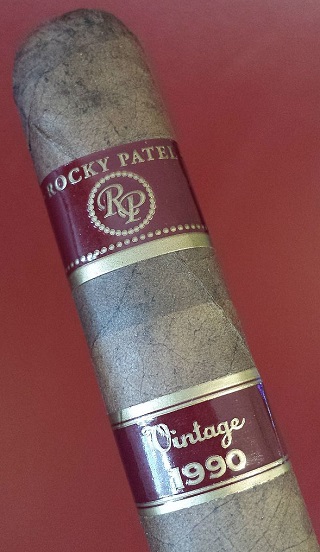 Editor's Note: Each week, our friends at the Smooth Draws Radio Show, based in Atlanta, GA, do a review of 'The Cigar of the Week' on their radio show, which can be heard Saturday mornings on AM1230 ESPN the Fan 2 (WFOM radio) from 9AM to 11AM. That review is printed (in its entirety) here on Cigarweekly.com, usually on the Monday following its broadcast.
The Smooth Draws Radio Show Pick of the Week
THE CIGAR
This week, we selected the Rocky Patel Vintage 1990.
BACK STORY
The Rocky Patel brand has always been known for its quality, construction and consistency. Having entered the cigar industry during the early days of the cigar boom as an outsider (without the Cuban or even Latin pedigree, no less), and having been told that he would never make it, Rocky succeeded like no other.
Rocky then put aside the Indian Tabac brand name (which he had spent years building) to focus on the Rocky Patel Brand, and the Vintage Series in particular. He wanted to have direct control over the quality of his cigars.
During his travels, Rocky discovered unused bales of 12-year old, Honduran-grown, broadleaf wrapper leaves. He found that this older tobacco performed significantly better than anything he had used before. Rocky also cut back on production in order to focus on quality control. Instead of rolling 400 to 500 cigars per day, Rocky limited daily runs to 250 cigars. This measure created room for an unprecedented level of craftsmanship and, in turn, permitted better attention to ensuring quality production. The Vintage line of cigars has consistently cracked the 90 rating barrier in Cigar Aficionado.
THE CONSTRUCTION
The Vintage 1990 was introduced in 2003. It incorporates a 12-year old Honduran broadleaf Maduro wrapper. The binder is an 8-year old Nicaraguan, and the filler tobaccos are a blend of 8-year old Nicaraguan and Dominican leaves.
This cigar is impeccably constructed and attractive, with great oils and a nice color. It's box-pressed, double banded, and is offered in wooden boxes, each box containing twenty cigars. The Vintage 1990 is produced for Rocky at General Cigars' Scandinavian Tobacco Group factory in Danli, Hounduras.

THE DRAW
We found the draw to be excellent. As a matter of fact, the draw was spectacular, producing tons of thick white clouds of smoke. This made note taking easy, and also made the smoking experience that much more gratifying.
THE CIGAR TASTE PROFILE
We found the Rocky Patel 1990 Vintage to be a mild to medium-bodied cigar. It was balanced in flavor and complexity, displaying rich flavors of earthy woody cedar along with hints of toasted nuts with an espresso overlay. An occasional semi-sweet, chocolatey, creamy flavor emerged, accompanied by notes of caramel, while hints of white pepper and jasmine teased our senses.
DOES IT GET A BUY RECOMMENDATION?
The Rocky Patel Vintage 1990 is a cigar you simply must try. And if you haven't smoked one in a while, try it again. It has garnered a 92 rating in Cigar Aficionado, and has twice been placed in the Top 25 Cigars of the Year by the same magazine. The Vintage line was dubbed the Best of the Best in the 2004 Robb Report.
This would make a great celebratory or after-dinner cigar, and we believe that all levels of enthusiasts would enjoy this cigar. So, does it get a Smooth Draws Radio Show buy recommendation? You bet it does.
__________________________________________________
Alan
Alan "Cigar Savant" Friedman
Doc
Gary "Doc" Laden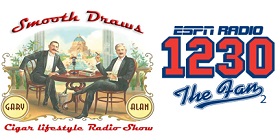 3605 Sandy Plains Road
Suite 240-147
Marietta, GA 30066
This email address is being protected from spambots. You need JavaScript enabled to view it.
This email address is being protected from spambots. You need JavaScript enabled to view it.