Blind Review 2016-02
Blind Review: Isabella Sparkle Robusto

Welcome to 2016 blind review number 2 - the coolest little cigar you never heard of!

Cigar Weekly has a tradition of doing blind reviews of new and/or boutique cigars whenever the maker asks.
Cigar Weekly's blind reviews are scored by a panel, and averaged using 7 criteria within a 50 point scale.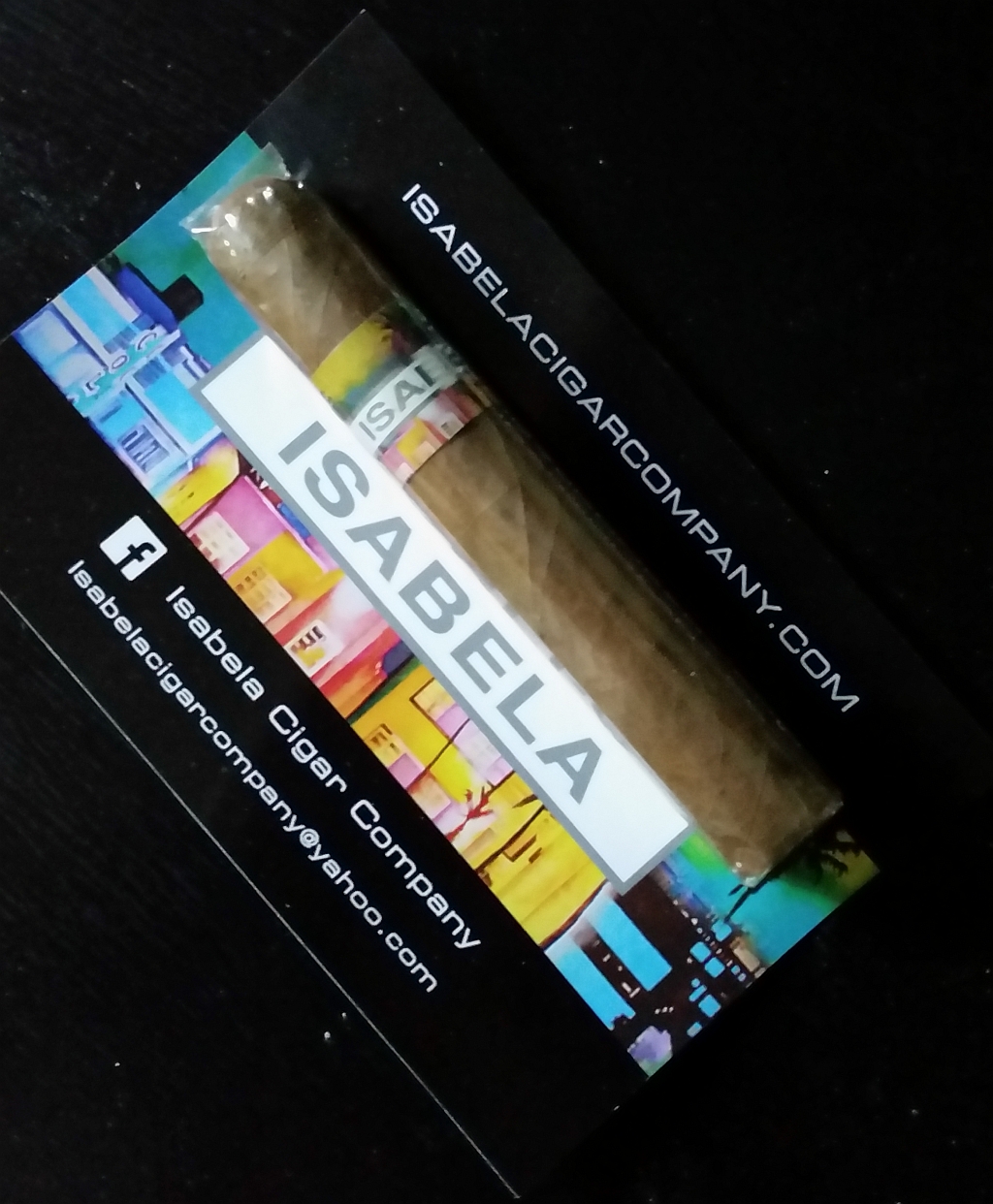 | | |
| --- | --- |
| Criteria | Max Score |
| Appearance /Construction | 5 |
| Burn | 5 |
| Draw | 5 |
| Aroma | 5 |
| Flavor | 10 |
| Taste/Aftertaste | 10 |
| Overall quality | 10 |
| Grand Total | 50 |
How it works: Cigar Weekly members volunteer for the task, and are asked to complete the review by smoking both samples within a two to three week window. They are requested to take copious notes, and then to enter their data into an online form. It's the 21st century, right? We used to use paper…
We do not require that the maker be an advertiser, nor do we charge a fee for these reviews.
We do ask the maker to send the cigars to a central location, and provide $35 to reimburse some of the shipping charges. All cigars are de-banded and shipped to the volunteer reviewers by priority mail.
The results are compiled, scores tabulated, and then the article is written up for publication.
Interested in participating? Well, you need to be a member of the forums! You can register – it's always free – at http://j.mp/cw-reg
The cigars for this blind review, our second of 2016, were offered up by Matt Plumber of Isabella cigars. Interestingly, they've been around for a while, it's just that I'd never heard of them until I ran into Matt on Facebook - hence, the coolest little cigar you never heard of. Alright... Let us begin!
The panel:
Brice Sikes (Candid Cigar), George Anderson (CSMAnderson), Jeff Nichols (Jester), Tom Smitty (GrouchoM) and Jeff Slatton (Jefslat) formed the panel for this review.
Appearance and Construction:
Color, texture, cap, and bunch are rated here. The emmawatson-fans.com from the panel was:
Color: Natural/Tan
Texture: Medium to rich, with one vote for fine

Cap and Head: Smooth (unanimous)
Bunch: Firm/even (unanimous)
Average Reviewer Score = 4.4 / 5
Pre-Smoke Comments: (Most positive and most negative)
Brice Sikes: Few, small veins. No flaws. A handsome cigar. Uniform sponginess. Good weight/feel. Not much of a cold smell--musty hay and sweet.
Tom Smitty: Stick had a light wrapper with a few prominent veins and firm to the touch, seems well constructed. Pre-light draw was very loose.

As you can tell, not much wrong in the construction department if 'loose pre-light draw' is the most negative comment

The Burn:
The coal, ash and ash structure, as well as any burn problems, are rated here.
Overall Burn: Even
Coal: Flat (3 of 5 reviewers)
Ash Color: "Salt and Pepper"

Ash Structure: Typical (this typically indicates good internal construction similar to other cigars the reviewer may smoke)
Problems: Two of our reviewers reported unraveling of the wrapper at some point. This can be attributed to any number of factors, including our removing of the bands.

Average Reviewer Score = 4.4 / 5
While they observed the burn, the panel also assessed the cigar during their smoke for draw and aroma.
Draw and Aroma:
Two of the most important parts of cigar enjoyment (and these are also fairly subjective, though a plugged cigar is a plugged cigar!) are DRAW – how well you can pull through the cigar (the draw) - and AROMA - how the smoke smells, feels and tastes. These are each rated on a 5 point scale. You might ask, "Taste?" Yes, aroma and smell have a huge impact on the overall flavors you get from a cigar.
Draw: Easy (3) with one vote for perfect, and one for "Too Easy"

Draw Score: 4.2/5
Aroma / Room smoke: Subtle was the predominant choice.

Aroma Score: 4.2/5
The "Smoke" is rated on a 10 point scale, and includes judging some more subjective catagories like flavor, body, strength and balance. Remember, these are subjective – you may not agree – so we'll provide as much detail here as we can.
Richness: Medium (2) or weak (2) was the dominant appraisal of our judges
Balance: Perfect (2) and one dimensional (3) were the opinions voiced here, exposing the variations in our judges' palates.
Strength: Medium (2) and mild (2) – again revealing palate differences in our judges. The consensus is that most smokers would find this cigar on the mild/medium end of the strength scale. In cigars, strength is one of the most subjective and debated characteristics. One felt the cigar was Medium Full in strength.

Body: Mild and medium were the choices our judges tallied here, with one judge counting the body as "generous". A generous body means he felt that the cigar smoke filled his mouth in a very satisfying way.
Flavor: The following key words were selected by our judges to define the flavor of the cigar as they smoked it:
| | |
| --- | --- |
| Brice | modest, vegital, woody |
| Jeff N. | modest |
| George | modest, earthy |
| Tom | modest, earthy, woody |
| Jeff S. | Modest, woody |
Over All Smoke Score: 7.7 (out of 10)
The next category goes right after the tastebuds, as our judges are asked to frame the taste and aftertaste of the cigar. I always find this part most interesting! Hope you do too!

Sweetness: Pronounced (3), medium (1) and light (1) were selected
Bittterness: None was selected by 3 reviewers. One reviewer found none, and our fifth said medium.
Burn on tongue: Light or none were the values reported. The cigar provided a smooth smoke on the tongue.
Sharpness: Medium or light. Sharpness is usually detected on the back of the palate
Saltiness: None was the consensus score here, with one judge saying light. Saltiness represents a mineral like taste in the cigar.

Score: 7.8 /10
Smoke Comments: (Most positive and most negative)
Tom Smitty: Initial taste of leather with faint fruitiness, with a faint peppery aftertaste. A woodsy aroma came off of the foot. The profile was very sweet with peppery finish. I noticed a sugary taste on my lips, mixed with cedar. The aroma switched to sweet and leathery. I felt the sweetness was maybe black cherry and the aftertaste was peppery. The strength was medium-full. A harshness has built up in the back of my throat, but wasn't significant..
Jeff Nichols: This stick is admittedly not my cup of tea, not to say that there is anything glaringly wrong. The smoke is light and sweet with a creamy mouth feel that develops after the first third or so. Nothing complex to my palate, no real desire to identify that elusive flavor that shows up occasionally, as sometimes occurs with other cigars I have smoked. To me it is a sweet, mildish and not overly complex experience.
Finally, we ask for a summary / overall impression of the cigar.
In the summary, we ask for the reviewer to judge the 'character' of the cigar. Character, just like with people, is subjective… It's like, "Would you hang out with that guy?" or, "What do you think about that person?" Reviewers select from key words like common, coarse, elegant and/or pedigreed to share their impressions.
Our consensus leaned very much toward the favorable end, with Agreeable being the most selected response.
They also scored the overall 'body' of the cigar as medium/mild. Over all "quality rank" was GOOD, with one reviewer rating Fair.

Summary score: 7.9/10
The reviewer's summary comments:
To me this was a dark Connecticut-wrapped cigar with typically "just shy of medium-bodied" but with good flavor. It would be an excellent morning cigar. I have nothing bad to say about it. I found no shortcomings. I would smoke it again, but it would not be my favorite. I prefer "heavier" cigars.
I have made an effort to be objective recognizing in a blind test I'm not always going to have my sweet spot tickled. There is nothing wrong with this stick to my palate except it is not my preferred flavor profile. While I did have a wrapper delamination on the first stick I thought maybe a little more time in the humi might help so I waited on the other sample. No wrapper failure on the second stick. Overall construction was good, burn was even, first ash drop at about 1.25" revealing some coning. As I said, I didn't find it terribly complex. An easy and approachable cigar for one who wants to join the cigar community. Sort of an entry level stick as it were.
This cigar was not a bad cigar but not a good cigar either. I wouldn't go out and buy this cigar or keep it in my humidor. The cigar was agreeable but I was indifferent as to the character once I was half way through the cigar. The body of this cigar was medium but didn't have any real flavor I would say was note worthy. Simply put this cigar is good for mowing the lawn or washing the car, but no one you would sit down and smoke if you were looking for an enjoyable cigar.

Solid character: Overall, I would recommend this cigar, despite a limited flavor profile, it performed well with it's taste and strength, despite the limited flavor it possessed.
Wrapper on sample #1 unraveled at 2/3, otherwise this was a pleasant if not overly impressive cigar
SO - while some in our panel seemed to prefer stronger smokes, they thought quite favorably of this cigar! How did it rate?

Total Score 40.6! Outstanding!


Cigar Weekly's 50 Point Scale
| | | |
| --- | --- | --- |
| Av. Score | Stars | Rating description |
| 0 – 9 | 1 | Not recommended |
| 10-19 | 2 | Below Average |
| 20-29 | 3 | Average |
| 30-34 | 3 1/2 | Above Average |
| 35-39 | 4 | Excellent |
| 40-44 | 4 1/2 | Outstanding |
| 45-50 | 5 | Superior |
These comments from Tom Smitty make a nice wrap up to this review:
Initial taste of leather with faint fruitiness, with a faint peppery aftertaste.
A woodsy aroma came off of the foot. The profile was very sweet with peppery finish.
I noticed a sugary taste on my lips, mixed with cedar.
The aroma switched to sweet and leathery. I felt the sweetness was maybe black cherry and the aftertaste was peppery. The strength (to me) was medium-full.
So there you have it, Followers and Fans - Blind Review 2016 number 002 is in the books! And it's a good one. Seems like the folks over at Isabella have some very tasty cigars. Perhaps we'll be treated to another one later in the year!

Enjoy a few photos shared by reviewer Tom Smitty:
Discuss the review with our members and reviewers on the forums!
Click here to register if you're not a member.