Marrero Tesoro Mio Gran Toro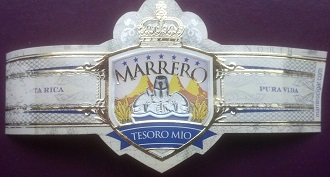 It's kind of big deal where a cigar comes from. Isn't it? The pedigree and origin of a premium cigar is of utmost importance. So when did they start making cigars in Costa Rica? Did I miss a memo or something? Yeah, I'm being facetious – but only a little.
We all know about Cuba, the Dominican Republic, Nicaragua and Honduras. There are even a few well-known cigars from South America and elsewhere. But Costa Rica? Really? Yes, really.
A couple of years ago, Joel Vazquez Marrero jumped into the cigar game and created Marrero Cigars, a company that represents "the flavor of Costa Rica in a premium cigar". By my reckoning, he's making some pretty good cigars down there. This is my review of the Tesoro Mio Gran Toro – a vitola in one of Marrero's four blends. For those of us who speak only English, Tesoro Mio is Spanish for "my treasure".

The Gran Toro is a big 6 inches long by 60 ring gauge log of a cigar. The band is predominantly white, silver, gold and blue with artwork of an armored knight in front of the Costa Rican mountains. My sample was firm and well-packed. There was a lot of tobacco in that stick.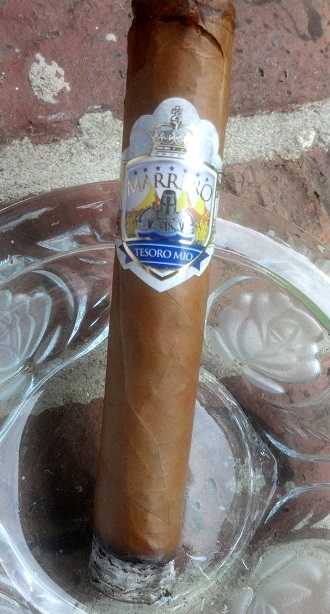 The pre-light smell was floral and sweet. The cigar was covered in a silky smooth and fragile, pale khaki-colored, Ecuadorian Connecticut wrapper. There were only a few small veins, and no stains or blemishes, on my sample. However, the wrapper had popped near the double cap, and I knew this would be a problem. I don't know how or when this happened. But being the trooper that I am, I smoked the cigar anyway. (Note that I did not hold the fact the wrapper was damaged against the sample in the scoring below.)
My cut of preference is a punch, and that proved to be insufficient for this large ring cigar. The resulting draw was more firm than I would have preferred. Normally, I would then make a second cut. But because the wrapper on the head had popped and was beginning to unravel, a second cut would have proved a complete disaster.
I lit the cigar with a cedar strip. The Gran Toro was difficult to light and get burning well. Once lit, it was a 'sleepy' cigar – meaning it went to sleep between draws. And the smoke was thin, although it never came close to going out. After about an inch had burned, the flow opened up, and both smoke and flavor were then more plentiful. From this point on, the burn was even, cool and quite slow. This cigar took an hour and fifteen minutes to smoke. The ash was average gray with symmetrical segments.
The initial flavors I noted were earthy, vegetal, woody and wheat-like. The Gran Toro was smooth and creamy. As the burn approached the mid-point and things really got going, a little sweetness and nuts became evident. Over the last third, coffee made a bold appearance. The overall profile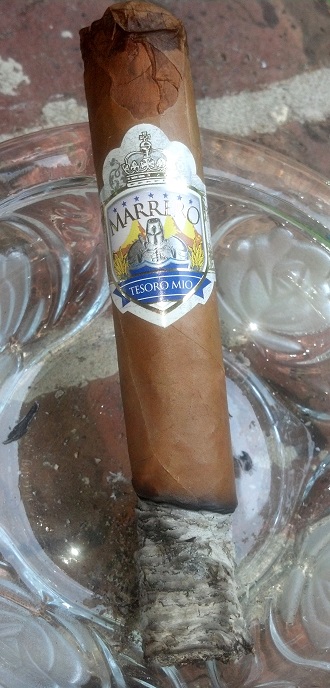 was simple and clean, with absolutely no bitterness apparent.
The Tesoro Mio blend uses the earlier-mentioned Ecuadorian Connecticut wrapper, a Dominican binder and filler leaves from Costa Rica as well as an undisclosed source.
I would characterize the Marrero Tesoro Mio as a mild-bodied but interesting cigar. I prefer fuller-bodied cigars, and this one admittedly wasn't in my wheelhouse. Still, it is undeniably a good cigar.
So, how would I rate it? Here we go:
Pre-light – 9
Light – 8
Draw – 8
Flavor – 9.5
Power – 7.5
Average (not including power) – 8.6
The Marrero Tesoro Mio Gran Toro is definitely not a powerful, 'knock-you-on-your-ass' sort of cigar. But it is a really good cigar. I don't think it should necessarily be discounted simply because it's milder. That said, I would primarily recommend it for beginners or as a morning smoke. It should pair well with almost any libation due to its milder nature. Actually, because it has strong coffee notes, it seems a perfect match for that beverage.
See for yourself what a Costa Rican cigar is all about. Every cigar enthusiast owes it to his or herself to taste 'the flavor of Cosa Rica'.
The Marrero Tesoro Mio Gran Toro is available at select US retailers. Pricing varies.