A Cigar's Tale Review X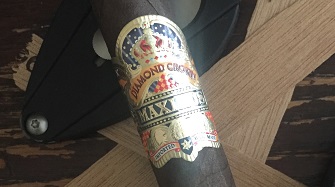 Cigar name: Maximus
Cigar brand: Diamond Crown
Wrapper: Ecuador
Binder: Dominican Republic
Filler: Dominican Republic
Vitola reviewed: Toro (#4)
Size: 6 inches by 50 ring gauge
Body: Medium
Strength: Medium
Price: $14.00
Visual
When I look over the Maximus from Diamond Crown, I note the milk chocolate color. There is a pronate vein down the spine, and the seams are tight. The cigar is firm, with no soft spots. I feel a slight toothiness as I slide my fingers along the wrapper, and also note a marginally oily sheen. I do not see any blemishes or construction issues at this point.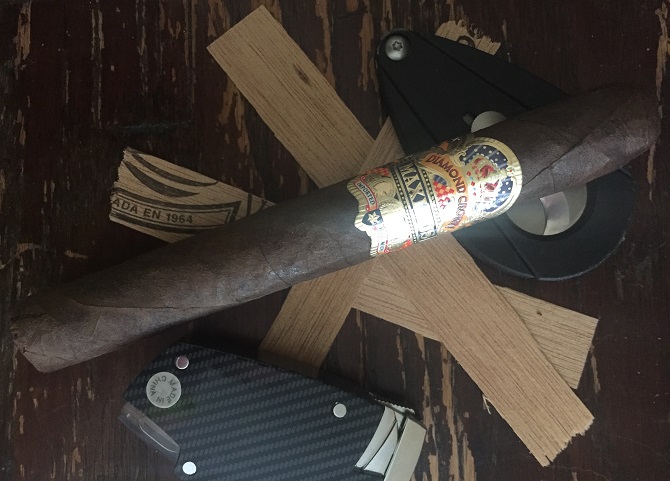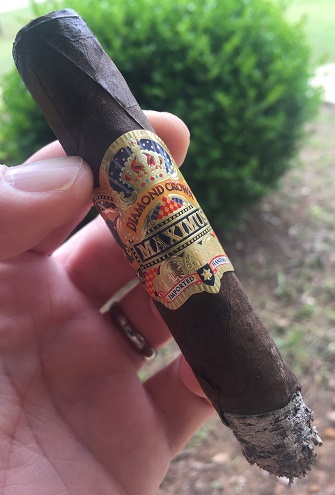 Cold aroma
As I take in the aroma from the wrapper, I pick up earth, leather and a slight fragrance of cocoa. The foot gives off a bit more. There are notes of barnyard, earth, cocoa and cream, as well as a slight floral hint. The scents from the foot are more potent, and have my expectations amped up a bit.
Cold draw
After I cut the cap off, I take a draw before lighting. I immediately notice the effortlessness of the draw. The flavors I can detect start off with saltiness from the wrapper, and earth and cocoa from the draw.
1st third
The cigar is toasted, lit, and I am ready to start my journey. I take a few draws, and get down about a fourth to start my assessment of flavors. I begin to pick up black pepper, clay, earth, tobacco, game, a very light maple and some crushed red pepper on the retro hale. I get a good bit of heat on the back of my throat from the first third, and attribute that characteristic to the black pepper.
2nd third
Moving into the second third, I start to get a creamy texture and flavor. There are also notes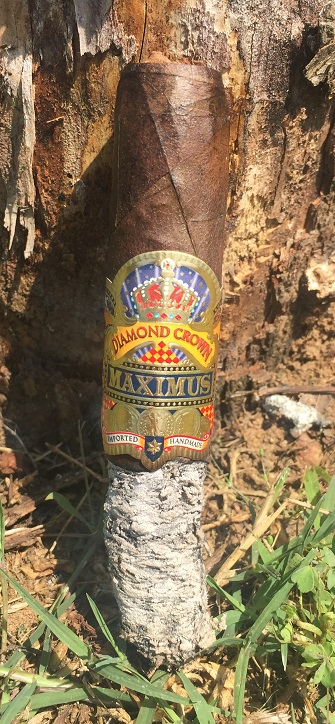 of toast, crushed red pepper, cinnamon, earth, cocoa powder and a hint of dried fruit. The second third seems a bit smoother that the first, and the cigar is now smoking nicely. The ash is a salt and pepper color. It appears flakey, and cones when the ash falls.
Last third
Getting into the final third, I pick up espresso and bread. These tastes are accompanied by a slight zest and black and white pepper on the retro hale. The finish of the cigar provides some chocolate and cocoa notes. There is a nice smoothness here at the end.
Afterthoughts
There was plenty of smoke throughout the cigar. The flavors were nice and complex, and the burn and construction were right on the money. I found myself really enjoying this cigar the further on in I smoked.
I haven't had many Diamond Crown cigars, but will be looking to try more. I would certainly keep a few of these around, as I enjoyed the experience. Thanks to my friend Robert (@RCiaschini) for providing me the sample to review.
________________________________________
Please like my page at www.facebook.com/ACigarsTale. Follow me on Twitter and Instagram @nhale1300.