A Cigar's Tale Review XIV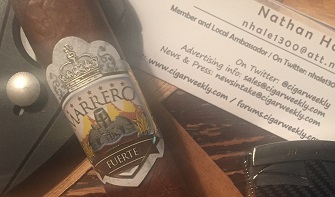 Cigar name: Fuerte
Cigar brand: Marrero
Wrapper: Ecuadorian Habano Oscuro
Binder: Dominican
Filler: Costa Rican / proprietary blend
Vitola reviewed: Robusto Box Press
Size: 5.5 inches by 54 ring gauge
Strength: Medium
Body: Medium+
Price: $7.19
Visual
As I gaze over this tasty looking cigar, I take notice of the milk chocolate colored wrapper. The Fuerte is firm, with no soft spots or blemishes evident. The seams are tight and almost nonexistent. There are a couple of small veins that outwardly give the cigar a nice character.
Cold aroma
The wrapper gives off some nice scents of chocolate and wood. Aroma-wise, the foot has a profile that includes dark chocolate, cocoa, butter, maple, brown sugar, cloves and raisins. The contrast between the aromas from the wrapper and the foot is interesting. I was not expecting such a big difference. I know that my eyes grew big going from the wrapper to the foot – in a good way, of course.
Cold draw
Continuing on, I cut the cap and take a few cold draw puffs on the well-made cigar. Here, only a few flavors jump out at me, including butter, toffee and chocolate. I am anticipating what flavors will pop out at me once I light this cigar up.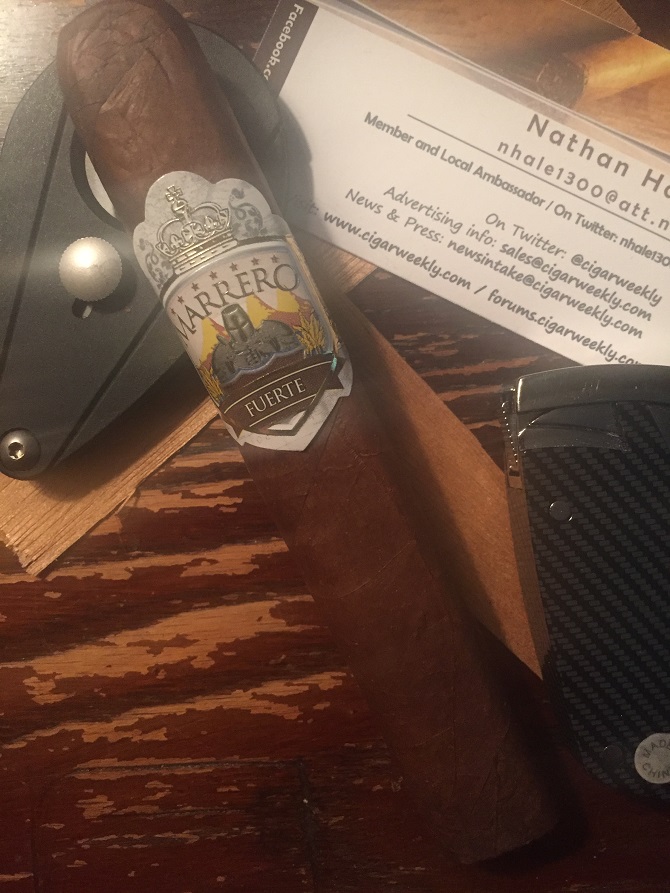 1st third
I fire up the cigar, and let it burn for a minute before taking a few puffs, mulling over what is happening and starting to identify the flavors. I start picking up coffee with cream, cocoa, butter, brown sugar, black pepper, cumin and – on the retro hale – black and crushed red pepper. This is a spicy delight. Unfortunately, The Fuerte is burning unevenly. Let's see if that straightens out down the road.
2nd third
Moving into the second third, I begin taking note of flavors of black pepper, cocoa, hay and coffee. I'm still sensing black and crushed red pepper. The ash is dark gray and flakey, while the burn is still uneven, but trying to correct itself.
Last third
Entering the final third of the Fuerte, I see the notes change a bit. I'm now getting a more creamy texture, with flavors of bread, cocoa, black pepper, leather, butter and raisin. There is a slight zest as I reach the end. This characteristic brings a nice clean feeling to my palate.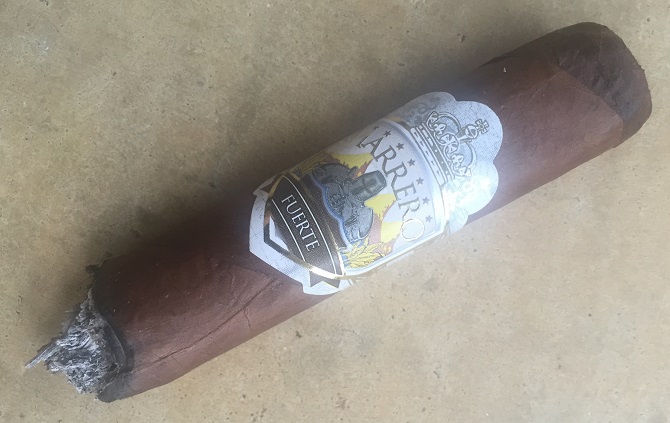 Afterthoughts
The wrapper was very nice, and the visual appeal from the band to the wrapper was well executed. The aromas that came from the outer leaf and the binder were both very nice, as was the flavor profile. In the final analysis, this cigar ended up being a bit more complex than I may have expressed.
The uneven burn never did correct itself. I think I'll simply attribute that shortcoming to the 'one cigar in the box that just doesn't want to cooperate' phenomenon.
This was an enjoyable cigar, and I look forward to enjoying more offerings from the manufacturer. Thank you to Jose (@marrerocigars) for providing me the sample to review. Keep a look out for more from this fantastic brand.
________________________________________