Brun del Ré 1638 Limited Edition Gran Toro

Size of cigar: 5 inches by 58 ring gauge
There's a line in the movie Forrest Gump in which Tom Hanks declares, "Mama always said life was like a box of chocolates. You never know what you're gonna' get." He was musing over the inconsistencies of life. Well, trying new cigars is a lot like that proverbial box of candies. Oftentimes, you don't know exactly what you're getting.
When I pick up a new cigar, three possibilities spring to mind. Am I holding some trash cigar that sports a fancy name and label? Is it a really good cigar hiding behind a hipster name and goofy label? Or could it be a good cigar, with no pretense or reputation, I've never seen or heard of before?
Sometimes, it's impossible to tell. Like Forrest Gump, I'm always hoping to find my favorite caramel and nut cluster hiding in the box – or rather, the humidor. With these thoughts in mind, what's a Brun del Ré 1638 Limited Edition Gran Toro like?
Brun del Ré Cigars is a boutique manufacturer, with its headquarters and factory in Costa Rica. I won't go into details. Suffice it to say that 1638 is a significant date in Costa Rican tobacco history.

Tabacalera Brun del Ré produces 6 blends of cigars. The 1638 Limited Edition is the latest. And there is only one vitola in this particular line – the chunky Gran Toro.
My cigar was impressively decked out with two reflective gold bands, and triple-capped with a tight pigtail finish. The wrapper was a gorgeous dark-brown Ecuadorian Habano leaf with a very few small veins, and no stains or flaws. (The filler and binder are both Dominican). My sample was firm from head to foot. It seemed to be very well constructed.
The cold smell from the foot was floral, sweet and a tad putrid. I used a punch to cut the cigar, and a cedar splinter to light it. The draw was easy and the smoke plentiful, while the burn was slow and mostly even. The resulting ash was average gray with small, even segments. This 1638 burned righteously.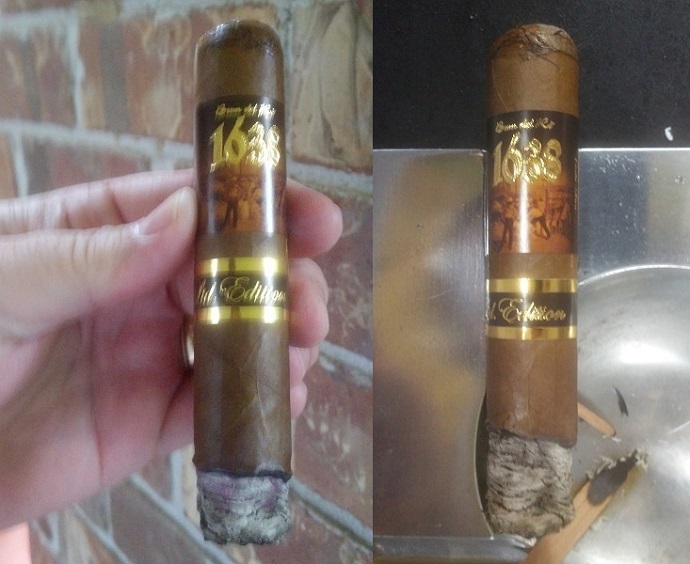 My flavor impressions after the first few puffs were of leather, pepper and an earthiness – nothing revolutionary there. However, after about an inch was smoked, the Gran Toro picked up some intensity along with cedar and burnt toast notes.

By mid-point, the flavors had become very rich and sweet. Underlying the primary flavors was a slight green apple-like tartness. This was a very nice, mildly complex profile. Alas, just before I could totally nub it, the heat-induced bitterness that often accompanies fat cigars showed up. The bitterness didn't detract from the overall experience. It simply meant it was time to put the cigar down. Don't worry. I got the best out of it. Total smoking time was an hour and ten minutes.
I would say the 1638 was medium to full-bodied. And while the cigar wasn't overly powerful, it was still richly flavorful. Using the CigarWeekly.com rating system, here's how I scored it:
Pre-Light – 9.0
Light – 8.5
Draw – 9.5
Power – 8
Flavor – 9
Average – 9.0
I have a strong opinion on the Brun del Ré 1638 Limited Edition Gran Toro. There is no doubt in my mind it is a very good cigar. The construction and performance of my sample were perfect. The flavor was full without the being overwhelming – a very desirable combination. I will give this warning, though: the Gran Toro has a high nicotine level. So be cautious.
If life is truly like a box of chocolates, then it's also like a blind reach into the humidor. You really don't know exactly what you're gonna' get. With the Brun del Ré 1638 Limited Edition Gran Toro, I grabbed a tasty treat indeed.
It's at this point that I invariably make a recommendation of whether to try a cigar for yourself or not. Obviously, I think you should try this one. However, good luck with your search, because it's going to be tough. Brun del Ré is available globally, but only though select US retailers. Presumably, these cigars can also be bought directly from Brundelrecigars.com. The price is $14 per stick – give or take.