A Cigar's Tale Review XVI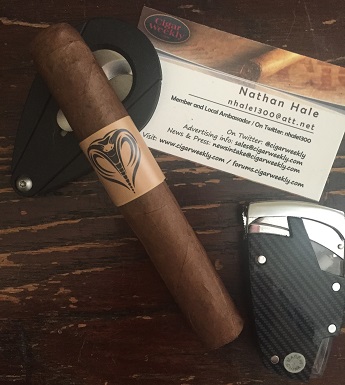 September 19th, 2016
Cigar name: Cobra
Cigar brand: Cartel Cigar Co.
Wrapper: Nicaraguan Habano
Binder: Nicaraguan Habano
Filler: Nicaraguan
Vitola reviewed: Robusto (5 inches by 50 ring gauge)
Strength: Medium +
Body: Full
Price: Unavailable at time of review
Visual
As I gaze upon the Nicaraguan puro, I take note of the wrapper's characteristics. The first thing I see is the milk chocolate color Habano outer leaf, which is smooth to the touch. There are some small veins present, and the seams are tight. Construction is very good, as expected, since Aging Room personnel are responsible for rolling these cigars.
Cold aroma
The scents coming off of the wrapper continue to tell the story. There are hints of leather, cedar, hay and a slight barnyard note. The foot adds a few other flavors to the nose that include molasses, licorice, hay, barnyard, grass, raisin and sweet tobacco. So far, everything is coming together nicely.
Cold draw
Moving along, I cut the cap and take in a few draws before toasting up. I am immediately hit with the molasses, and also begin to get notes of cinnamon, cedar, hay, grass and salt. I'm looking forward to lighting up and seeing what is to come.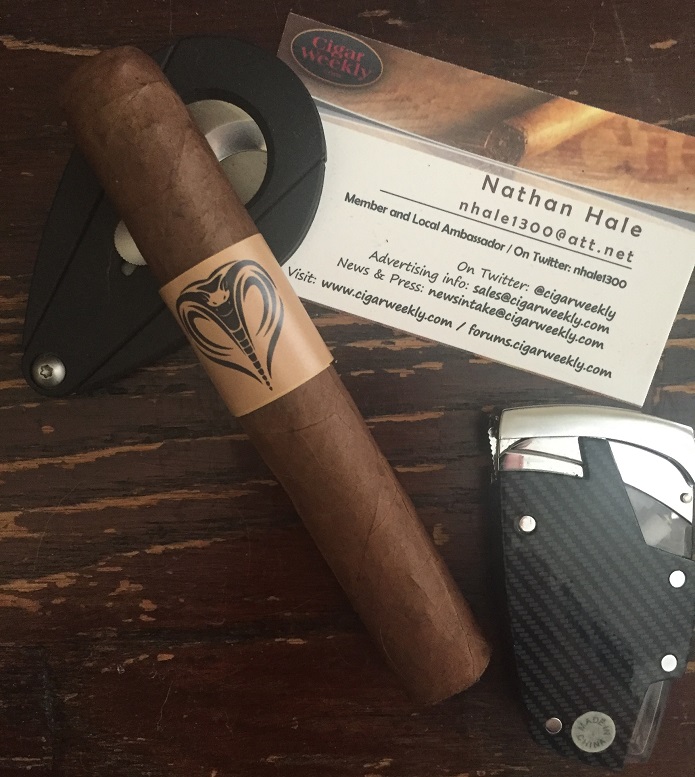 1st third
I toast the foot and take a few draws. The first few draws of most cigars are often more intense from the lighting process, so I wait until about a half inch, and let the Cobra settle before taking my notes. I am able to detect flavors of earth, grass, hay, cloves, paprika, toasted almonds and a slight hint of butterscotch. Very interesting so far.
2nd third
The second third doesn't disappoint. With notes of almond, hay, cumin, toast, salt, crushed red pepper and grass on the retro-hale, there is a nice complexity to this stick.
Last third
The final third continues the 'complexity voyage'. Some new flavors come into play here, including coffee with cream, toast, almond, hay, cloves, black pepper and crushed red pepper. The draw has remained effortless from the beginning, and the cigar has exhibited a very even burn. Nice things are happening.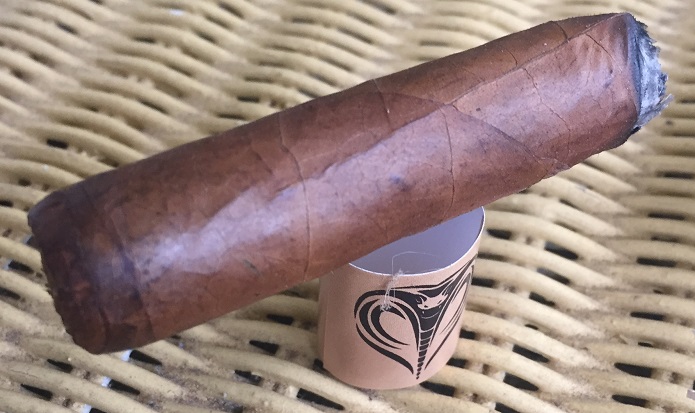 Afterthoughts
When my friend Jerry (@jcgolferVA) told me about this new cigar, I was intrigued. A friend of his, Hassen Chohan, blended this, and was able to get Aging Room on board to put it all together. I figured if Aging Room was willing to do that, it had to be a good stick. I was not wrong.
Hassen has done a great job here. This is a very complex and tasty stick. I am excited to review the other blends I was sent. You can find these sticks at www.hogsheadcigarlounge.com. Give them a call, grab some and see what I am talking about.
You can follow me at www.facebook.com/ACigarsTale, on Twitter and Instagram @nhale1300, and checkout my reviews (and those of many other reviewers) as well as numerous other articles and the forums at Cigar Weekly.