A Cigar's Tale Review XVIII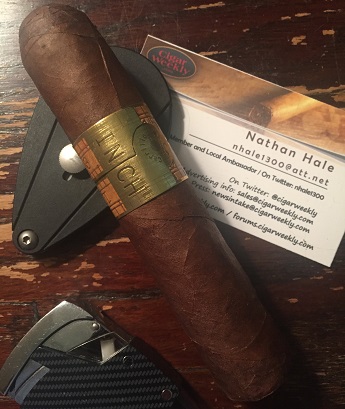 September 26th, 2016
Cigar name: INCH Colorado
Cigar brand: E. P. Carrillo
Wrapper: Ecuadorian Colorado
Binder: Nicaraguan
Filler: Nicaraguan
Vitola reviewed: Gordo (about 6 inches by 60 ring gauge)
Strength: Medium
Body: Full
Price: Unavailable at time of review
Visual
The milk chocolate wrapper is very pleasing to the eye. I take note of some small veins, tight seams and a solid stick with just a couple of soft spots in the construction.
Cold aroma
The scents coming off the wrapper lean more to the sweet side. I pick up notes of chocolate, leather, molasses, cinnamon, brown sugar and almond. The foot presents me with earth, peat, almond, cream, brown sugar and cloves – a very intriguing beginning, to say the least. So far, I am pleased with what is going on here.
Cold draw
The draw before toasting the stick is always fun for me. Cutting the cap and taking in a few pure draws gives me a strong sense of what a cigar really has to offer. Here, I pick up some salt off the wrapper. The cold draw also brings on flavors of cumin, leather, black pepper, earth and peat.

1st third
After toasting the INCH Colorado, I begin my assessment. The cigar starts off with notes of coffee, earth, herbs, almonds, cream, brown sugar, vanilla and cumin, as well as some white pepper prominent on the retro-hale. A lot of good things are happening here, and the INCH is kicking off as a very complex stick.
2nd third
The second third doesn't disappoint either. I'm taking in notes of earth, must, herbs, cream, cloves, cumin, almonds and a touch of butterscotch. This cigar is still bringing in some unexpected things. With its nice draw and salt-and-pepper ash, I am enjoying this stick. Lots of aromatic smoke makes for a pleasurable experience.
Last third
Finishing up this cigar, I take note of what the cigar has been building up to. The last third brings flavors of espresso, almond, cocoa, cream, nutmeg, white pepper and oak. All these flavors mesh together very well.

Afterthoughts
I have never been much of a large-gauge cigar smoker. I'll also admit that I've only had one INCH prior to this review. That being said, the INCH Colorado really surprised me. The flavor profile and effortless draw made for a nice smoking experience. And the aromatic and plentiful smoke was enjoyable. The blend was great, and I enjoyed the experience. Thanks to Carlos at EPC Cigar Co. for the samples to review and for the opportunity. You can find these cigars on Twitter @EPCarrillo. Check them out!
You can follow me at www.facebook.com/ACigarsTale, on Twitter and Instagram @nhale1300, and checkout my reviews (and those of many other reviewers) as well as numerous other articles and the forums at Cigar Weekly.