IPCPR: Hits and Misses 1
September 8th, 2016
PUBLISHER'S NOTE: Our intrepid reporters, jefslat (Jeff Slatton) and his lovely bride, attended the recent IPCPR show in Las Vegas. They collected many samples from the vendors there. On a volunteer basis, these cigars were sent to readers with the agreement that they would write regarding what they did and didn't like about the new offerings from the show. It has come to my attention that a number of the cigars at this year's show were actually released last year, as pending new FDA regulations would make it prohibitively expensive for smaller manufacturers to create new blends. The following reviews were submitted by Briandg (Brian Gardner). There will be an ongoing series of these reviews until all of the material submitted is exhausted. There will likely be some overlap of certain brands and vitolas, as the manufacturers provided multiple samples for review.
#1: Torano Exodus
I was surprised when a new Torano Exodus showed up in the mail. This was a wonderful looking cigar. The wrapper was satiny and smooth - a dark maduro with a beautiful oily sheen. I examined the build, and it was amazingly consistent and firm, with a perfect bunch from head to foot. The appearance has to get a solid 95. The pre-light aroma of the wrapper was essentially an earthy, leathery blend. And the pre-light draw added some peppery notes to that. The draw was firm - just fine. I punched it to smoke.
As I started smoking, I began to wonder how it would work, as the burn kept veering off and wouldn't stay on track - even after multiple touchups. Knocking off the ash at about an inch showed a crater, so I burned it all straight. Flavors and aroma were complicated - earth, leather, a bit of pepper, an occasional bit of espresso. The ash flaked terribly, and fell apart far too easily. The state of the binder and wrapper appeared to be at fault. Wrapper, binder and the outer layer of leaf were all wrapped into a hard layer about 1/16th of an inch thick, and it would require a solid core for the cigar to smoke properly. But instead, it had a significant tunnel running down the middle. Of course, the burn would be off. It was a medium to full-bodied cigar; the smoke was dense and fulfilling and, as I said, a complex liga.
I performed my traditional necropsy on the two inch nub, and was surprised at what I found. This cigar had remained solid clear up to the end; clearly, it wasn't a bunch of short leaf rolled by third string rollers. Instead, the bunch was made of 100% long filler - not a scrap, not a stem, nothing but full length leaf. They put a great deal of effort into making a 'perfect' cigar.
#2: Alec Bradley Sanctum Robusto

The Alec Bradley Sanctum Robusto was an experience to remember, and one to add to the must-buy list. It had a firm and perfectly packed bunch and a beautiful dark EMS wrapper (oily and satiny) with a slightly earthy and coffee-like aroma. The cigar was right at the top of the stack as far as construction and appearance. I cut it, and the pre-light draw was just right. The bunch had a firm build without any notable hard or soft spots. I lit up and, from the beginning, the thing had a nice mellow taste and aroma. Nothing specific came to me - just a fine blend of black tobacco, good aroma and flavors. As I smoked, it held a nice white ash for a long time, but had a slight tendency to go off center. All throughout, the smoke remained light and easy, just getting a little peppery at the end. This cigar really did have it all. Great construction and great blend, making a great hour's worth of time on the porch. 85 - 87.
#3: Padilla Vintage Reserve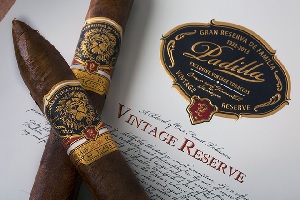 The Padilla Vintage Reserve was actually quite pretty, nicely rounded and so forth. But the wrapper was a dry and mousey looking leaf. It was even slightly raspy to the touch, like craft paper. The cigar was as firm as a green banana - not a soft spot anywhere - but the draw was extremely light. I wondered how they pulled off that magic, but they did. When lit, it burned pretty heavily. The smoke was intense - seriously intense. The first puff and every one after produced a dense, heavy puff of smoke - so sharp that it hurt. Just the thing for some of my friends. It was the sort of cigar that sets your soul on fire, and pushes itself to the extreme. It wasn't a tarry, overwhelming stink, like smoking grape leaf and nettles. The liga was obviously fine quality. How do I know about grapevine and nettles? I went to Boy Scout camp. Not that I ever did that, though. I just listened as the others barfed.
I won't buy it again. I am solidly in the medium to full camp, and this was reaching for extreme. This isn't for everyone, but some folks might make this their new go-to cigar.
#4: Nat Cicco Aniversario 1965 Liga No.4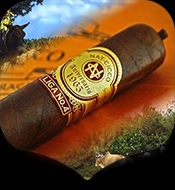 Nat Cicco is the bargain manufacturer who made the Caribbean rounds, and many other brands - probably the only nationally known bargain line that remains from the seventies (and before, it seems). This one has nothing to do with their older products, like the 'robusto rejects' that you can find in every store. It was a long filler corona in what looked like a mottled Connecticut shade. A light EMS - well-wrapped, but still obviously a bargain cigar. Overall, this was a very nice smoke. The bunch was firm and consistent, the draw was fine, and the wrapper burned straight and neat. A nice white ash, and a good tobacco aroma with no harshness. There was a little sweetness on the aroma. Taken for what it is, an inexpensive cigar, this hit the spot. It was a very pleasant half hour long smoke, and I'd certainly keep them on hand for occasions that don't call for a big, robust smoke. Love to have it in a box pressed Lonsdale. 80 with a smiley face.