Casa Turrent 1973

September 26th, 2016
It's early afternoon and time to get a review in. The sun is definitely over the yard-arm, but not quite far enough yet to justify an adult beverage. So I'll opt for a soft drink of my youth, Big Red. Now, I know some are already cringing and rolling their eyes. But I've had any number of people mention how much they enjoy root beer or cream soda with a cigar... so why not a Big Red?
This offering from Casa Turrent is the Serie 1973, in Robusto size. The '1973' celebrates the year of birth of Alejandro Turrent. The cigar features a Mexican San Andrés Criollo wrapper with San Andrés Crillo binder and a combination of Nicuraguan and Mexican Criollo fillers.
The cigar is expertly made, exhibiting a firm feel and nice heft. The wrapper is Colorado Maduro in color, and shows very little veining. Casa Turrent is proud of their tobacco grown in volcanic soil, and I must admit there is normally a distinct flavor I associate with Mexican tobacco. So I am anxious to give this Robusto a try.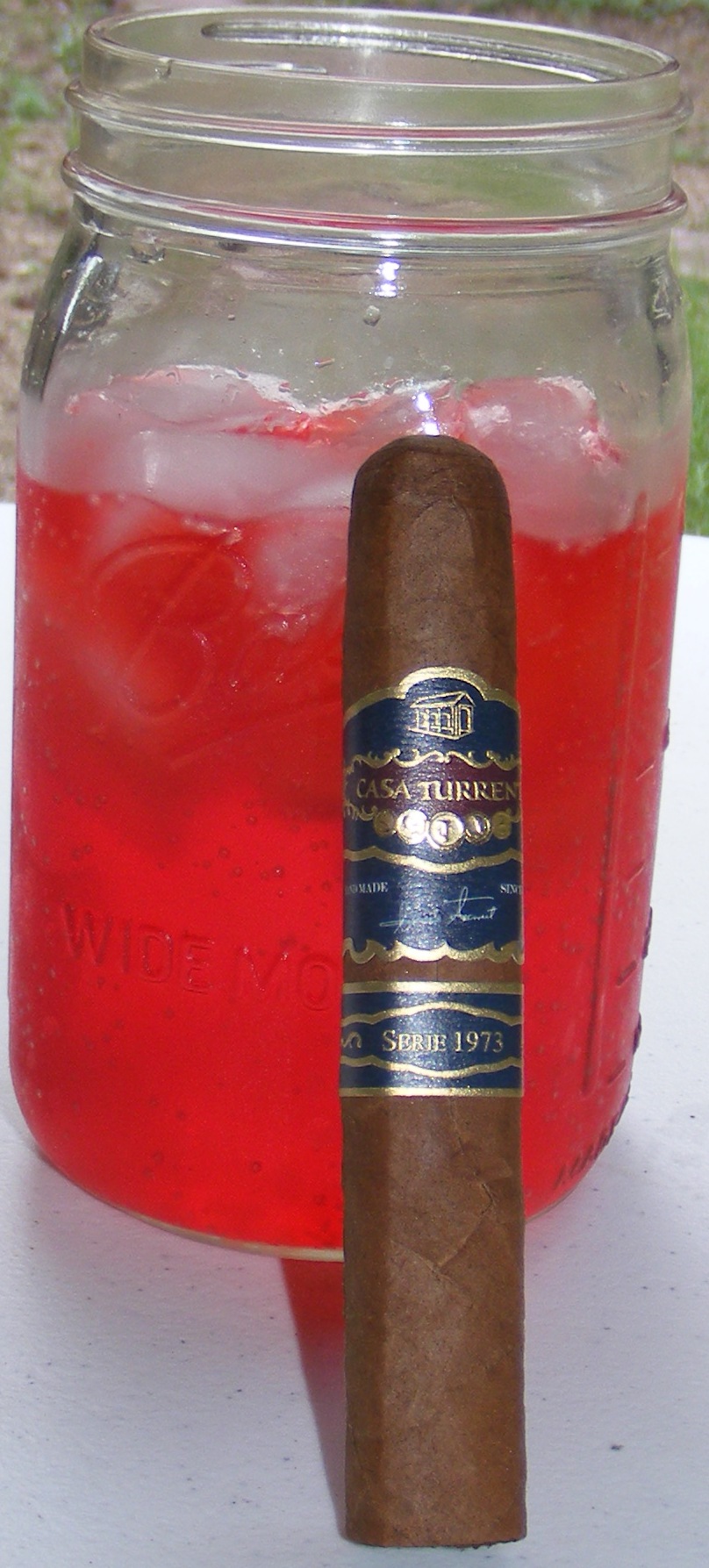 The pre-light aroma is of tobacco sweetness, leather and perhaps a hint of cedar. The prelight draw is a little looser than I would expect, leading me to think that this cigar may smoke slightly faster and warmer than others of comparable size. We shall see. It cuts cleanly, lights easily and settles into a slightly jagged (but not overly so) burn.
The first third of this cigar exhibits some creaminess and white pepper, while the smoke production is plentiful and of medium body. But overall, there is that mineral quality to it that I associate with Mexican tobaccos. This is not a bad thing; it is merely terroir. But I would be less than honest were I to say that I enjoy this mineral note in a cigar. The first ash drop occurs at about 1.25 inches, and reveals the anticipated slight coning as the ligero lags a little.
In the second third, some nuances do develop. There's sweetness along with a creamier mouth feel, and some of the mineral qualities have diminished. This one is moving along as I thought it would, burning faster than I think a Robusto should. The cigar is not overly hot, nor am I smoking faster than normal. It is just happily cruising along on its own.
The last third pretty much is more of the same - more pepper perhaps and, towards the end, an almost bitter flavor that purging does not rectify.
I am not going to bash this cigar as its construction, burn, smoke volume, heft and all are very good. I just have the same problem with it that I seem to have with most Mexican tobacco. While there may be pleasant nuances there, I can't get past the mineral quality of the leaf grown in some regions.

Casa Turrent prides itself on their terroir, and it is definitely present in this cigar. If you enjoy that particular flavor profile, then this cigar is a good representation of it. Sadly, I do not care for it. But as they say around here, "Smoke what you like and like what you smoke!" There is obviously a market for this flavor profile. And at around 8-10 dollars a stick, they are selling to somebody.
Lots of folks like Chardonnay, but to me it tastes like an oak plank soaked in grape juice. I don't care for highly peated Scotch either. Tasting and reviewing is, in the final analysis, a subjective undertaking.